Discover more from Rescapement
Updates on my Hodinkee writing; b-sides and behind-the-scenes; unpolished personal musings; recs and other unsolicited advice.
Everything you need to know from Geneva's big week
Art, wine, cars, watches: The best investment classes?
Everything you need to know from Geneva's big week
We're in the middle of Geneva's big watch week: first up was the Grand Prix d'Horlogerie de Genève (GPHG), followed by the biennial Only Watch auction, with auctions from the big three auction houses closing out the week. Phillips hosted its Geneva Watch Auction X on Sunday, featuring some of the biggest headliners of the season. Christie's and Sotheby's will close out the week, with Antiquorum also offering some solid lots on Monday. As always, stay tuned to Rescapement for all the latest (and bookmark our auction calendar to stay up on what's coming for the rest of 2019).
The day after its themed Double Signed Auction, Phillips hosted its Geneva Watches Auction X, with over 180 lots up for auction. After streaming the sale, I had a few general thoughts, and also wanted to highlight the watches from from our auction preview, taking a look at what those pieces ultimately sold for.
While not completely surprising, it's impressive that the pink gold Rolex Ref. 6062 "Stelline" matched the Ref. 4113 split seconds chronograph (both pictured below) with a sale price of $1.940 million. It's particularly impressive considering there are thought to be 50 Ref. 6062 models manufactured in pink gold, and only 12 Ref. 4113 models made in stainless steel.
Meanwhile, a couple chronographs with high estimates — a Patek Phillipe Ref. 1463 in stainless steel and a Paul Newman Daytona Ref. 6263 — failed to sell. It's perhaps not too surprising the Daytona, for example, failed to sell: the case is a bit polished, a couple lume plots are missing, and the pushers are not original. In a world where condition is everything, examples that are anything less than original can fail to even reach reserves, while original, mint examples hit record-breaking prices.
Other pleasant surprises: The Zenith El Primero A386 soared past its estimate to hit a sales price of $22,500. This year is the 50th anniversary of the El Primero, so it's certainly riding high, but it's good to see such a historically important watch get the attention it deserves.
Another chronograph, a pink gold Movado 95M, also blew past its estimate, with a final sale price of $21,250. Not bad for a watch that had no reserve.
Also performing well was this three-register Breguet, a Speedmaster Ultraman, and a Rolex Ref. 6238. It's nice to see some of these more mid-priced watches get the attention they deserve at auction. Some of these pieces ran past their estimates, even as higher-profile Daytonas, Pateks and the like settled in on hammer prices well within the expected. Sure, some of the Royal Oaks, Nautiluses and other popular models continued to surpass even the highest of expectations, but some lesser-known models are getting attention too. And that's good for everyone.
Read on to see more results: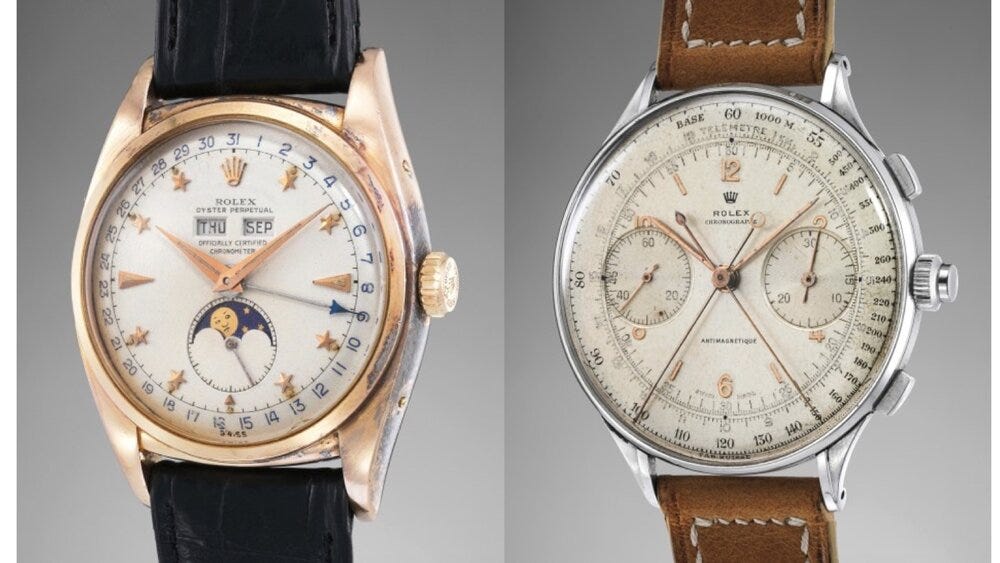 Whether you like to call it the Oscars of watches or not, the fact remains that the GPHG is the watch world's biggest awards event of the year. The prizes are highlighted by the "Aiguille D'Or" prize, basically the night's "best in show".
Let's first acknowledge the problems with GPHG: Winning watches tend to be expensive and not necessarily representative of what people are actually buying from Switzerland; and because brands self-nominate, Patek and Rolex do not participate (they can't handle the risk of losing!). That said, it's still a wonderful evening to highlight some of the best of what's come out of the manufacturers in the past year.
2019 Aiguille D'Or: Audemars Piguet Royal Oak Self-Winding Perpetual Calendar Ultra-Thin
There really aren't enough superlatives to describe this watch. It's the world's thinnest automatic perpetual calendar wristwatch, with the movement measuring just 2.89mm thick, and a case 6.3mm thick. Presented as a prototype in platinum at SIHH 2018, this production version features a case that's a combination of platinum and titanium, with a satin-brush finishing.
Upsets: From Ugly ducklings to GPHG winners
Two of the most controversial watch releases of the past year were the P01 from Tudor and the Code 11.59 collection from Audemars Piguet. The news cycle went something like this: enthusiasts shit all over them, made some memes, while the watch media levied a number of defenses. Then, the media got mad at enthusiasts for all the jokes, while enthusiasts got mad at the media for what they viewed as disingenuous defending of shitty products. Round and round we went for a couple weeks, then we mostly forgot this had ever happened at all.
Notably absent from this cycle were the brands. If we live in an "any press is good press" age, in which the best thing a company can do is get some social media hype and free press, the releases can be considered nothing by massively successful. And now, both Audemars Piguet and Tudor have a GPHG prize to show for their efforts (somewhere, Kevin O'Leary is smiling).
The Code 11.59 Minute Repeater won the Men's Complication prize, while the Tudor Black Bay P01 won the "Challenge" prize for watches under CHF 4,000. It's certainly an endorsement of brands taking risk and doing things differently, which I can get behind.
On November 9, Christie's played host to the biennial Only Watch auction, raising money for research into Duchenne Muscular Dystrophy. Some of the most renowned manufacturers create unique pieces for the auction (with F.P. Journe even developing a unique movement for his pieces). Much of the speculation around this year's auction was around the unique Patek Phillipe Grandmaster Chime in stainless steel: would it become the most expensive watch in the world? Of course, Paul Newman's Paul Newman had set the record for most expensive wristwatch at $17 million in 2017, while the Patek Phillipe Henry Graves Supercomplication pocket watch held the record for the most expensive watch, having sold for $24 million in 2014.
Well, the Grandmaster Chime blew away both watches, hammering for CHF 31 million. The watch is polarizing, mainly because … it's kind of ugly. One can acknowledge the technical accomplishment of building this watch, but still be disappointed that this watch now carries the mantle of "most expensive watch in the world," and will become representative of watch collecting as a whole in many ways.
In terms of getting people into watch collecting, consider me a hater. It's unfortunate that if people Google something like "most expensive watch in the world," or happen across a story about this record-breaking watch, they see this ugly, hard-to-wear piece. When the Paul Newman set the record in 2017, it was mainstream news: everyone knows who Paul Newman is — his movies, looks, philanthropy, Newman's Own — he's an American icon and spawned an entire industry of watch collecting.
To me, there's an accessibility to vintage Rolex collecting — or even, vintage sports watches more generally — even as prices continue to sky rocket into the six- and seven-figure range. Meanwhile, there's never been an inherent accessibility to Grand Complication Patek collecting. It's a small circle, inhabited by modern Henry-Graves-type characters. And that's fine; there should be a place for all collectors in a community. But, I'm wary of these types of watches grabbing headlines and being the aesthetic with which the larger collecting community is associated.
As a collector in Chicago, I rarely see complicated Pateks anywhere, and I have to imagine many others are the same. Sure, they're interesting from a pure technical perspective, but I'm unlike to spend $31,000, much less $31 million on one. One can acknowledge that it's great this piece exists, while still wishing it didn't carry a mantle for an entire community of collecting.
By the way, we should also mention that this is also an indictment of our (and sometimes, my) tendency to focus on headline grabbers and not do the work to find watches under the radar. This doesn't necessarily apply at a high-profile auction like Only Watch, but my goal with Rescapement is always to introduce you to a range of watches, not just those already grabbing headlines on other publications.
So congrats to Patek, Mssr. Stern, and Only Watch, but I can't help but feel the watch world is losing something by having this reign as the "most expensive watch in the world."
---
Other News
Oak & Oscar and Worn & Wound are hosting an event in Chicago. RSVP to join them on November 19.
Seiko says it's because the fair is happening in May instead of March, a time that coincides with Japanese national holidays. Ironically, Baselworld had moved its fair to May to coordinate with SIHH, the industry's other big trade show, to make it easier for media, dealers, and the industry at large to hit both events over a condensed period. Instead, Seiko will be launching products earlier in the year, including at the new "Grand Seiko Summit 2020", yet another in a slew of brand-specific summits taking the place of trade shows.
The best investment of 2018? Art, wine and cars.
From the Wall Street Journal:
Cars have been the best-performing luxury investment over the past 10 years, gaining 289%, according to a report published by Knight Frank earlier this year. Coins gained around 182%, wine 147% and jewelry 125% over the same period, while antique furniture and Chinese ceramics lost value.
In a recent article, I found that an investment in 5 vintage Rolex picks by John Mayer would've yielded a ~100% return over the past 7 years, so watches are probably roughly in line with the broader "jewelry" category referenced by the study.
---
Ticks & Tocks
🐶 There's a Timex Marlin Automatic, Snoopy Edition now. 😳 Joe Rogan on watch collectors (only linking for the clicks). 💰 WSJ profiles Jim Simons, the world's greatest investor. ➕ Andrew Yang is not full of shit. 📉 Richemont reports flat watch sales and falling online sales. 🍜 The official instant ramen power rankings.
In Chicago: The world's largest Starbucks on Michigan Avenue opens this week.
Thanks for reading!
-Tony
Questions/comments/tips? Just respond to this email (and please tap the heart above to like it!).
Meme of the Week: