Discover more from Rescapement
Updates on my Hodinkee writing; b-sides and behind-the-scenes; unpolished personal musings; recs and other unsolicited advice.
Enicar 'Garnix' reference 2303: The Enigmatic Enicar
Michael Jordan and A. Lange, the pandemic's affect on the watch market, and introducing Enicar
Michael Jordan and A. Lange, the pandemic's affect on the watch market, and introducing Enicar. Rescapement is driven primarily by referrals, so if you're enjoying it, give us a share:
I've been wanting to write an article about Enicar for awhile now. Its large, sporty Sherpa models are widely appreciated among collectors. Additionally, a recently published book has brought increased scholarship and attention to the brand.
Enicar: The real Explorers?
A super brief history on Enicar: It was founded in 1913 by the Racine family (Enicar is "Racine" spelled backwards). Immediately, I related: one of my favorite Pokemon growing up was Ekans the snake (galaxy brain for a 6-year-old).
Like another brand you might be familiar with, Enicar began outfitting mountain climbers and other adventurers with its watches in the 1950s as a marketing tactic. A Swiss team of climbers wore Enicar watches to the top of Lhoste and Mount Everest in 1956.
Seizing on this success, Enicar quickly registered the "Sherpa" name, and began releasing its first Sherpa watches later that year. (Enicar trademarking Sherpa, which Wikipedia tells me is an ethnic group native to the most mountainous regions of Nepal and the Himalayas, seems a bit like that Chicago poke company that tried to trademark the word "aloha", but I'm not here to virtue signal and guilt you out of buying an Enicar — the brand basically collapsed during the quartz crisis anyway.)
The Sherpa line would go on to define Enicar through the following years, as it released dozens of different Sherpa models. This included a line of Sherpa Graph chronographs using large Super Compressor cases, typically powered by the Valjoux 72 movement widely used by a number of brands during the time.
At a time when Rolex's, Heuer's, and other brands' chronograph lines were defined by smaller, minimal models, the Sherpa Graph was a true sports chronograph: 40mm, a Super Compressor case with serious water resistance, and often bold color schemes.
However, I was drawn not to the sporty Sherpa Graph, but to a smaller, more enigmatic Enicar: the reference 2303 "Garnix" chronograph. It's one of those models that, when searching eBay, Instagram or Chrono24, you have to do searches with multiple sets of keywords, because no one really knows how to refer to it.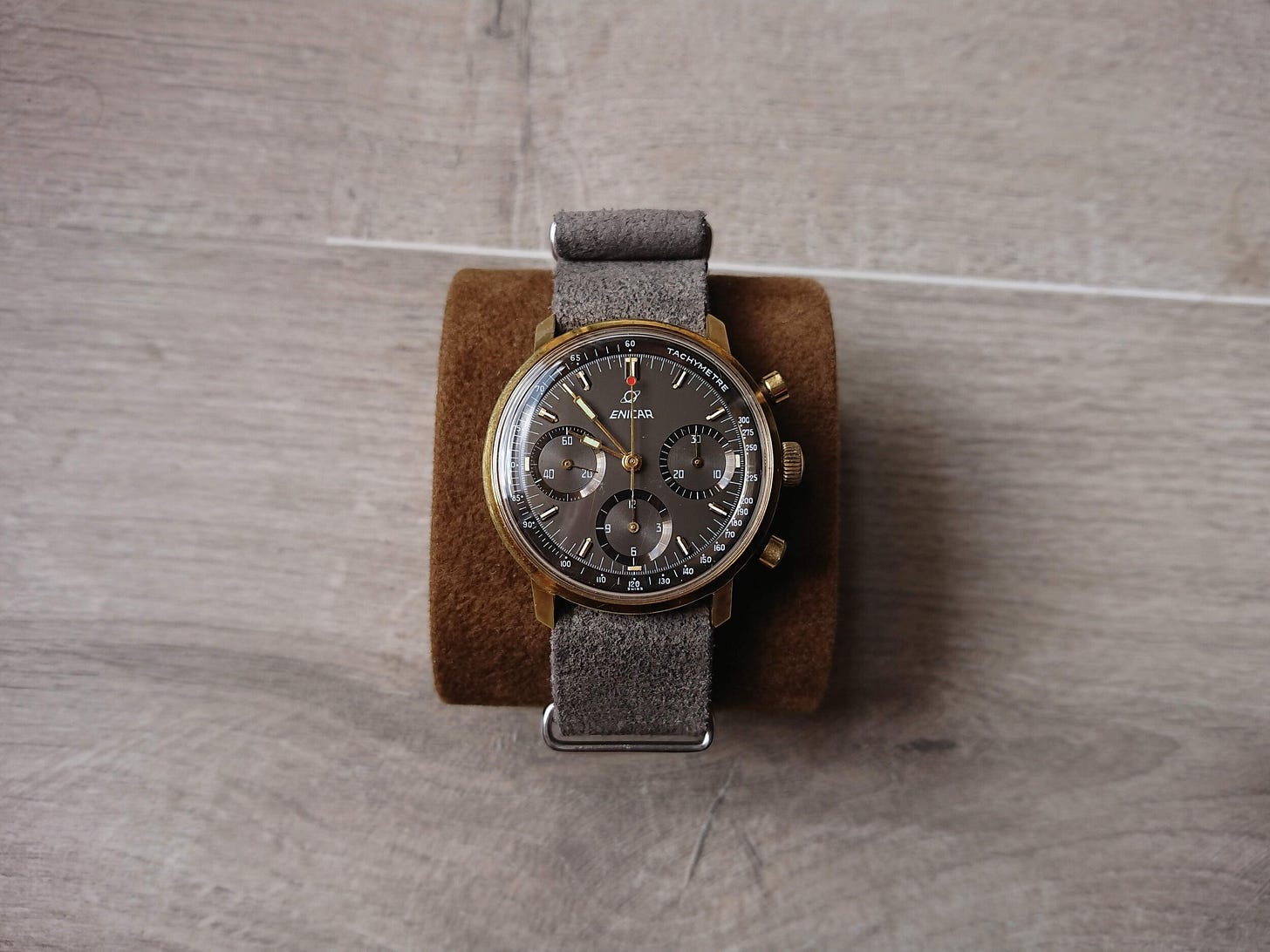 📷P. Goueffon
Getting the Garnix
If you tuned in last week, you might've figured out that I've got a thing for grey dial chronographs. There really aren't that many around, and to me, the steely grey dial paired with a stainless steel case is just ice cold. It makes for a cohesive piece that looks like it was plucked right off the manufacturing line at a steel plant.
The Enicar reference 2303 — or Garnix, German for "nothing", so named because of the lack of text on the dial besides the Enciar name and Saturn logo — was a chronograph released in the 1960s alongside the larger Sherpa Graph line.
While some have referred to this as a "pre-Sherpa" chronograph, that's not accurate: The Garnix has an Enicar logo, tritium lume (a "T" over the 6 o'clock sub dial even indicates the use of tritium), and other features emblematic of 1960s Enicar. It's more likely the reference 2303 was simply aimed at a different audience than the Sherpa Graph.
The Enicar Garnix case measures just 36mm in diameter and it doesn't use the same Compressor technology as the Sherpa Graph line. The Sherpa Graph also has longer, noticeable lugs compared to the Garnix, making the Garnix wear even smaller on wrist. Inside though, the same Valjoux 72 engine powers both the Garnix and the Sherpa Graph.
The Garnix is still waterproof, though lacked the "Seapearl" branding seen on the back of more robust Enicar sports watches. The Garnix is engraved 072/003 on the case back, so you'll often see the model referred to using this number as well.
Sporty simplicity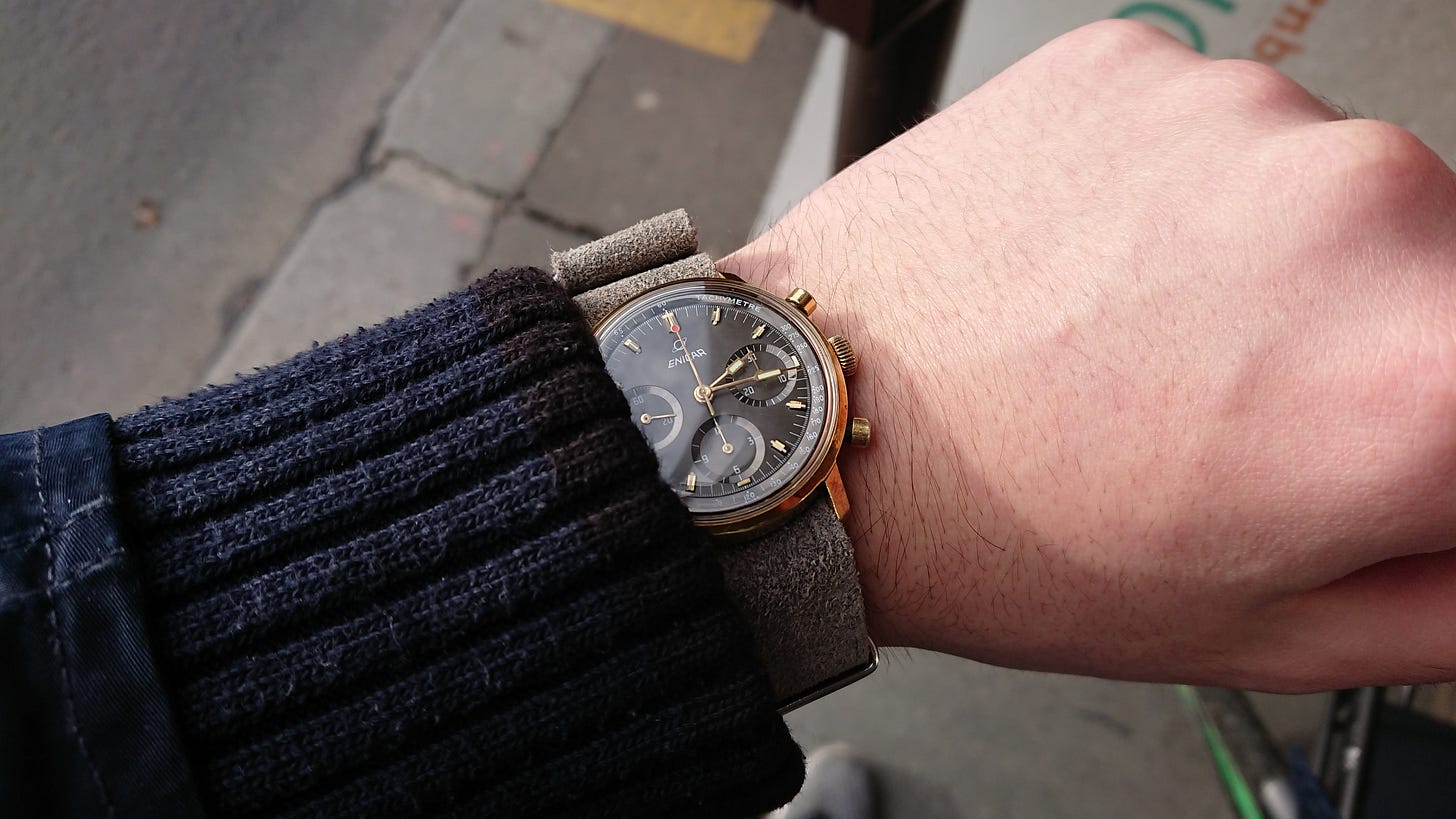 📷P. Goueffon
While the Sherpa Graph collection is highlighted by panda, reverse panda, and "albino" dials, the Garnix comes only in a monochromatic grey dial. The outer rings of the sub dials have a different polished finishing, but overall the design is a somber departure from Enicar's colorful sports watches.
Looking at the Enicar reference 2303, it's clear this isn't intended as a sports watch: It's more akin to a "dress chronograph" that can be worn everyday. It was offered in either a stainless steel or gold-plated case, again illustrating that this was a watch meant for the office as much as the ocean or mountains.
Enicar being Enicar, there's still some fun to be had: on most examples, the hour and minute hand are Enicar's instantly recognizable paddle hands. The sweep seconds hand features a small red lollipop, and small lume plots complement the indices. But, more subtle details also complement the funky and sporty to make for a well-balanced dial: raised, polished indices assure you this is still a dress chronograph capable of slipping seamlessly under a cuff.
The mix of slight pops of color against the clean grey dial offer an aesthetic that's really not seen anywhere else in vintage watches. It's mid-century minimalism with just a wink towards the loud, 1970s disco to come.
There's still a lot to be learned about the Enicar reference 2303, but it's that bit of mystery that makes this enigmatic Enicar all the more interesting to collectors. The Enicar Garnix is just one in a long list of Valjoux 72 chronographs from the 1960s deserving of more attention that it receives, but with a truly unique design from a quirky brand, it's a watch worthy of continued discovery.
---
Sales Corner
Now that you're familiar with the Enicar reference 2303…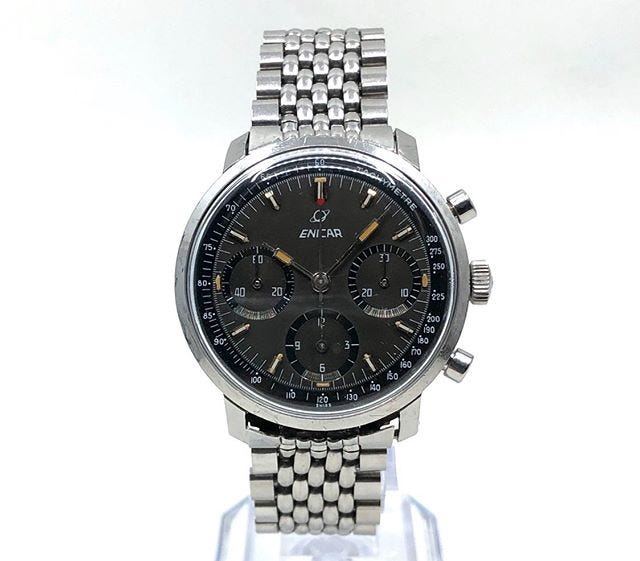 Let's take a look at one for sale: a stainless steel example of the Enicar Garnix. The dealer offering up this example says the case is unpolished, and is even selling it with the original beads of rice bracelet. The Enicar Garnix is a great entry point not only into Enicar the brand, but to mid-century chronographs as a class. Powered by a Valjoux 72 movement and priced lower than many other models with the same movement, it's a good way to dip your toes in without going full-on Sherpa. It doesn't have the celebrity association that other Enciar models do — hello Jim Clark and Gerhard Mitter — but sometimes, a great watch is just a great watch. DM dealer Timeist (@timeist_insta) for more info on this Enicar reference 2303.
---
Pandemic and the watch market
Commentators and prognosticators continue to analyze the impact the ongoing pandemic is having on the watch industry. Sure, your guess or mine is as good as any about how a once-in-a-hundred-year pandemic affects anything, but here are some of the best perspectives from industry leaders in a variety of positions that offer first-hand accounts of what's happening.
Watch selling platform and every collector's frenemy, Chrono24 released a data-driven report showing early impacts of the pandemic on its platform. It reported a precipitous drop in the first weeks of the pandemic, but quick recovery in many geographies.
Chrono24's data shows that requests for watches under $10,000 have been hit harder than higher price segments. As with the stock market, perhaps the only constant is volatility: Chrono24 is seeing significantly more price decreases and increases during the pandemic.
For some of the most popular, can't-even-get-at-retail watches (Nautilus, GMT-Master II Pepsi, Royal Oak), Chrono24's price trends illustrate a drop that quickly popped back up; meanwhile, popular but easy-to-get pieces (Speedmaster, Monaco, Navitimer), have showed steady price trends.
Recently, Sotheby's has been running online-only auctions. Two weeks in a row now, it's broken its record for the most expensive watch sold online. First, it sold a Paul Newman for $167k; next time around, it sold a reference 6241 Paul Newman for $306k. Additional insights from Paul Altieri (Bob's Watches), Adam Golden (Menta Watches), and Eric Wind (Wind Vintage) all highlight a vintage market that's strong.
Golden says he's happy to do half the volume he typically does in the current environment, but points out that the type of watches that are moving is different. The "under $30,000" price point has slowed, but big spenders are coming out with large hunks of cash to park in vintage watches. Stories of dealers selling multiple six-figure pieces and clients asking to put together a $300,000 portfolio of watches tell the story of a market where high-end pieces especially are thriving, and viewed as a potential safe-haven investment.
No matter the price point, the three characteristics all dealers agreed was most important in evaluating a next purhcase: Condition, condition, condition.
John Reardon of Collectability took a look at how Patek Phillipe has handled past economic or global crises. To me, his most prescient point is that "the laws of supply and demand seem to always find a way of bringing a Patek Philippe timepiece back to its correct relative value."
It's right to point to "relative value" as the correct metric: While the value of your collection might drop, it's important to keep in mind that almost any asset besides toilet paper is dropping like a deuce right now.
Second, while he phrases this in terms of Patek Phillipe, it holds for vintage watches more generally. Since they're no longer in production, supply is inherently limited. So while demand may fluctuate, the market will eventually reach a new equilibrium. And as a general rule, it's not a bad idea to be invested in non-renewable resources.
Reardon points to the performance of Patek pieces during the recent Great Recession as an example of this:
More recently, the financial crisis of 2007 – 2008 is fresh in our minds as the Great Recession took hold and greatly affected the watch market. Patek Philippe was at the forefront of the idea of value retention during difficult times. Take a look at every auction during this period and Patek Philippe performed quite well relative to prior years. And the values that these same watches brought afterwards over the past decade is equally impressive.
Finally, he leaves with a tip for potential buyers:
Look for buying opportunities. Many dealers are selling down their inventories and many astute collectors are jumping on the chance to buy a great Patek Philippe timepiece at an attractive price. No one knows where the watch market is going in the future, but it is nearly always a safe bet to buy a great watch at a great price.
More social distancing
Rolex, Tudor and Patek have postponed all releases until 2021 I was hoping to get on a waitlist for a hot new Black Bay GMT or 58 release, but it seems even that will have to wait. This week's Sotheby's online auction is all Patek (Skinner's clocks and watches auction also has some notable lots). You can buy H. Moser new 2020 releases online now. Actually productive discussion on OF about the market? Predictions that Swiss watch exports will drop 25% in 2020.
---
Ticks & Tocks
🧙‍♂️ Michael Jordan wearing a Datograph back in 2002 is insane (follow @niccoloy for some of the best celebrity watch spotting). 🕰 "How I Got It": Seiko 6105. 💧 An in-depth review of the Dox Sub-200, the brand's new entry-level diver. 😍 I love this thread on the Movado M90/M95. 👩‍💻 One of my favorite Substack newsletters, The Profile, on how you can benefit from people-driven learning. 🐝 It doesn't get much better than a waffle-dial Explorer.
Thanks for reading!
-Tony
Tap the heart above to like this email, comment, and if you're new, subscribe here: