Discover more from Rescapement
Updates on my Hodinkee writing; b-sides and behind-the-scenes; unpolished personal musings; recs and other unsolicited advice.
Early Longines Dive Watches: A Brief History
The Rolex Kew A, a look at the Tudor Ranger, and how watches make the "Tamogatchi Gesture"
The Rolex Kew "A", a look at the Tudor Ranger, and how watches make the "Tamogatchi Gesture". If you're new, subscribe to get Rescapement Weekly in your inbox every weekend:
A special thanks to Matt S. (@MattSworldwatch) for his assistance in researching this piece. For the full article on the history of early Longines dive watches (with plenty of images), click here.
Everyone kind of knows the "dive watch" story: In the 1950s, driven by a huge popularity boom in commercial diving, watch brands started making dive watches for the masses. Rolex, Blancpain, and Doxa are the names most commonly associated with these mid-century dive watches, with many other brands trailing closely behind.
But one of my favorite stories from the era is that of Longines. It's the story of how a brand previously known for producing some of the best in-house chronograph calibers to ever exist managed to associate itself with diving — and create some pretty badass dive watches in the process.
Rolex, Longines and the Trieste
Back in 1960, a couple guys thought it would be fun to launch a U.S. Navy bathyscaphe somewhere off the coast of Guam and into to the deepest point in the ocean, a hole in the middle of the Mariana Trench called the Challenger Deep. The guys, Swiss scientist Jacques Piccard and Navy Lieutenant Don Walsh, later described the deepest dive in human history as "actually a little boring" once the nine-hour plunge got going. Timing is an integral part of any dive, and so timepieces from three companies were used in the successful dive: Rolex, Movado, and Longines.
Rolex, consummate marketers they were, thought it'd be fun to strap a "watch" to the bathyscaphe as it plunged 10,916 meters down into the ocean. So, they sent a "Deep Sea Special" over to Piccard for him to affix to the outside of his submarine. As Rolex tells it, Piccard telegraphed Rolex after the completion of the dive: "Happy to announce that your watch works as well at 11,000 metres as it does on the surface" (see video of Rolex Deep Sea Special No. 1 here — it's though that No. 3 is the one that went to the bottom of the ocean). In 2012, Hollywood mega movie maker James Cameron decided to repeat Piccard's and Walsh's record-setting dive, and you can bet Rolex was there to mark the occasion.
Honestly, I didn't know much about the Trieste deep sea expedition until I dug into the history of Rolex dive watches. For some reason, the expedition seems to be often told with Rolex's PR spin, using the feat to promote the brand's prowess as a builder of "watches for expeditions" or whatever. It's a bit unfortunate, really, because it has the effect of numbing us to how awesome a human achievement this actually was. As a reminder, this was the deepest dive in human history, diving to pretty much the deepest place on this Earth. A watch brand strapping some trinket to the outside of the submarine is a mere footnote to the accomplishment.
Longines: Diving deep
While Longines had already released its first dive watches before the Trieste's dive, the brand was still most recognized for its abilities as a chronograph manufacture. As such, two Longines stopwatches were installed and used inside the submarine to time the activation of the sub's two ballast tanks. For Longines, it wasn't a bad way to get a little diving clout when brands like Rolex, Blancpain, and even Breitling had beaten it to the seas.
Still, Longines' wasn't exactly some great horological achievement worth trumpeting, though you can be sure Longines did some of that in advertisements (see below).
While Longines had already released its Nautilus Skin Diver back in the late 1950s, it's not clear the model had found any immediate success on the market (more on that in a minute), with offerings from brands like Rolex and even Omega already well engrained in the consumer consciousness by that time. Its involvement in the Trieste expedition was an opportunity to reset and reposition itself as a true player in the dive watch game.
It's with this backdrop that I wanted to give a brief introduction to Longines' first dive watches: the Nautilus Skin Diver reference 6921 and the Longines Compressor reference 7042. Aesthetically, they're very different, but together they perfectly exemplify where dive watches were by 1960. Too often, Longines' dive watches are still overlooked in the pantheon of "great dive watches". Even if you look at Longines' own company history, there's nary a reference to its dive watches. No longer!
Longines Nautilus Skin Diver reference 6921
Longines' first dive watch was the Nautilus Skin Diver reference 6921, a 40mm stainless steel model with an external rotating bezel. Inside ticks Longines' 19AS automatic caliber, a 19 jewel movement that beats at a low 18,000 bph, but with a unique construction. There's gorgeous perlage finishing around the caliber's perimeter, with the automatic rotor taking up a relatively large amount of space, while the movement itself sits smaller in diameter and thicker. First introduced in 1952, it was used in a number of Longines models and produced in multiple variations.
The case was manufactured by Ervin Piquerez, S.A. (EPSA) and features the company's famous patented case-sealing "Compressor" technology that improves water resistance. The deeper you went, the more pressure was applied to the case back, pressing it against a special O-ring gasket that improved water resistance.
Though most associated with dual-crown internal bezel cases, EPSA also made single-crown cases like that used for the Nautilus Skin Diver. The Skin Diver's single crown features a simple cross hatch pattern, common on EPSA cases to signify the use of its Compressor technology. Thanks to this Compressor case, Longines' reference 6921 was rated to 150 meters of water resistance. The external bezel was made of a fragile bakelite, which is often seen cracked or damaged on examples that come up for sale today. As such, aluminum service bezels with larger numerals are commonly seen instead. One of the most enjoyable details of the Nautilus Skin Diver is the case back, which features an engraving of a diver with a harpoon.
The Longines reference 6921 was only produced for a couple years at the end of the 1950s, and it's estimated that only 550 examples were even produced across three references: 6921-1, 6921-2, and 6921-3. The three sub-references simply represent separate production runs: the dials are the same, with the Longines logo at 12 o'clock and "Automatic" script at 6 o'clock. If you find "Automatic" printed directly below the Longines logo, it's a sign of a reprinted dial.
The hour hand features a broad arrow filled with lume, with the thinner minute hand also filled with lume to facilitate easy legibility.
Perhaps the watch wasn't finding the success of other competing dive watches and Longines quickly directed its resources to its other dive watch, the reference 7042. Whatever the case, it makes for an extremely collectible model in the modern world of vintage watches.
As such, these Nautilus Skin Divers are very highly coveted when they show up at auctions. In 2019, a bezel-less reference 6921-3 (with what look to be some other originality issues, including a replacement crown) sold at Tooveys for £18,000 plus buyer's premium.
A couple other notable auction sales include:
As this selection of sold examples from reputable venues illustrates, it's difficult to find a fully original reference 6921 in even the highest echelons of collecting. The Skin Diver is a truly rare vintage dive watch worthy of the praise it receives from those in the know.
Longines Super Compressor reference 7042
If the Nautilus Skin Diver is the forgotten stepchild of the Longines diver family, the Super Compressor reference 7042 is a certifiable icon.
Like the Nautilus Skin Diver, the Super Compressor features a case from EPSA, but this one is the case manufacturer's better-known internal bezel, dual crown model. Many brands used Super Compressor cases throughout the middle of the century, but Longines, along with Jaeger LeCoultre and Universal Geneve, make something of a "holy trinity" of Super Compressor users (which is not to give short shrift to Benrus, Bulova, Enicar, Hamilton, and the dozens of lovable brands you'll find having used SC cases).
The Super Compressor case measures 42mm in diameter, boasts 100 meters of water resistance, and like the Skin Diver, is powered by the automatic caliber 19AS. Like the Skin Diver, its two crowns feature EPSA's signature cross hatching, with the two o'clock crown working to rotate the internal bezel. These Super Compressor divers look a bit more clean and sleek than their external-bezel counterparts — I've even seen them referred to as "dress divers." Indeed, it's this clean look that drew me to EPSA's Super Compressor cases more generally, along with the ready availability of 36mm models in addition to the standard 42mm models. The reference 7042's dial is a glossy black with an attractive 3-6-9 layout and a simple internal bezel that rotates by turning the 2 o'clock crown.
Earlier "Mark 1" bezels of the Reference 7042 have 4 dots between the 15 on the inner bezel instead of the 3 dots observed in later bezel models.
Additionally, there is a rarer early dial variant that features small, simple radium lume dots at the 3-6-9-12 hour markers, instead of the large luminescent bars more commonly seen on the second generation dial. This first generation dial also features smaller, thin lume indices at the other hour markers, lending the watch a more elegant feel than later generation dials, which, with more lume, have a definitive tool-watch look.
According to Longinespassion, this rare "first generation" dial can be correctly found in both references 7042-1 and -2, using radium lume and featuring "Swiss" only at 6 o'clock. You'll see later examples of the reference 7042 utilize tritium lume, illustrating Longines' general move from radium to tritium during the production years of the model. I have found examples of the Mk1 bezel with both first generation and second generation dials, so I do not think the Mk1 bezel is exclusive to first generation dials or vice versa.
Serial numbers and receipts have shown sales of the Longines Super Compressor began as early as 1958 (i.e., serial numbers as early as 10xx), indicating that the model was concurrently produced with the Nautilus Skin Diver. Like the Skin Diver, the original Super Compressor was also produced for just a few short years before Longines phased it out for the reference 7150, fitted with the manufacturer's improved automatic caliber 290. While there are some differences between the reference 7150 and the original Super Compressor, the model stays remarkably true to the original aesthetic.
Unlike the Nautilus Skin Diver, which you'll rarely see change hands publicly, you'll more easily find sales of the Compressor reference 7042. This is not to say clean, all-original examples are easy to find. Again, it was produced for only a few years in the late 1950s and early 60s, and because these were purpose-built tool watches, few survive in desirable, collectible condition.
Heritage: Keeping the dive alive
While vintage-inspired "heritage" releases from brands have been in vogue for at least the last few years, Longines was early to the game. They released their first Legend Diver back in 2007, inspired by the Compressor reference 7042. They've continued to expand the line, now offering it in various dial colors, sizes, and materials.
Meanwhile, Longines released the Heritage Skin Diver in 2018, inspired by the reference 6921. While I personally prefer the Legend Diver, the Heritage Skin Diver is a worthy modern release that pays tribute to a vintage model that doesn't receive enough attention.
This is article is meant to serve only as an introduction to Longines' early dive watches. There is still much scholarship to be done in cataloging examples of these watches to discern what might be original and "correct."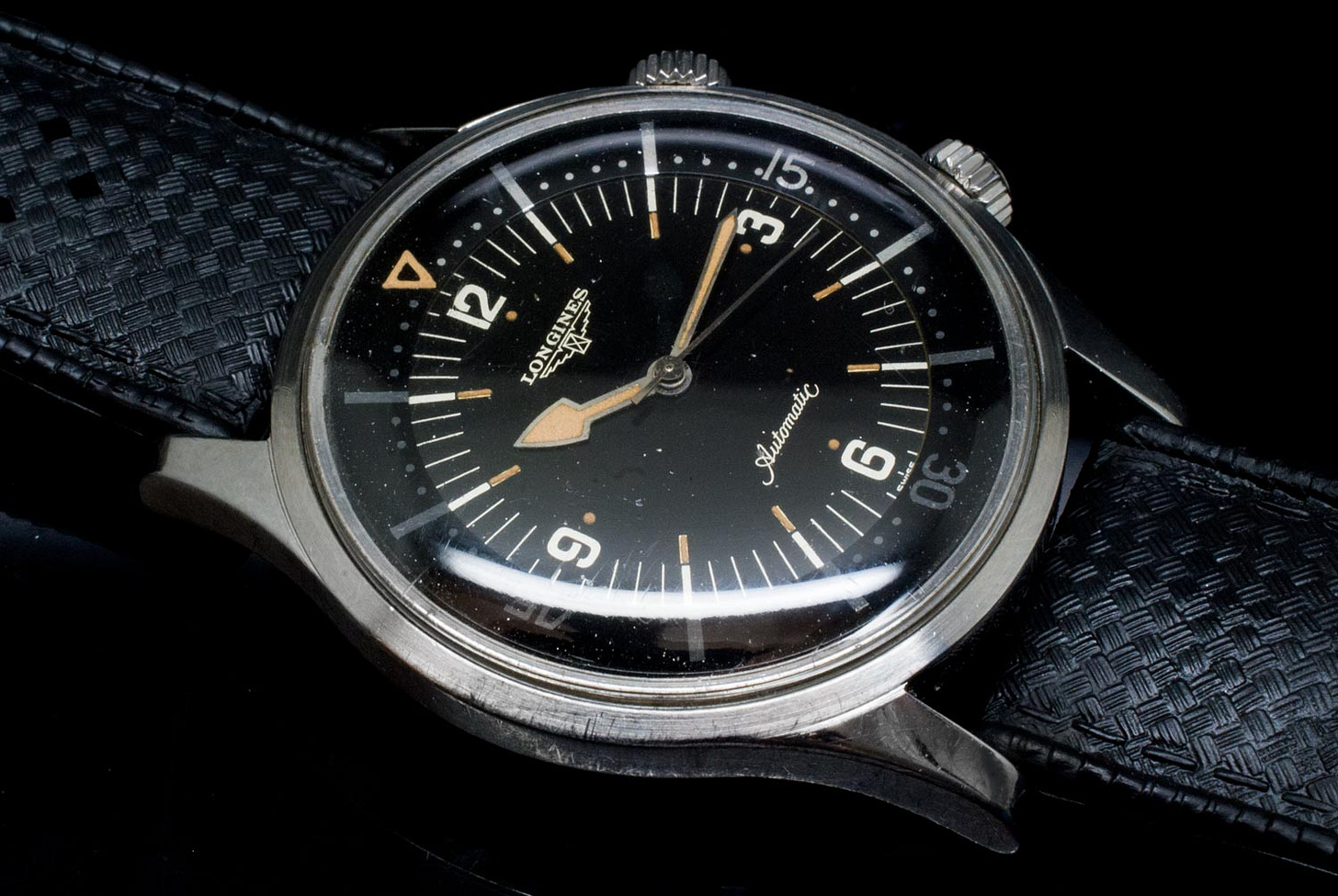 ---
Throwback Corner
Reading Hodinkee's "Inside Rolex" post this week, I was reminded of another great throwback post: Paul Boutros' journey to finding a Rolex Kew "A". Throughout the middle of the century, watch brands sent movements to the Kew Observatory in England, where they were put through a 44-day test to become official "Observatory Chronometers". Unlike many Rolexes, the special part about these Kew A certified watches is the super accurate movement. The certification deemed these watches fit for marine chronometry, accurate in all positions and in a wide range of temperatures thanks to the Guillaume balance wheel.
Approximately 136 Rolex movements received this Kew "A" certification, but according to Boutros' research, just 24 of these were cased in full size, 34mm gold cases. In other words, these Observatory Chronometers are some of the most accurate, rare Rolexes around. The other Kew "A" certified movements were cased in "boys size" 28mm stainless steel cases. Boutros (now of Phillips) tells the story that led to finding his full size version.
As relevant in 2020 quarantine as it was when originally written in 1999: an obsessive's journey into mechanical watches on eBay. There are many reasons the idea of the "Collectible" is even more ubiquitous than ever, but the most important is technology. "We are mapping literally everything, from the human genome to Jaeger two-register chronographs, and our search engines grind increasingly fine," wrote author William Gibson, continuing:
Any Swatch or Casio keeps better time, and high-end contemporary Swiss watches are priced like small cars. But mechanical watches partake of what my friend John Clute calls the Tamagotchi Gesture. They're pointless in a peculiarly needful way; they're comforting precisely because they require tending….

And vintage mechanical watches are among the very finest fossils of the pre-digital age. Each one is a miniature world unto itself, a tiny functioning mechanism, a congeries of minute and mysterious moving parts. Moving parts! And consequently these watches are, in a sense, alive. They have heartbeats. They seem to respond, Tamagotchi-like, to "love," in the form, usually, of the expensive ministrations of specialist technicians.
---
Ticks & Tocks
👏 H. Moser now sells its own certified pre-owned watches, including a two-year warranty. Wes Lang loves this new hand-wound Grand Seiko. 🏈 IWC boi Tom Brady wore a Spitefire Timezoner while signing some papers. 🐟 Baltic x Worn & Wound ride the salmon dial wave with a hot limited edition. ⚾️ Mickey Mantle's Rolex reference 6238 sold for a cool $108k. 🤍 A vintage 'albino' Rolex Explorer. 🌹 Craft & Tailored shares his personal Tudor Ranger, with a few tips on how to spot the ubiquitous fakes (note: contrary to the video, according to Tudor's own history Rose Rangers do exist, though they're exceedingly difficult to find). 💯 The 10 most reputable brands in the U.S., according to the Reputation Institute.
☕️ Wherever: Where to buy great coffee online, by region.
Thanks for reading!
-Tony
Tap the heart above to like this email, reply to comment, and please share Rescapement Weekly:
Meme of the Week:
How to prevent your computer from falling asleep while you "work from home".