Discover more from Rescapement
Updates on my Hodinkee writing; b-sides and behind-the-scenes; unpolished personal musings; recs and other unsolicited advice.
Delivery of Prodigious Newsletter
A chat with William Massena
Today's format is a bit different: No in-depth article, just a selection of vintage chronographs for sale, and a chat with the talk of the watch internet this week, William Massena.
---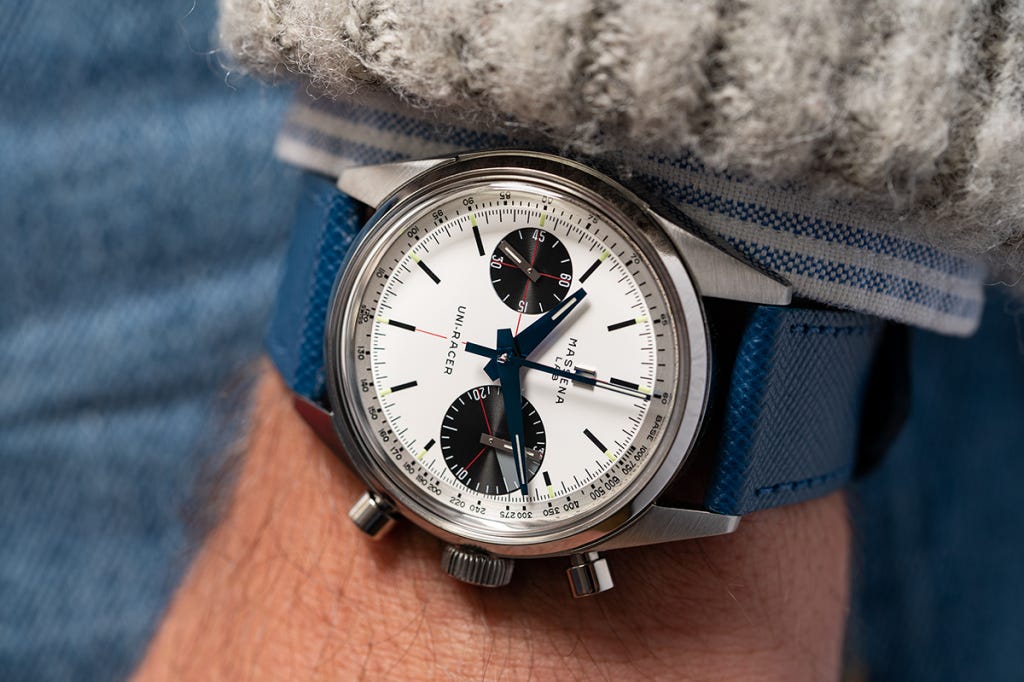 If you spend a lot of time on the watch internet, and perhaps even more time concerning yourself with the opinions of others, you probably saw the release of the first standalone timepiece from Massena Lab this week, the Uni-Racer. After I (kind of) figured out that some sort of "Big Eye" was forthcoming, I wrote about the Universal Geneve ref. 884100 "Big Eye" in last week's newsletter.
Mr. Massena played along, so I had the great pleasure of chatting with him the night before Massena Lab's first standalone release, the Massena Lab Uni-Racer. Whatever your thoughts on the release, I'd encourage you to hear a bit more from Massena about it; his voice has been largely absent, except for him seemingly taking it all in stride (for example, by re-posting Hodonkee in his story earlier this week, and voting that the watch was "totally fucked" in an IG poll).
A few excerpts from our conversation (link above for the full chat):
Massena on the origins of the Uni-Racer:
"Originally, I wanted to approach Universal Geneve and do it as a collab. So, I sent them emails but got no answers. Eventually, I decided I'd do it myself. So that's how it started. I went to Switzerland, and some of the people I know and friends in the industry thought it was a great idea and helped me. We had to decide if we were going to do an exact copy or not. We eventually decided we would do as much as we could to resemble the original Big Eye. But we thought 39mm would be a lot better than 35mm for modern tastes."
At 39mm in diameter, the Uni-Racer measures a few millimeters larger than the original Universal Geneve 'Big Eye'.
On developing the case:
"Massena Lab bought two [Universal Geneve Big Eyes], and a third was lent to us. A big issue was figuring out how it was originally polished. But, we found a guy outside of La Chaux-de-Fonds, Switzerland, who used to work at Universal Geneve, and asked him questions. We also asked collectors left and right." Eventually, Massena Lab landed on a vertically polished case, which adds a sense of dimension to the case.
On being judged:
"I wanted to make something that is cool, that people can relate to. I don't mind being judged. I think I should be judged just like everyone else. I didn't want to be stuck with one brand for the rest of my life, and I don't want to do every Universal Geneve. If this is successful, I will do other watches from Universal Geneve. But, I will also do things from other brands that have cult watches that aren't being reissued because the brand is dead.

I don't want to sound pretentious: I have big plans and big ideas out there being designed. But, if this doesn't work, I don't think the rest of it will happen.

I'm also not that pretentious to think it should sell out in a day. If it sells out in six months, I'd be happy. I have 18 projects planned over the next three years. Of course, some of them will die. But I just hope I can finance them, because some of them won't be cheap."
On bringing Universal Geneve back:
"I do hope what I do makes Stelux [the owners of the Universal Geneve brand] realize they have a potential goldmine on their hands."
---
Through the Wire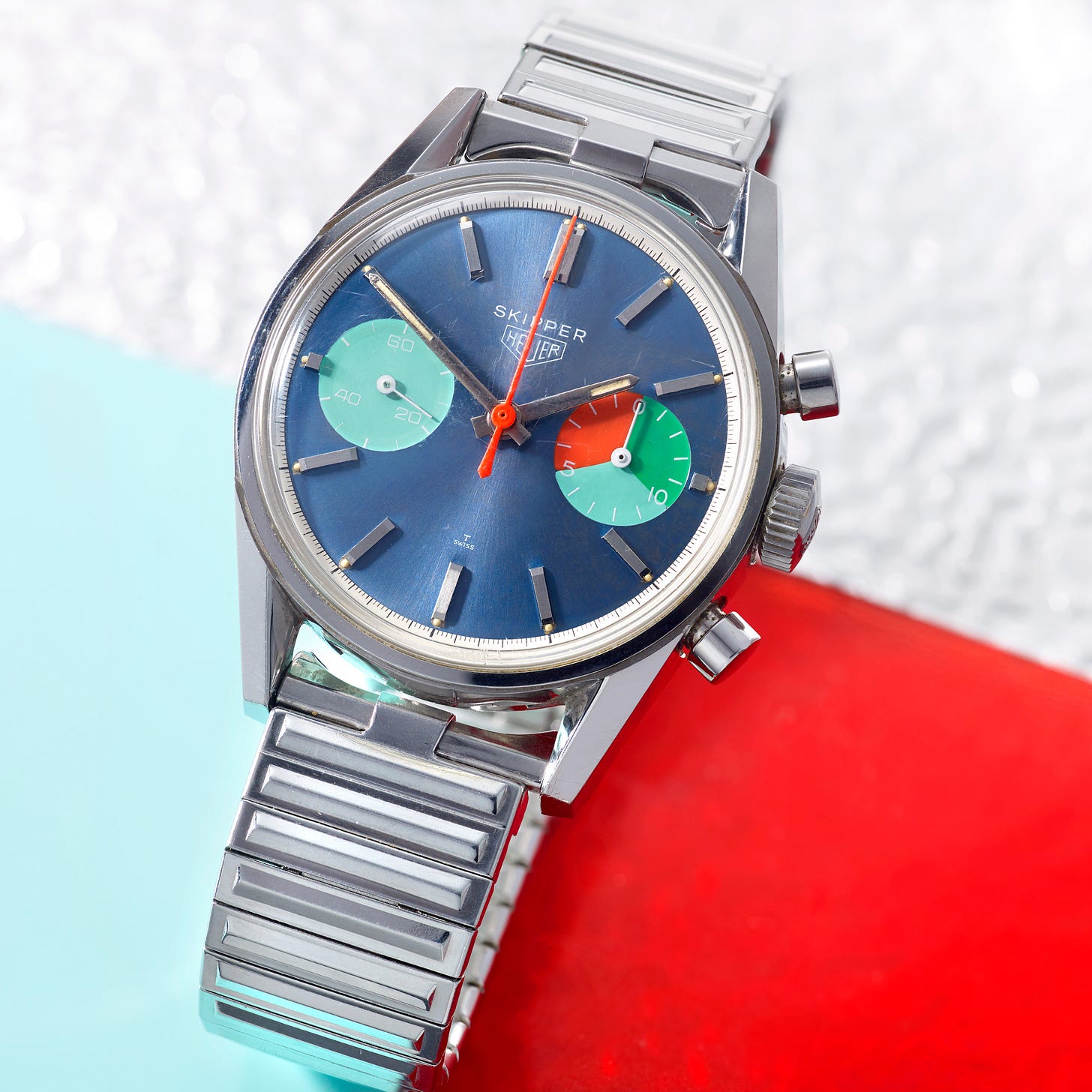 Tomorrow, Fellows will offer a Heuer Skipper 'Skippererra' in its Watch Sale. There's a healthy estimate on the lot: £45k-65k, but there are still less than 30 of these that have appeared on the modern market. It's the first time this particular example seems to have surfaced, so it'll be exciting to see how it performs.
On the Dash requested additional photos from Fellows, which you can find on its Reference Table (serial 105919). The photos seem to show a watch that's in good condition, with a vibrant blue dial and color subdials that show little damage. This is the first Skipperera to appear at auction since June 2019, when Bonhams sold an example for $80,724 (and that was re-lumed!).
Btw, a Heuer x Hodinkee Skipper also popped up on eBay this week (with a $1 starting bid, no less); it quickly gained attention and the listing was pulled, all in less than 12 hours. Presumably, some off-eBay deal was made that involved an immediate wiring of $20k or so. (h/t Rich)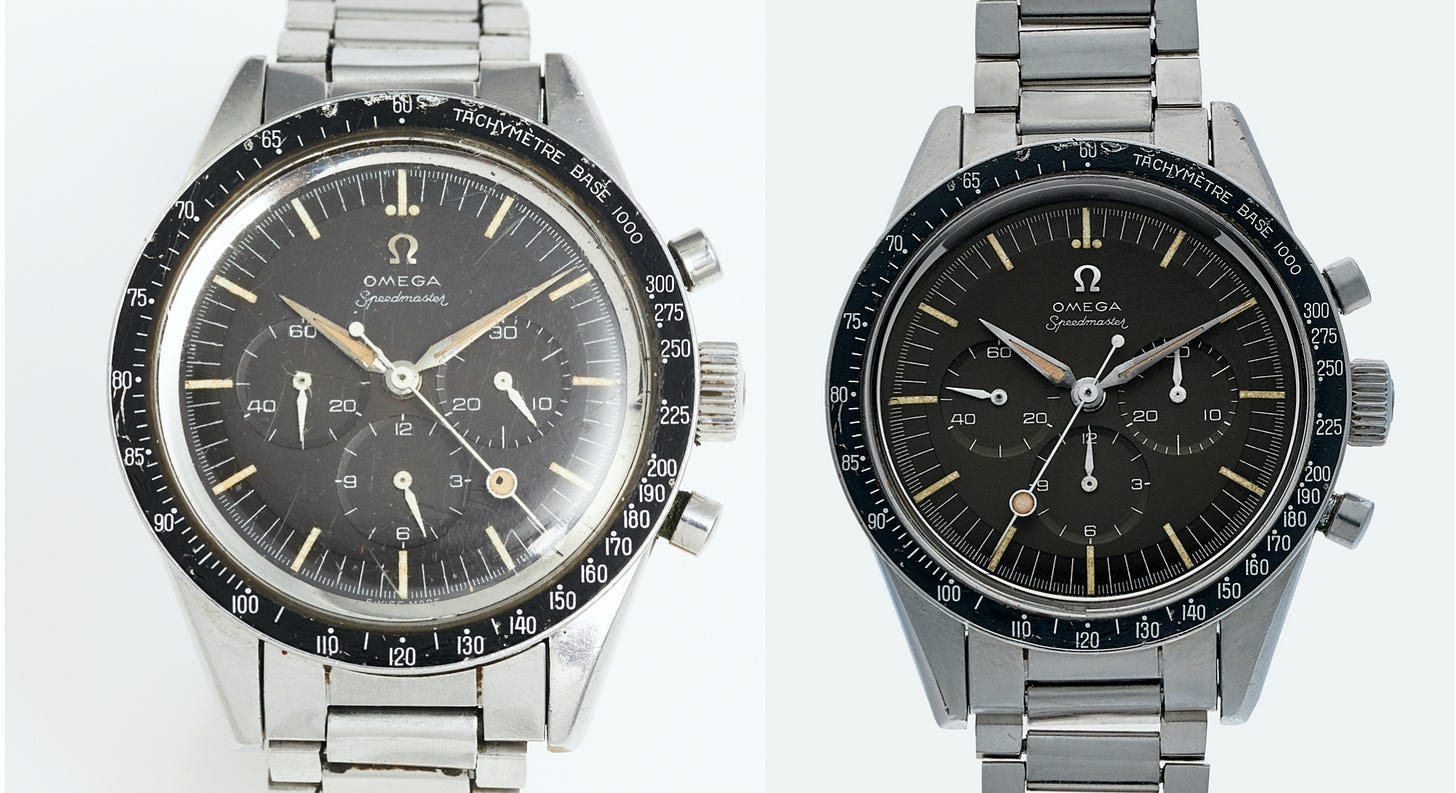 Ben Clymer put his cape back on to make an "announcement about vintage watches at Hodinkee" this week. Even better, the announcement was accompanied by a selection of vintage watches, including this gorgeous tropical Omega Speedmaster ref. 2998-1 with a lollipop seconds hand (with a comment endorsement from Clymer: "If I didn't already have a 2998 this never would've made it to the site").
Putting aside the fact that we now have to accept everything showing up on the Hodinkee site is apparently Clymer's sloppy seconds, it turns out this is a Speedmaster we saw sold last March by Stockholms Auktionsverk, where it hammered for $54,000. As you can see (and as Hodinkee clearly discloses), there's been some minor touch-up to the lume, particularly on the lollipop seconds hand. The watch looks to be in good condition: sharp case, original Naiad crown that's only seen on very, very early Speemdasters, original dot-over-90 bezel, etc. Hodinkee fitted a new crystal on it, but says they'll provide the original Omega crystal too (it looks like the original crystal is in the Auktionserk photos). In short, Clymer's article espouses his company's commitment to "transparency" in vintage watches, and this Speedmaster listing seems to illustrate that commitment. Regarding price: Hodinkee's asking $65,000, a 20 percent increase over Auktionsverks's hammer price, which seems completely fair given what we know was paid for it just last year and the money that was put into fixing it up for a trademark Hodinkee lifestyle photography shoot.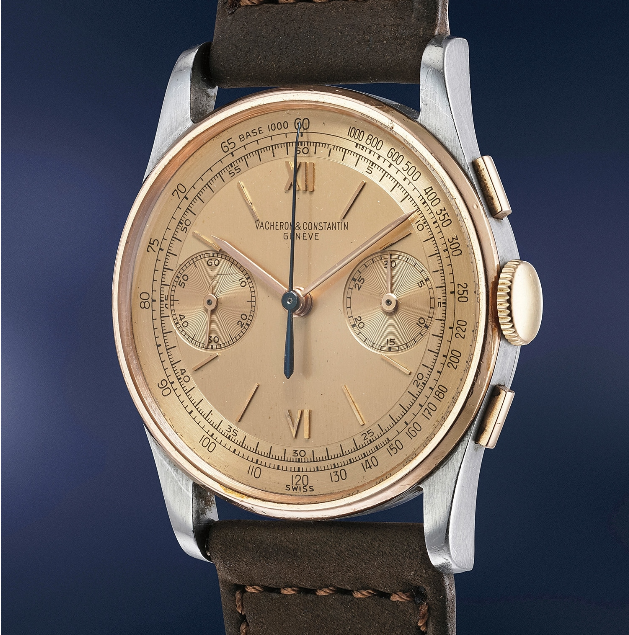 Up next, a bit of a dressier vintage chronograph, the Vacheron Constantin ref. 4072. Watchmaker Peter Toot wrote an excellent in-depth article for Rescapement analyzing all dial variants of this reference. This example, offered in Phillips' Geneva XII auction, features a rare two-tone pink gold and stainless steel case and champagne dial. Further, it aligns perfectly with Peter's research: it's what he calls a 'Variant 2' dial, highlighted by the applied numerals and Roman numerals at 12 and 6 o'clock. The movement number is in the range you'd expect for such a dial, placing production at 1945. Only about 1,000 reference 4072s were ever produced, and of that an extremely small subset is of the two-tone variety (Phillips says less than 70 are known in this combination). The auction estimate is placed at $54,000 to $87,000.
Antiquorum also has a ref. 4072 in its upcoming Important Watches auction (Lot 190), this one a pink gold example with a pulsation dial.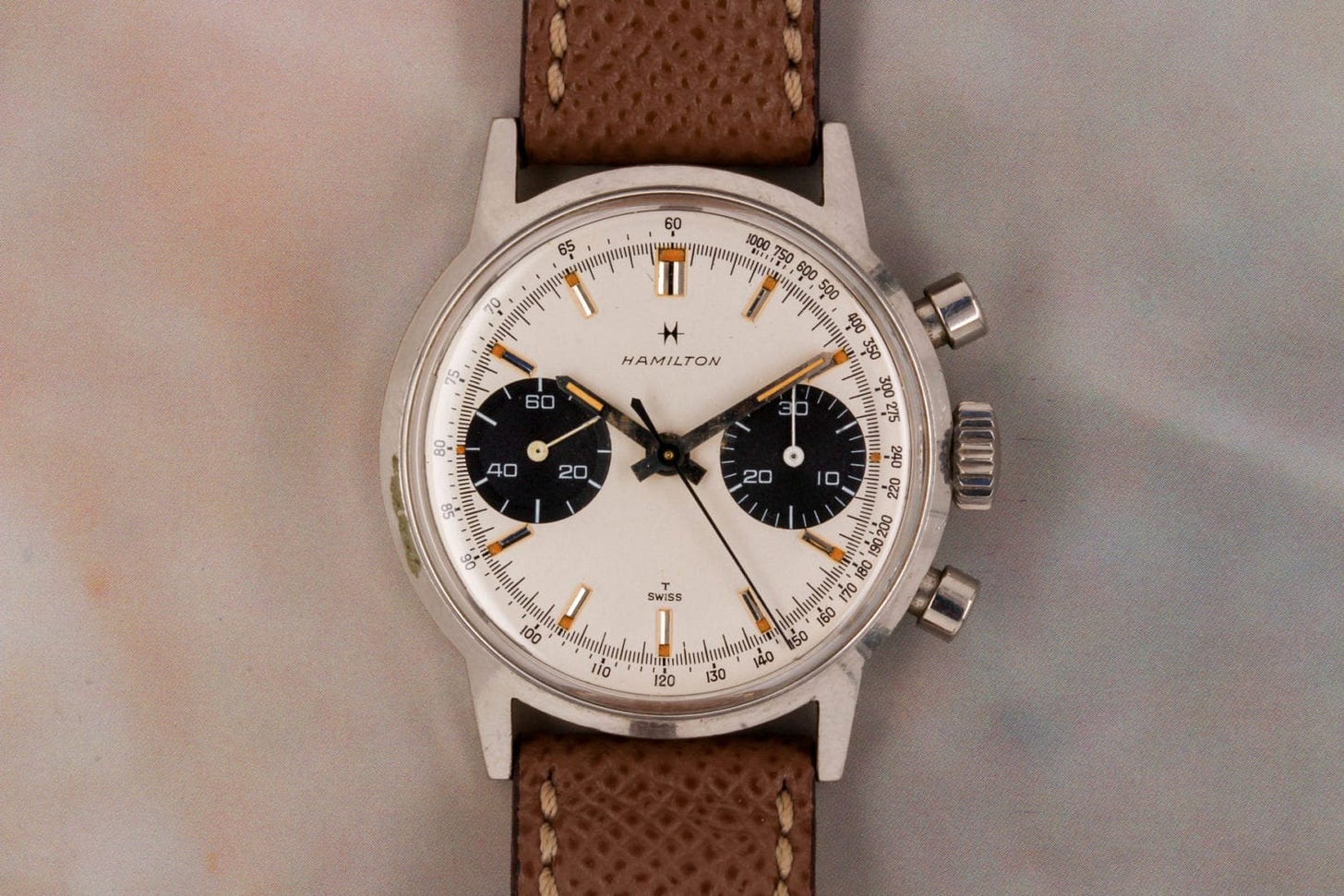 Speaking of Heuer. If you're not up for dropping a cool six figures on a super-rare Skipperera, this "Poor Man's" Hamilton chronograph might be for you. Like Heuers of the era, it uses a Valjoux chronograph movement, this one the caliber 7730. Don't let the "poor man's" moniker fool you into thinking these are easy to find: in fact, perhaps in part because of their low MSRP back in the day, it's difficult to find these in solid, original condition. This example seems to show a sharp case and a clean dial with nicely aged and matching lume on the dial and hands. The only (minor) issue seems to be a generic, replacement crown. I've looked at a ton of examples of these, and it almost seems a replacement crown is more common than the original, Hamilton-signed crown nowadays. To see what an original crown looks like — again, with a beautiful case and dial — check out this example, recently sold by Those Watch Guys. This particular example is offered by Menta Watches, with a price of $3,750.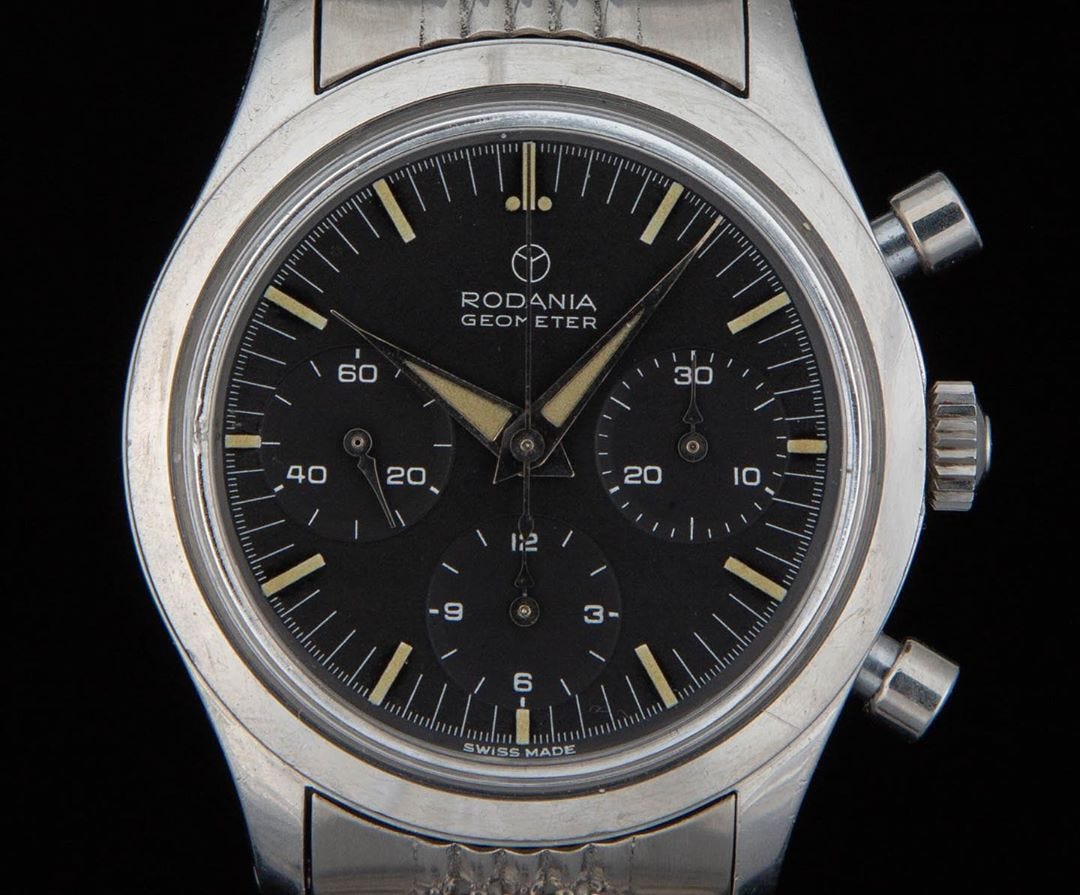 And if you're not up for spending $65,000 on the Speedmaster ref 2998-1 above, but want something just as rare, the Rodania Geometer might be the cult classic for you. The Geometer first appeared in the early 1950s. Look at the photo above and cover up the name at 12 o'clock and you'd be excused for thinking it's the first Omega Speedmaster ref. 2915. But, the Geometer seems to have been produced chronologically prior to the ref. 2915, so it's clear that Omega took "inspiration" from the Geometer.[1] Because of their rarity, there's really not much more information available on the internet about the Geometer. It's an awesomely mysterious watch, seemingly preempting one of the most iconic chronograph designs by a few years. This Rodania Geometer is for sale by Malibu Watches on Instagram.
[1] Those still complaining that Massena Lab "stole" the Big Eye or something, take note. If the original Speedmaster design was in fact inspired by a brand that now makes cheap, quartz watches for about $200 a pop, then what are we really arguing about here? For now, I'll steer clear of the existential "nothing new under the sun" arguments, and just let you enjoy a few of the best vintage chronographs around. But, if you're going to be truly offended by something in watches, perhaps it should instead be this "prototype Omega Speedmaster" to commemorate the attacks of September 11, 2001, being offered at Monaco Legend's auction next weekend.
---
📒 Full auction catalogs. There are a ton of auctions over the next few weeks. Here are some links to catalogs that have been published thus far:
🥰 10 watch collectors on their favorite watches. 🇯🇵 The intriguing world of Japanese watch collecting. 📘 The quarantine color palatte.
✍️ "It signals that signalling about wealth is beneath its dignity". Perhaps the best paragraph about a watch I've read all year, from Jack Forster's introduction of the Alfred Helwig Tourbillon:
It does not signal wealth; rather, it signals that signaling about wealth is really something beneath its dignity, and it ought to be beneath yours too. It breathes the essence of a genteel, refined, and unostentatious lifestyle, redolent of battered vintage Bentleys looking in need of a paint job they will never get; large, rambling country estates going slightly to seed; complaining to your domestic partner of several decades in a reedy, irritated voice that the rabbits have gotten in amongst the cucumbers again; of sitting in sullen silence by the fire on Christmas morning while the relatives revel until you get everyone's attention, at about one or so, by shouting that the damned dog isn't going to walk itself. Laugh if you will, a man can dream. The only downer to me about the whole business is that this lovely, lovely watch, which finds pandering to transient tastes of any kind unworthy and irrelevant, is a limited edition. Something like this, I feel, ought to be made on a regular basis – if nothing else, to keep hands and eyes and minds sharp, and to remind the company, as much as its customers, where its philosophical, technical, and artistic centers of gravity really lie.
Okay ciao! -Tony
—
Rescapement is a weekly newsletter about watches, bringing horological secrets vintage and modern to your inbox every Sunday.