Discover more from Rescapement
Updates on my Hodinkee writing; b-sides and behind-the-scenes; unpolished personal musings; recs and other unsolicited advice.
Considered Q&A: Rowing Blazers' Jack Carlson
And Wind Vintage's Best Man
By: Rich Fordon
Jack Carlson is the Founder & Creative Director at Rowing Blazers, a trad-meets-street fashion brand based in New York City. A former US Rowing National Team coxswain with a doctorate of archeology from Oxford, Jack has quite the background. His ties to the watch world are deep, having stood next to a certain Mr. Wind as best man in Eric's wedding— the two going way back, spending time at both Georgetown and Oxford together.
Rowing Blazers is one of if not the only brands in fashion shining a light directly on the watch world with their offering of unique NATO straps with vintage watches both online and in-store. Jack and I chatted about this focus from the brand as well as his personal watch tastes. The read is long but worth it, I promise.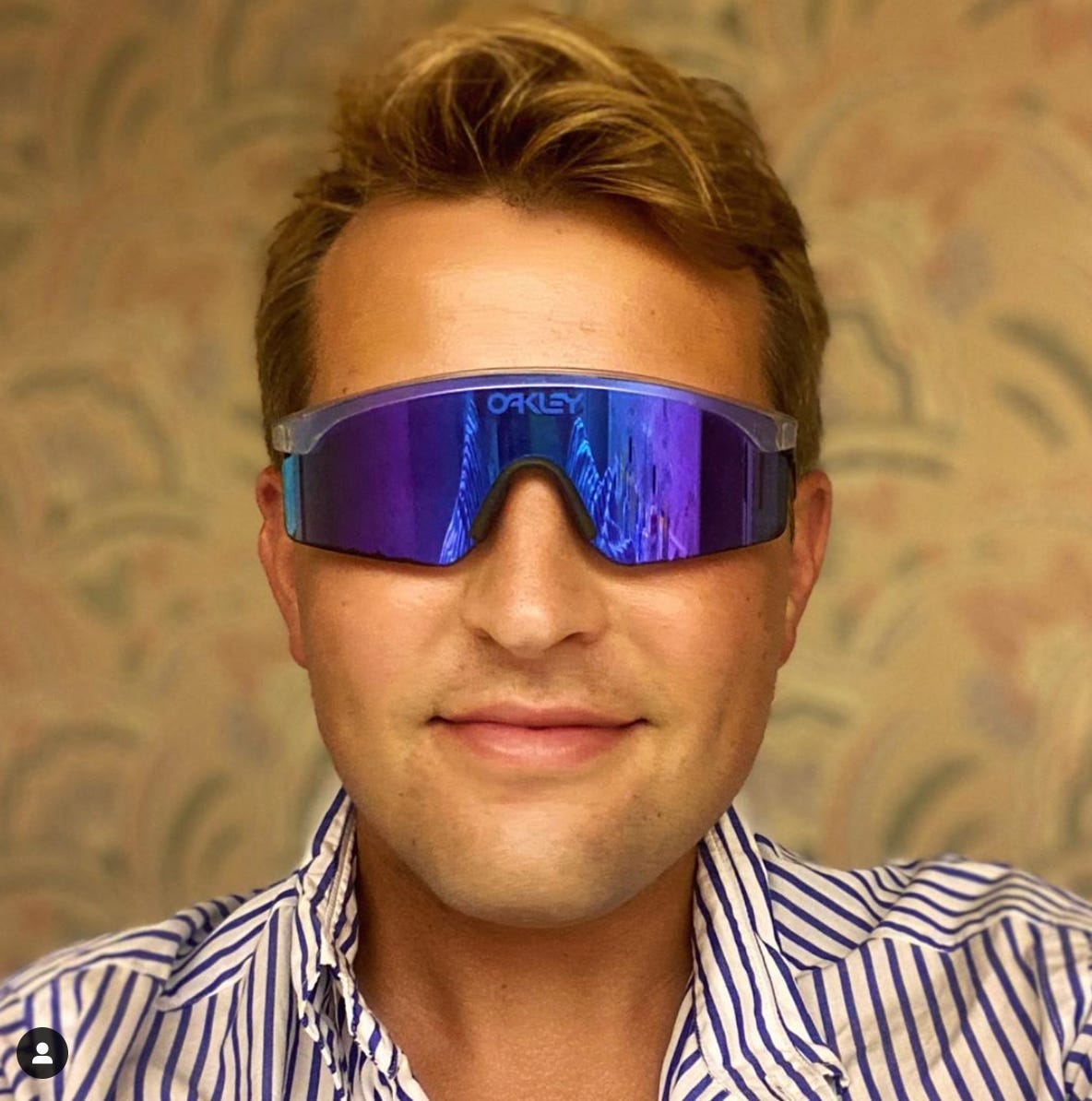 ---
Q. Watches regularly pop up on the wrists of both men and women in your lookbooks and marketing materials. Especially showing models wearing Rolexes on your in-house NATOs. Do you see watches as an inherent part of the brand's look?
Yeah, I think so. The world of watches fits very nicely into everything else that we're doing at Rowing Blazers. It is a world of a lot of tradition, a lot of somewhat archaic knowledge, and of course a great deal of history and style.
There are definitely certain watches that you'll see again and again, certain brands that I am particularly drawn towards. Of course, we have a selection of vintage watches for sale on our site, many of them curated by Eric Wind. You'll see a lot of cool watches in our campaigns and lookbooks and so on. Rolex Submariners or GMTs, Heuers, a lot of great vintage Seikos.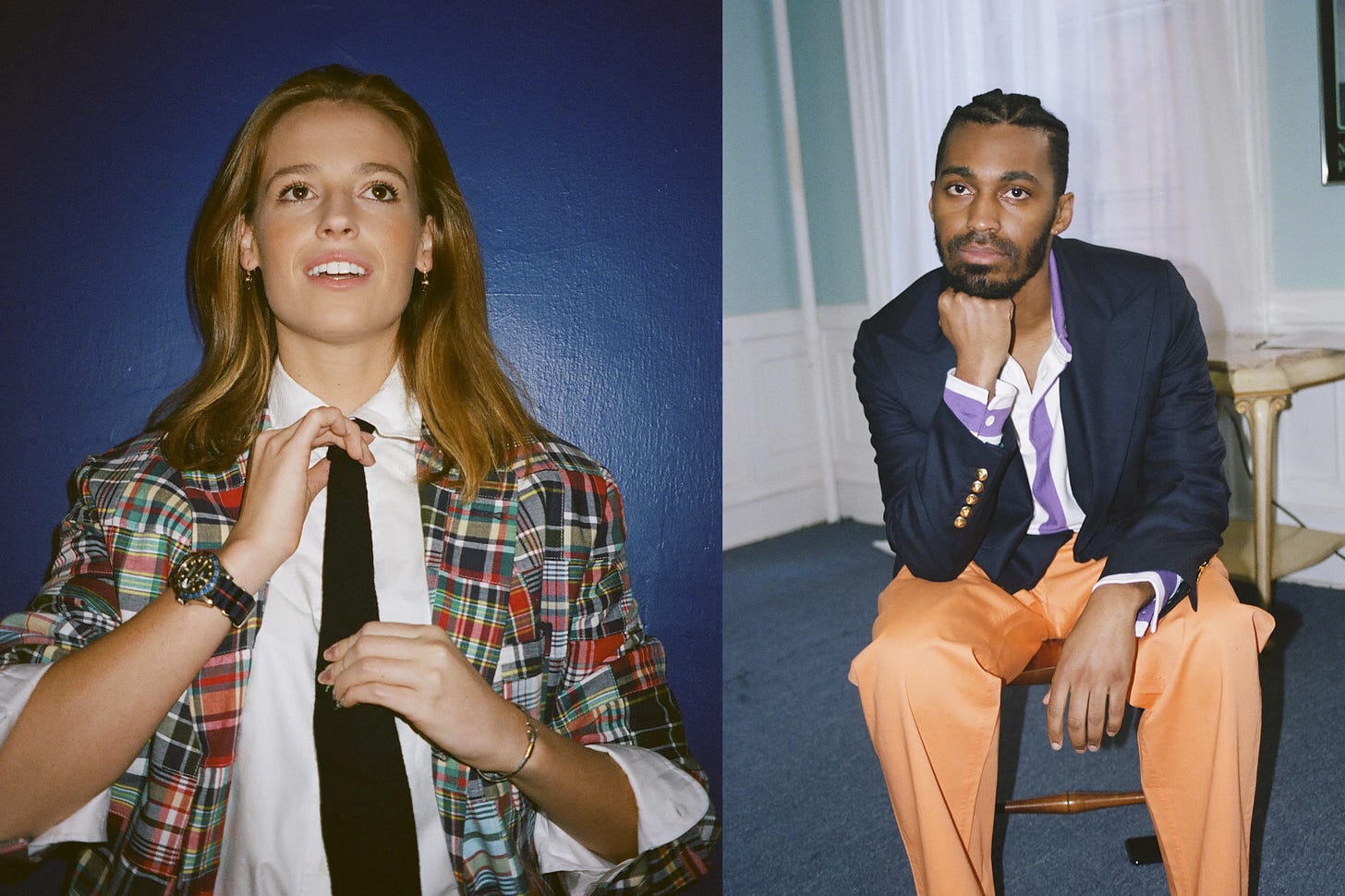 Image courtesy of Rowing Blazers
The watch is just one of many different little winks I try to weave into our imagery and storytelling. Rowing Blazers is a brand that is not very dumbed down or minimalist, it's a brand that is rich all the way through in that you can go back to a lookbook or an image and notice something that maybe you didn't the first three times that you looked at it. You can keep digging, keep discovering new things. Watches are a part of that.
Q. What went into creating the NATO straps that you sell? Was this a case of not finding what you were looking for personally in the current market?
A couple of things went into creating these NATO straps. One is I generally don't like leather watch straps, I try to avoid wearing leather in general as much as I can. If I am wearing a watch it's either on a bracelet or on a NATO strap.
This NATO strap just fit so perfectly into the world of Rowing Blazers because of the military history behind them, originally made in regimental colors— it's a very British thing. In civilian life, they were made in club or school or university colors. This all goes back to an interest of mine in heraldry and symbols and how these codes work in the world of apparel and accessories. So it totally makes sense for us to offer NATO straps.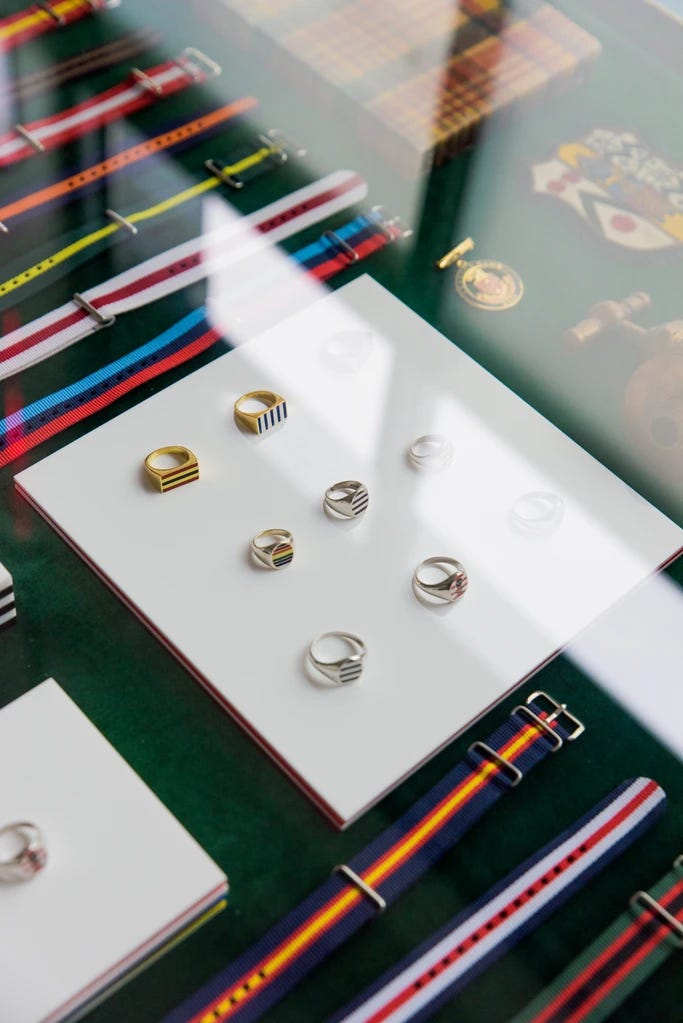 Image courtesy of Rowing Blazers
I do think it can be hard to find good NATO straps and a lot of the websites that you will find seem a little sketchy. It was and still is amazing to me that more people don't make NATO straps. You can't walk into a great menswear store in New York and find a good selection. I remember when I was a kid in Boston, the J Press store in Harvard Square had all these great NATO straps. That J Press store doesn't even exist anymore. In my mind, I said 'someone should be doing this.'
It's not just in the same old colors that you always see, we don't want to offer only, say, Harvard colors or simply a solid navy strap. Yeah, that is fine but we want to offer something with a little more going on.
Beyond all that, the style of watches that I go for and that the brand styles on both men and women is a very traditional and sporty style of watch. A Rolex Sub or GMT looks as great on a girl as it does on a guy, or even better. That's why all of our NATO straps are 20mm. Just because our straps are colorful doesn't mean they're for women exclusively and made in 16mm.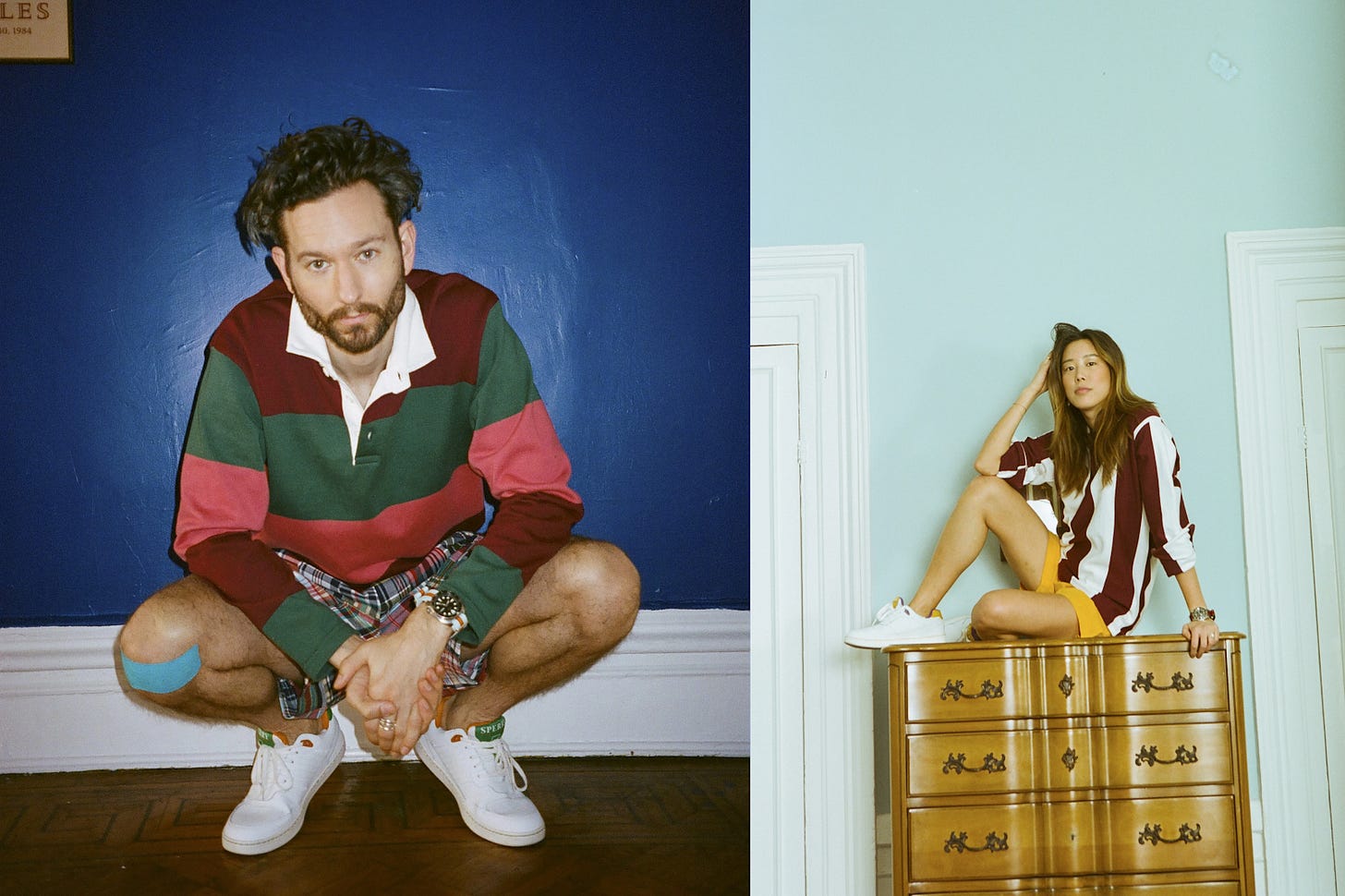 Image courtesy of Rowing Blazers
Q. Digging into your watch tastes a bit more. What was your first watch and where is it today?
I always used to wear a Mickey Mouse watch that belonged to my mom when I was a kid, my mom still has it. That was more borrowed than it was mine exactly.
The other watch would be a navy and yellow G-Shock. I think I still have it somewhere. I remember my dad having a super pro, crazy G-Shock and I wanted to have that too. Mine was the more basic version that you could get in the mall. Those two were the first watches I can really remember.
When I was in grad school at Oxford, rowing was still a very big part of my life, I had been trying to win Henley (Royal Regatta) for a long time, since 2004 in high school when I was knocked out in the first round. That left me with this desire to eventually go back and win. I worked for another nine years before eventually winning in 2013.
There's a watchmaker based right in Henley-on-Thames in England called Bremont. They make a watch that is only available to winners of the Henley Regatta. As a gift to congratulate me on winning, my dad gave me one of those watches, engraved with the cup and year that I won. That was one of my first serious watches.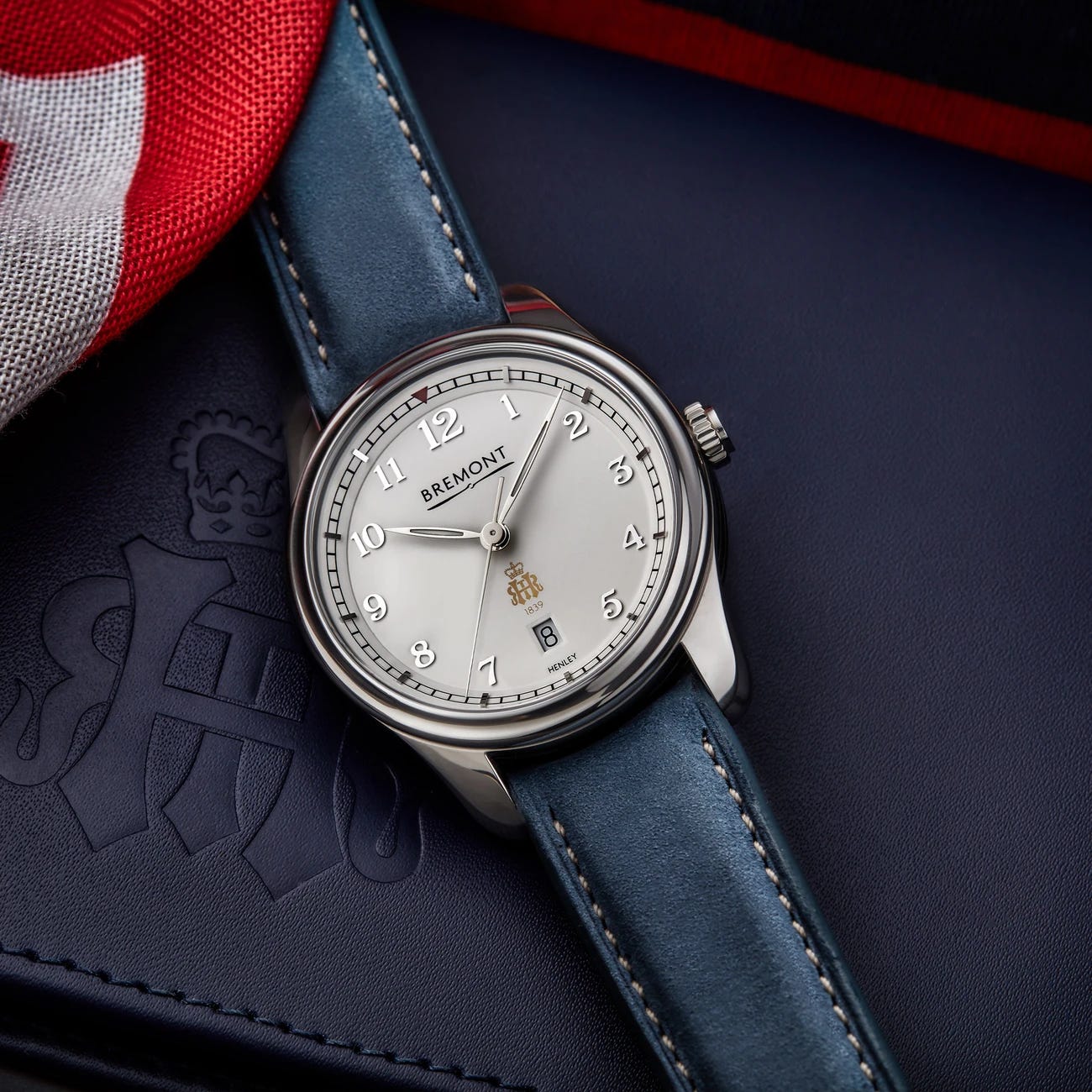 Image courtesy of Bremont
Around that same time, maybe a year later, I launched the book "Rowing Blazers" in collaboration with Ralph Lauren who hosted a series of book events in their London, New York, and Boston flagship stores surrounding the launch. I received, as a gift, a Ralph Lauren watch with a Jaeger movement. This was relatively early in the days of Ralph Lauren watches.
I still have both the Bremont and Ralph Lauren and wear them often.
Q. Is there one watch that you own that you find yourself reaching for most days?
Most days it's either a mid-80s Rolex Sub or GMT. I just recently got a 1978 GMT from Eric which was something I wanted for a while.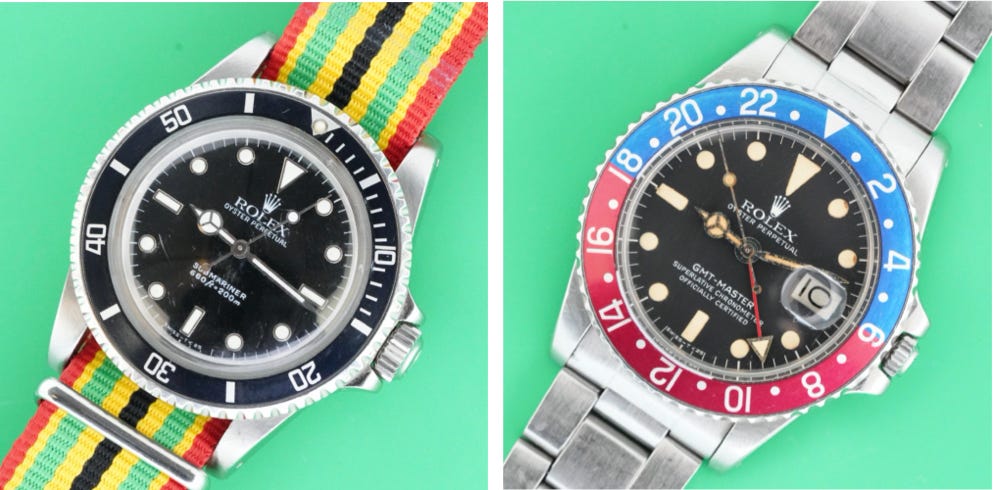 Images courtesy of Wind Vintage
I have a few Seikos from the 70s that I cycle in as well. I have a Georgetown University Bulova watch. Bulova made a series of American university watches, my alma mater being one of them. It has the old version of the Georgetown seal and I have it on a NATO strap of Georgetown's colors.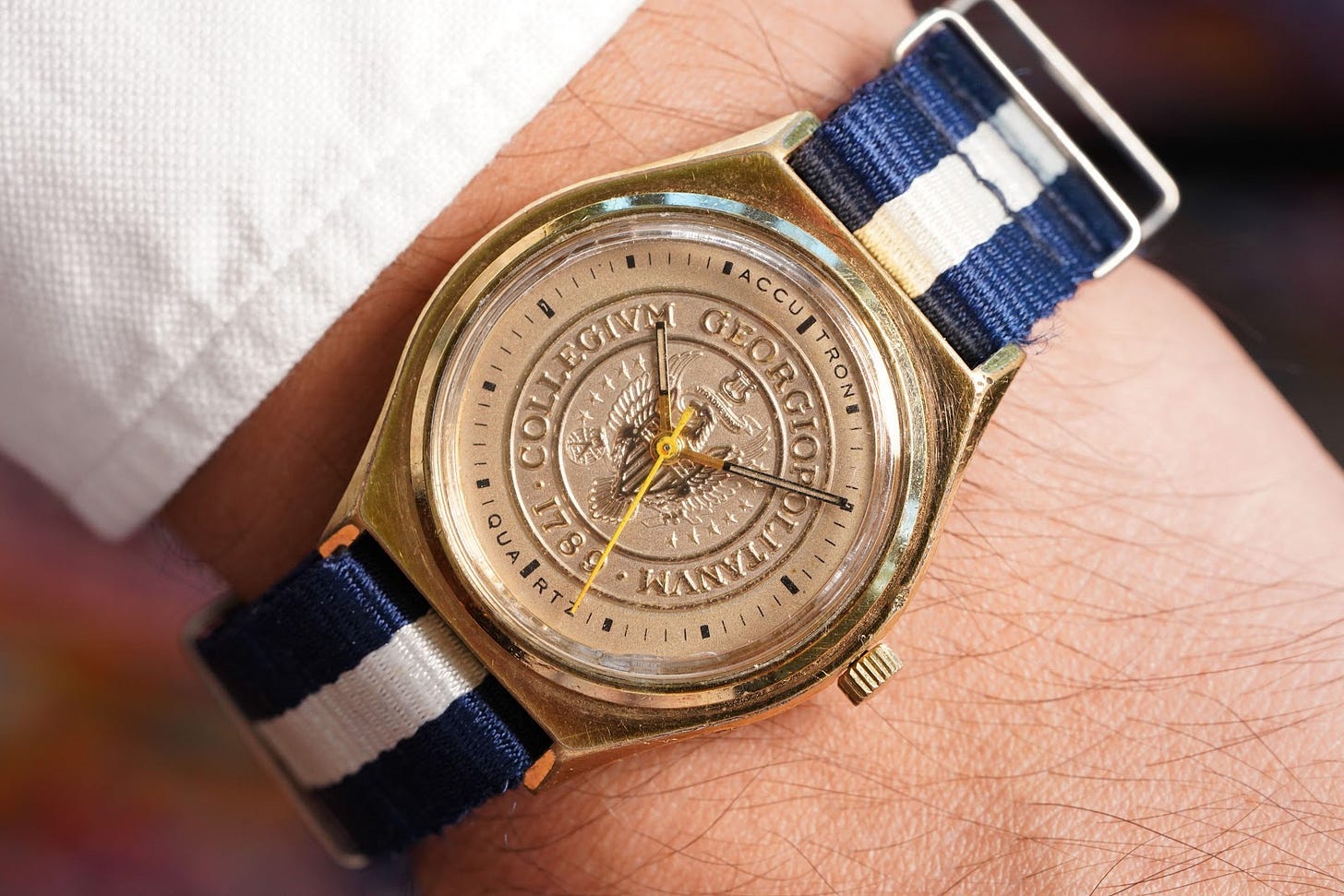 Image and wrist courtesy of Wind Vintage
I have a couple of old Waltham watches, I grew up about ten minutes away from where the old Waltham watch factory was so they are kind of a nice hometown thing for me. One is from World War I actually which has a shrapnel guard on it. I mix those in as well.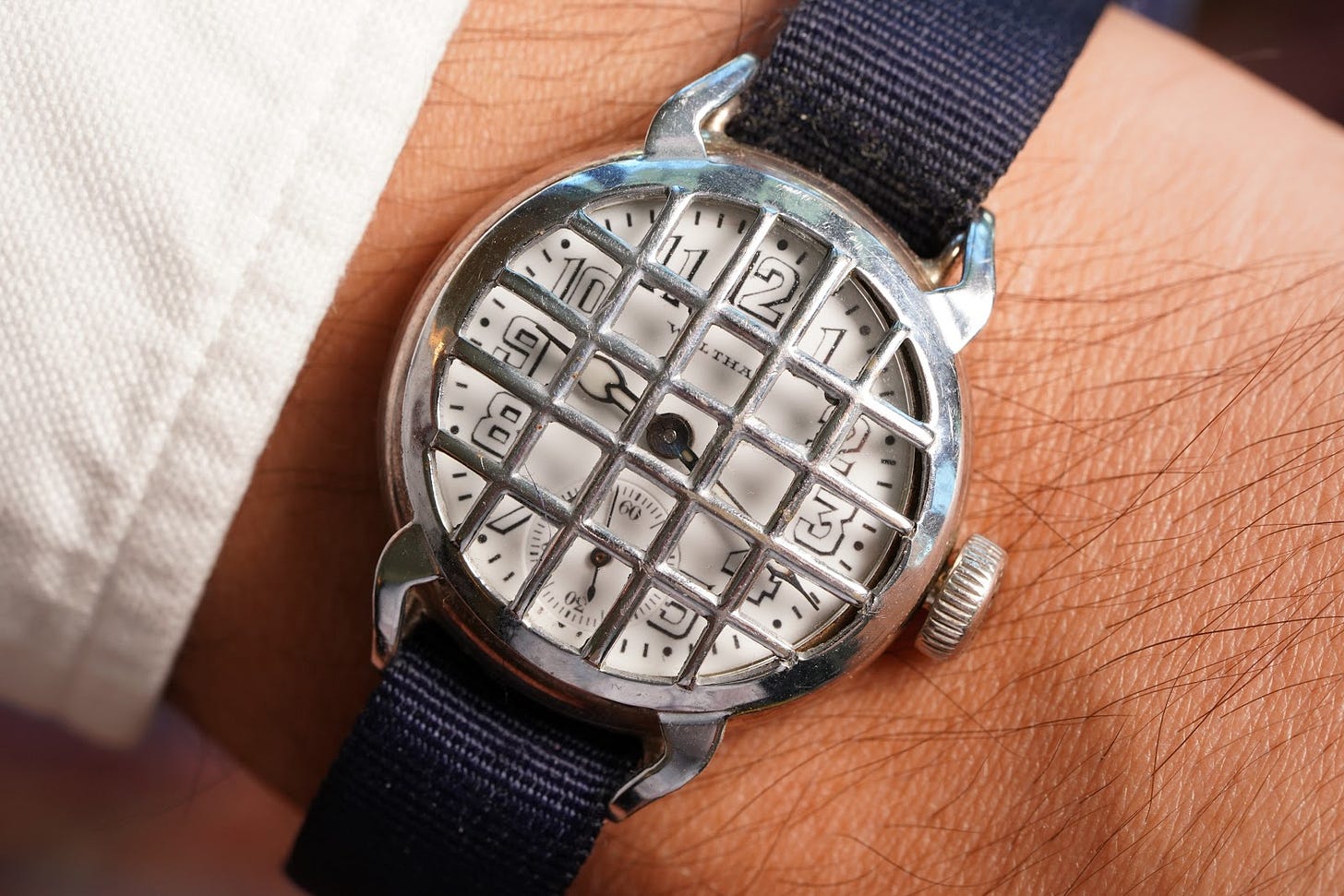 Image and wrist courtesy of Wind Vintage
I actually wear, reasonably often, a vintage Heuer Yacht Timer. It is kind of impractical because it doesn't tell the time, it only counts down five minutes and it's absolutely huge but I love it, it just has great colors. I have it on the original NATO strap that it came on which is red, white, and blue. On the dial it has pink, yellow, green, and blue. It's really cool, people always ask about it and when I tell them it doesn't actually tell the time, they think it is so cool.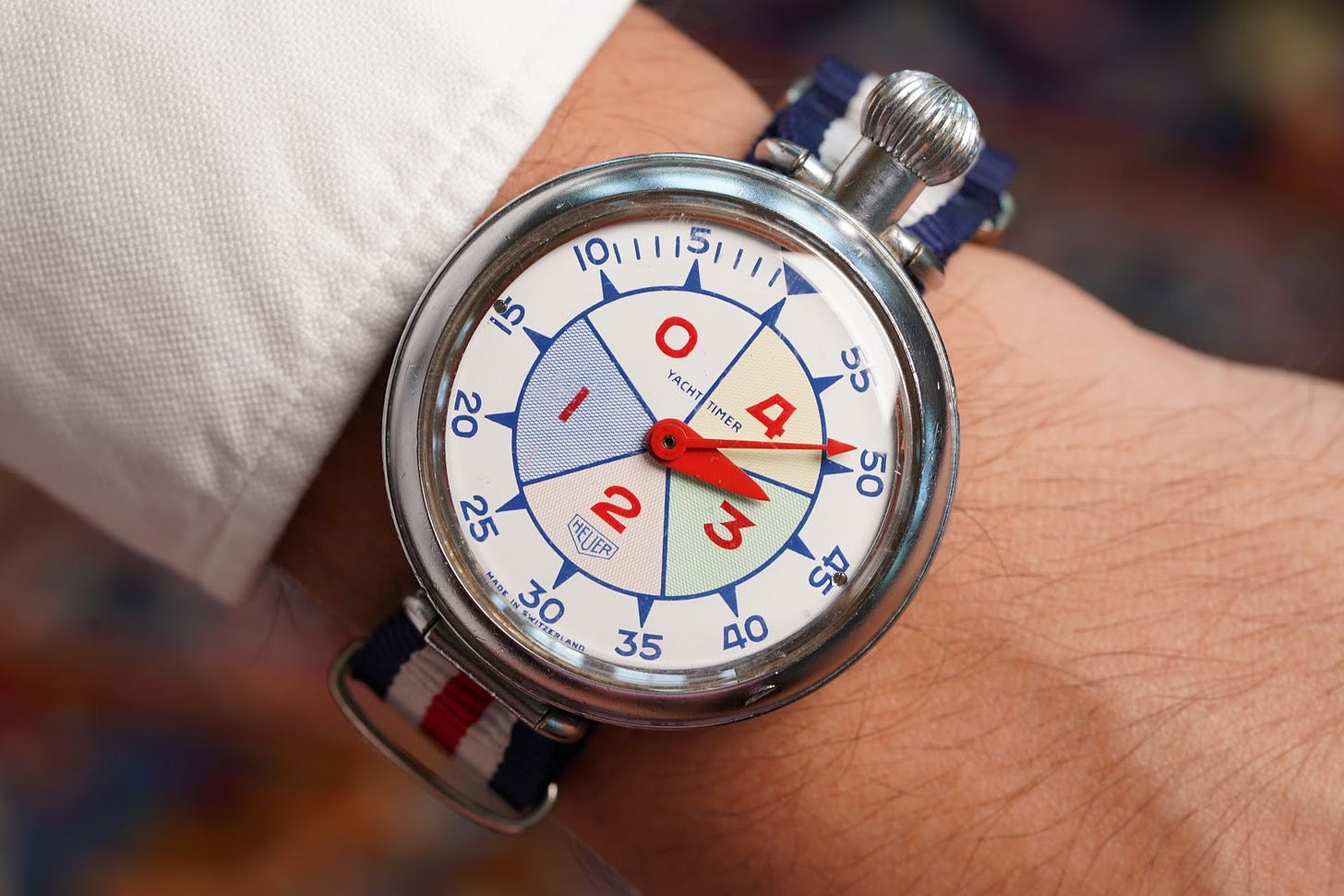 Image and wrist courtesy of Wind Vintage
Q. Is there one watch or a few watches that you have your eye on next?
I wanted for a while to get a cool vintage Heuer, there are a few that I like and I'm always watching around the web. That's one area that I would like to add to my collection a bit. Generally, I am not looking to make any big purchases or anything but I am always looking at vintage Seikos as well.
Author's note: Jack may have been holding out on me because he went ahead in the few weeks after us chatting and added another to his collection, a Rolex Air King 14000 with a Domino's dial.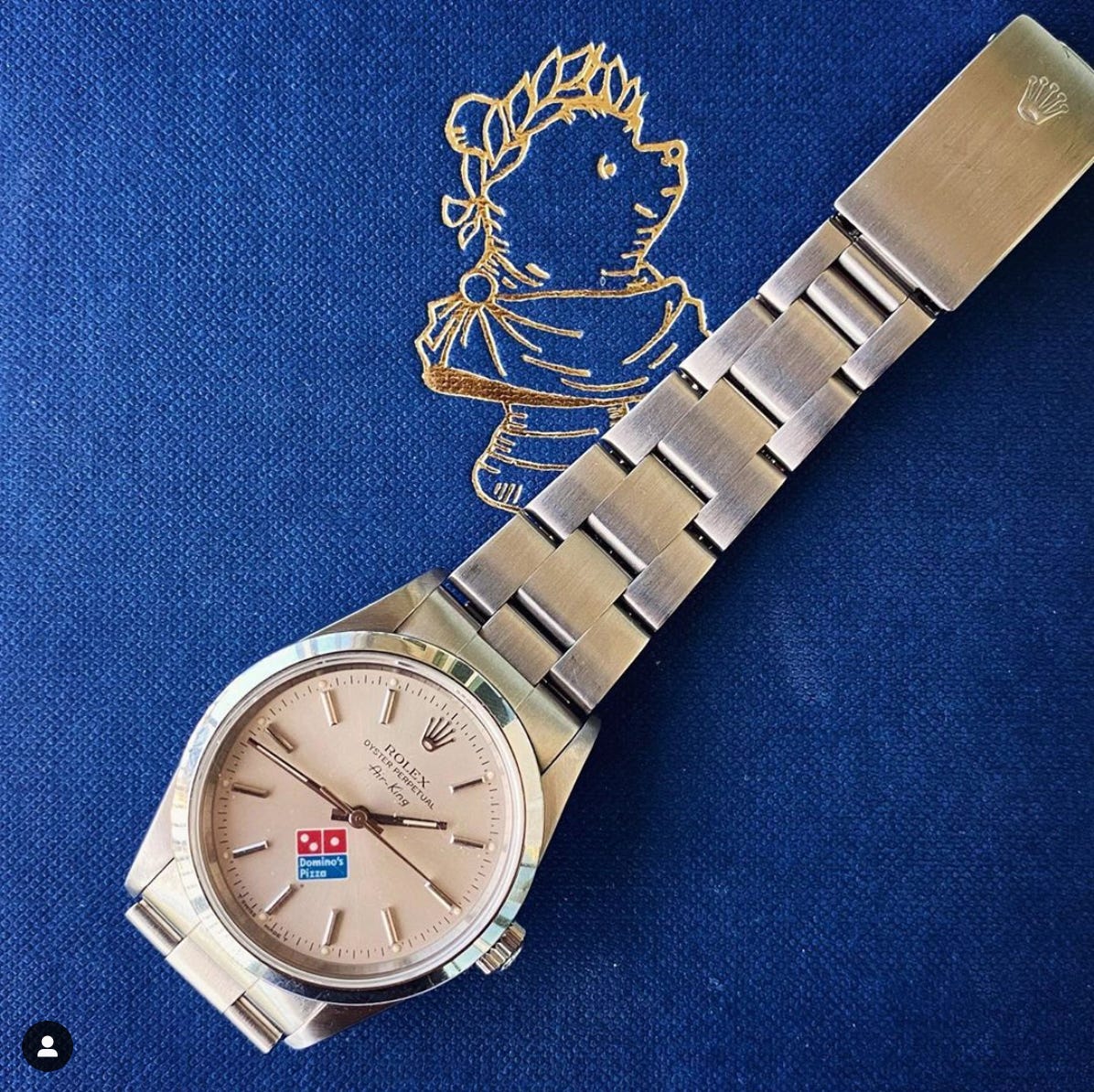 ---
Rowing Blazers can be found at rowingblazers.com featuring the latest collections, collaborations, vintage watches, and a curated selection of goods from other brands like Checks Downtown and Boast. Jack's personal Instagram is @jackcarlson and the Rowing Blazers story can be followed at both @rowingblazers and @rbmoodboard.
—
Rescapement is a weekly newsletter about watches. If you enjoyed this edition, consider forwarding it to a friend. For all the latest, head to rescapement.com.