Discover more from Rescapement
Updates on my Hodinkee writing; b-sides and behind-the-scenes; unpolished personal musings; recs and other unsolicited advice.
Considered Q&A: Collector Greg Selch
Universal Geneve, Zenith, and collecting with a true original
By: Rich Fordon
Lifelong collector and noted furniture maker Greg Selch has taken to many disciplines over the years such as art, cameras, books, early lacrosse sticks, and, lucky for us, watches. Though you may know him by his Instagram moniker @livingstonsatnight — a bit more on that later — and his nearly three thousand posts, Greg's watch collection is just about as broad as one can get.
While many of his neighbors may have taken refuge elsewhere, Greg has maintained his primary Manhattan residence through most of the pandemic. In good health and even better spirits, we chat about how all this collecting started and discuss some of his personal favorites.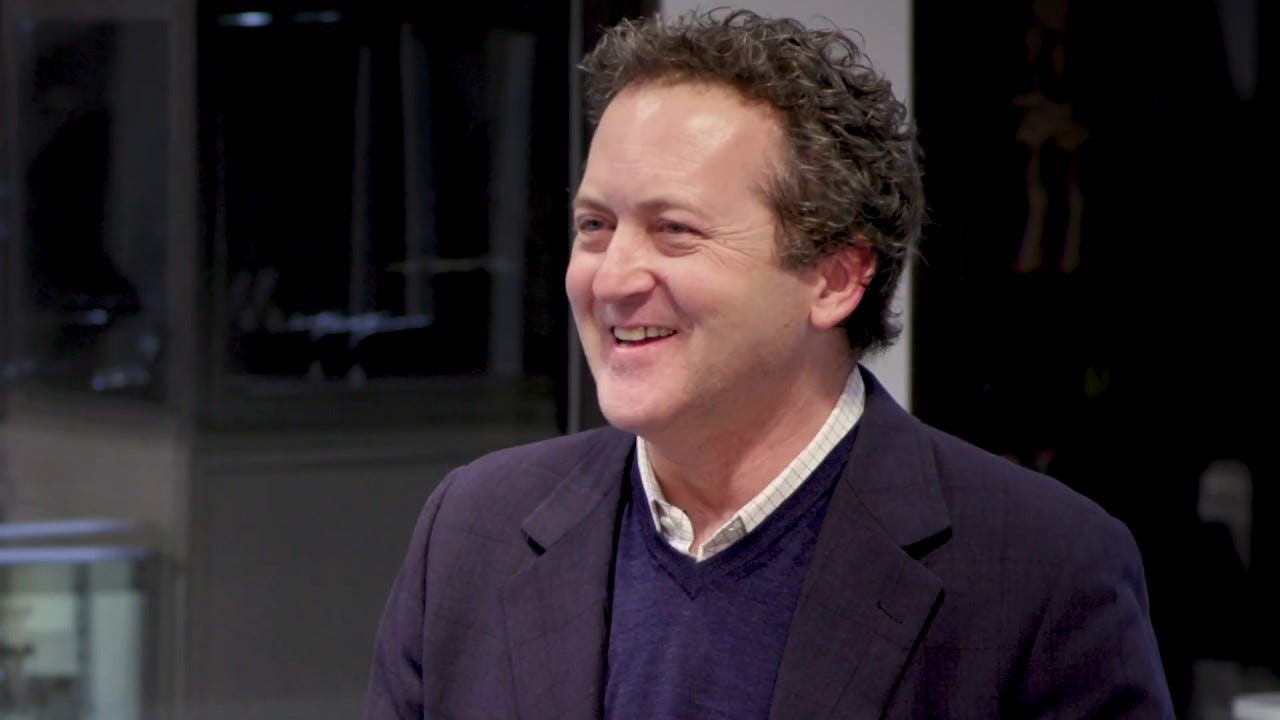 Image courtesy of Fortuna Auction
---
Q: Can you remember what drove you or how you began to collect in general?
I grew up in a family of collectors. I don't know how or when it started but my grandparents collected art, focusing on the intrigue of their own tastes driving what they collected, and understanding the artists who made it or the story around each piece. My father was a collector of a different kind, collecting American musical instruments, an enormous collection that is now housed at Oberlin College. He was interested in the how and why of each instrument. I come from a combination of these two types, I allow my natural taste to draw me to something and then become only further interested in the hows and whys during ownership. The basis of my collecting is not from the value or the interests of someone else.
And where did watch collecting come into your life?
I was drawn by these objects because of how personal they are, beyond the intriguing mechanical and aesthetic aspects. Watches can be so versatile, thinking about which you would wear swimming, out to dinner, staying at home, whatever it is you are doing. Just like cars, cameras, art, books, I found myself wanting to know more. Luckily, this was all happening in the 1990s, what many of your readers may consider early but to many of my contemporary collectors this was late to get into watches.
At this time, there were still very few people who were interested in truly old watches, most attention was focused on newer models and Rolex in particular. For me, all this stuff that was sitting in bins or broken with no one paying attention was fascinating, here I could get a lot for my money.
What continues to excite you about collecting watches?
I think watches are one of the best expressions of industrial and creative synthesis of 19th- and 20th-century humanity, like a camera or a car, or maybe an airplane or a piece of furniture. This is engineering that also needs to be pleasing and express some kind of a challenge to the limits of what humans can do. Thinking about a mechanical watch that can run in outer space or at the bottom of the ocean fascinates me. The process of creating a thing capable of these feats while being beautiful — it is perfect to me.
I can't really buy a hundred cars, I wouldn't know what to do with them, but with watches I don't see it as a waste at all to have so many. This is my way of preserving the history of this time as well as having personal function.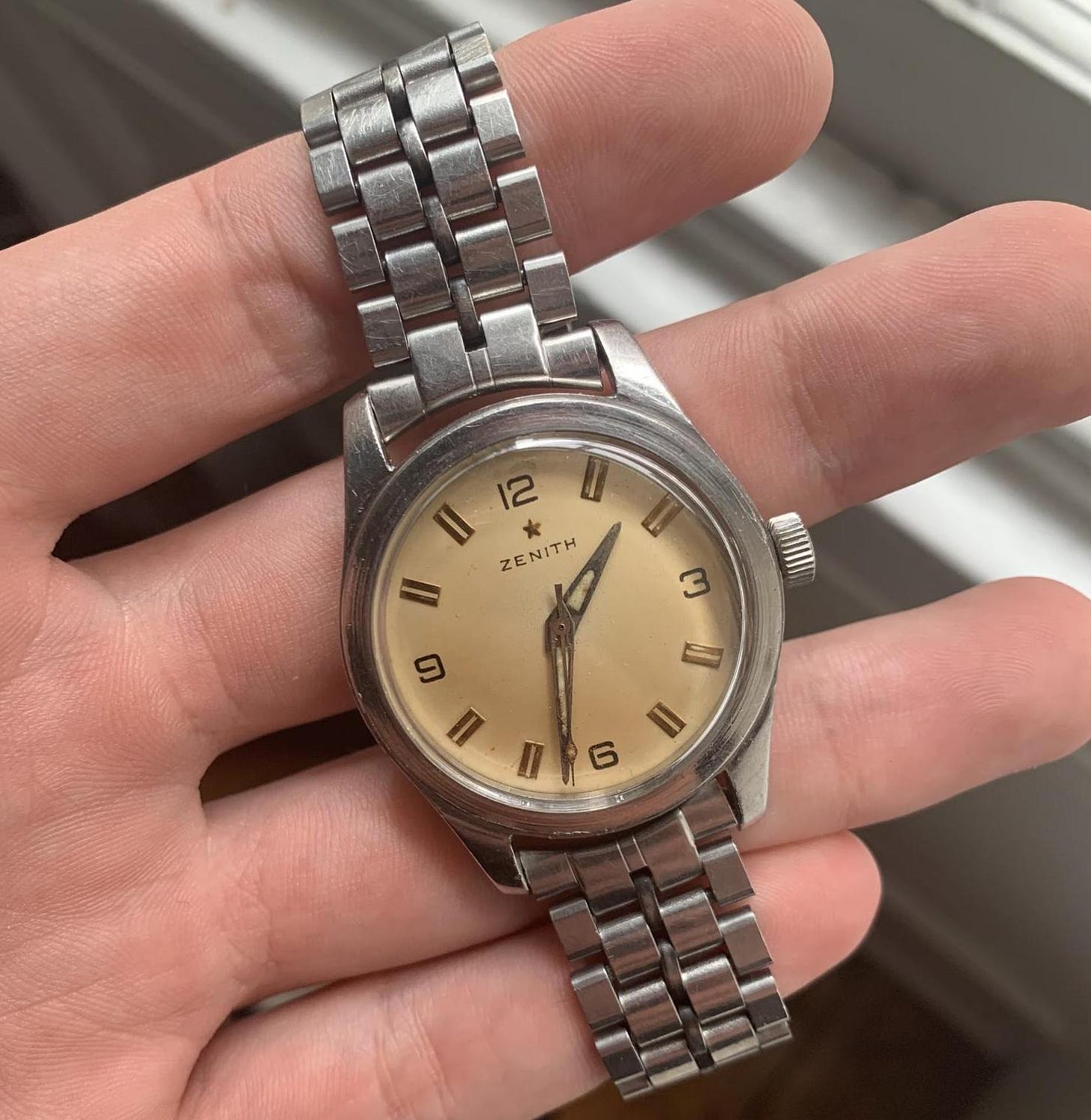 What watch have you most recently added to your collection?
This Zenith S.58 is one that I am loving. I bought it for the sweep seconds hand, all I needed was a hand for a bumper automatic S.58. I knew the hand was correct on this one and assumed, when I bought it, that it may be put together as it does not look like other S.58s. When I got it, I felt like 'this is right', it looks a bit like Zenith created this with some leftover parts, but it is difficult to tell at this time with Zenith. This is a point I stress to many collectors: do not take apart a watch because it doesn't look like all the others, these things have a story to tell. I love to wear it, it's way under the radar, no one pays any attention to it walking down the street.
Where does your Instagram moniker, @livingstonsatnight, come from?
A Jimmy Buffet song entitled, you guessed it, "Livingston Saturday Night". It is about Livingston, Montana where I once built a house in the mountains.
In 2019 you were able to join forces with both Eric Wind and Fortuna Auction to curate a large portion of an auction catalog with your own watches, how did this come about?
Eric proposed selling a few watches through Fortuna as he had a good relationship with them. We both felt it was a great opportunity to get some rarely seen watches into a catalog. It was important to me for the auction to have a beautifully printed catalog with high quality photos and accurate descriptions for watches a bit out of the norm. There was no real auction information on brands such as Certina and Zodiac, some of these brands were not previously sold at major auction houses. I saw this as my opportunity to allow newer collectors an opportunity to bid on and own great watches at a lower price. It was a total success. A few I miss:
They were all amazing watches but I don't regret selling any of them. A few I had duplicates of and a few have actually made their way back to me.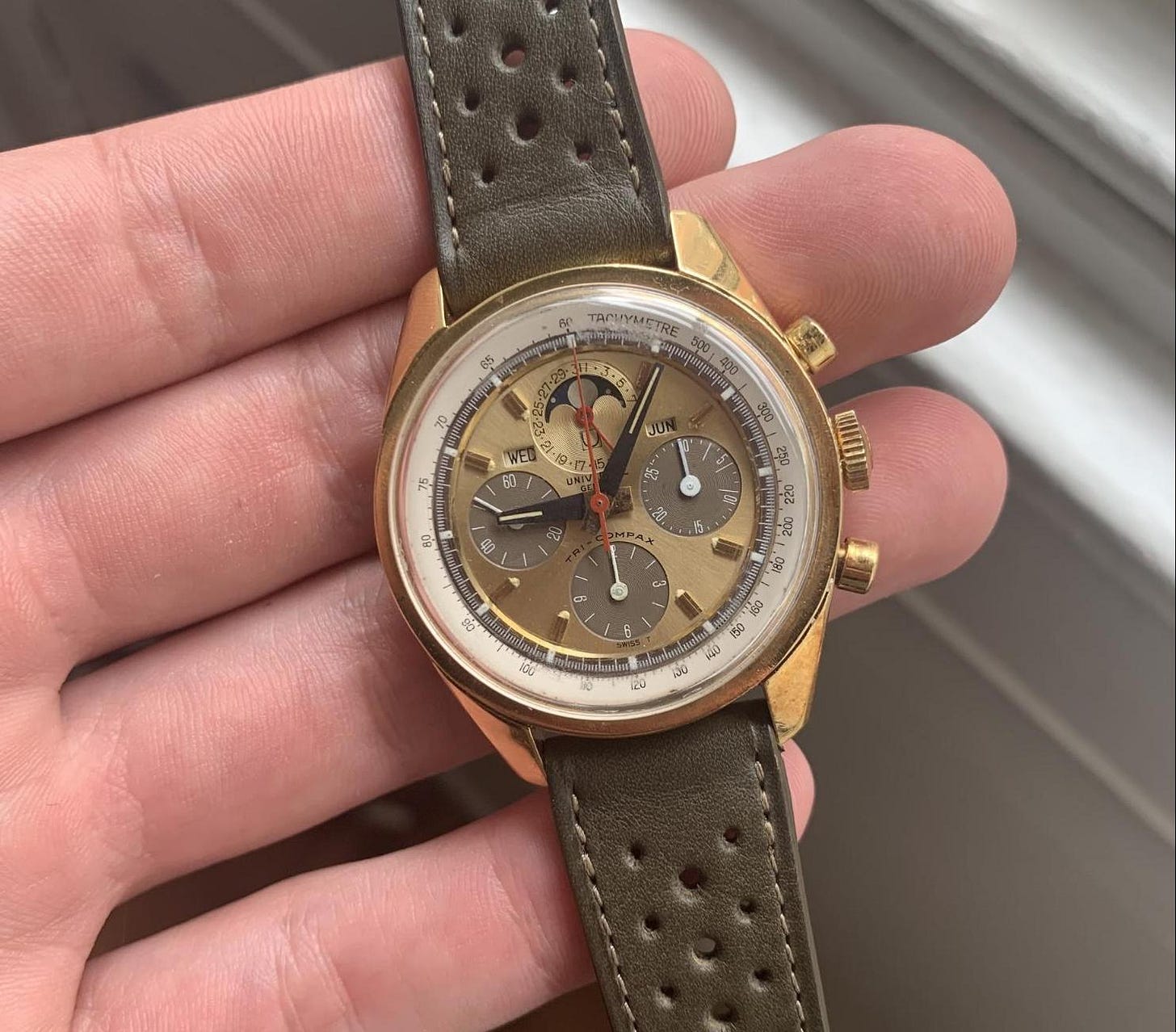 What is your most prized possession?
It's impossible to put my finger on one thing but limiting myself to watches it would be this Universal Geneve Tri-Compax with the same case as the G381 Zenith El Primero, a Spillman made waterproof case, but with a Tri-Compax movement the same as in the "Eric Clapton" Universal. I love the chocolate painted subdials, big sized case and dial. I saw one for sale in Paris a while ago and missed it, another sold in a split second at European Watch Co. in Boston. When a third popped up I had to have it, I traded about five watches to get it. The Tri-Compax, to me, is the most rugged, time tested complicated watch that ever was made.
What is your favorite restaurant in New York City?
Blue Ribbon Brasserie on Sullivan Street.
Rather than edit down Greg's responses, we'll save you watch picks this go around due to length.
—
Rescapement is a weekly newsletter about watches. If you enjoyed this edition, consider forwarding it to a friend. For all the latest, head to rescapement.com.