Discover more from Rescapement
Updates on my Hodinkee writing; b-sides and behind-the-scenes; unpolished personal musings; recs and other unsolicited advice.
Complete fall 2019 Geneva auction results
Vintage watch ethics, and the future of collecting
Fall 2019 Geneva auction results
And just like that, the biggest week of the year in the watch industry is over.
In the run up to the Geneva auctions, we posted our preview of some of the best lots from the three big auction houses, featuring (1) under the radar lots (under $10,000), (2) next up (under $100,000), and (3) top lots. With the results in, it's time to take a look at how all the lots performed.
We already took a look at the results from Phillips' Geneva Auction X, in last week's newsletter, but below is a more comprehensive look at the results from Geneva's big week.
Additionally, you can find the results for every vintage Rolex Daytona up for auction from Phillips, Christie's and Sotheby's below.
In general, I was glad to see some under-the-radar (at auctions at least, not amongst the collector community more generally) chronographs perform particularly well. You'll see a Zenith A386 El Primero, Movado 95M and Grana Split Seconds that all out performed estimates.
Of course, the Zenith A386 is a historically important chronograph celebrating its 50th anniversary this year. The example that Phillips sold is correct in every way: elongated "C" on the tachymetre, thick, flat subregister hands, and the "A" in "Automatic" offset to the "H" in "Chronograph". All these are indicators of a correct, non-Mk 1 example of an A386 El Primero.
Meanwhile the Movado 95M is a beautiful, sharp 18k pink gold example, and the Grana split seconds has a deep glossy black dial that, if any other name were on the dial, may have commanded a significant premium. While brands like these have long had niche collector communities on various corners of the web, they're starting to gain mainstream attention (and dollars). Further, the rise in recognition and value of these pieces has been slow and steady, giving little worry that this may be a bubble waiting to pop (see e.g., Heuer, 2016). Click below for full results.
---
Other News
Before the fall 2019 Geneva auctions, we compiled a list of every Rolex Daytona up for auction at Christie's Phillips and Sotheby's this November (sorry, Antiquorum). Now that the results are in it's time to take a look at how the Daytona faired.
As you'll see, four Daytonas failed to sell this season (and one earlier era chronograph, a reference 2508). If you look at these lots, you'll notice all have some imperfections that make them less than desirable: polishing, missing lume plots, etc. This is not to say that all the lots that did sell are perfect; however, collectors have become rather discerning in what they're willing to shell out six figures for nowadays. And, as prime examples are increasingly difficult to find on the market, the premium paid for such examples continues to grow.
As the vintage watch world continues to have the discussion about originality, restoration, and the ethics of selling vintage watches (see next link), auction results reflect the fact that, right now, buzz words like "original", "unpolished", "NOS", and "honest" are what sells.
Additionally, many non-Paul Newman dial Daytonas performed at or above the top end of their estimates. If we've reach peak Paul Newman, perhaps money will increasingly move to these more moderately priced examples. In a community that values the buzz words I rattled off in the previous paragraph, the wise investment seems to be pouring money into the best example you can buy with your budget, and not stretching to pick up a less-than-perfect example of something considered more rare or desirable. In other words, if your budget is $75,000, think about picking up a clean, correct and sharp non-Paul Newman Daytona instead of a Paul Newman that's got problems.
Meanwhile, the outperformer of the season may have been the reference 6239 Paul Newman in 18k gold that sold for CHF 512,000 at Sotheby's. In general, gold examples performed well. In the rush to stainless steel, perhaps collectors have realized that gold watches are undervalued in the market.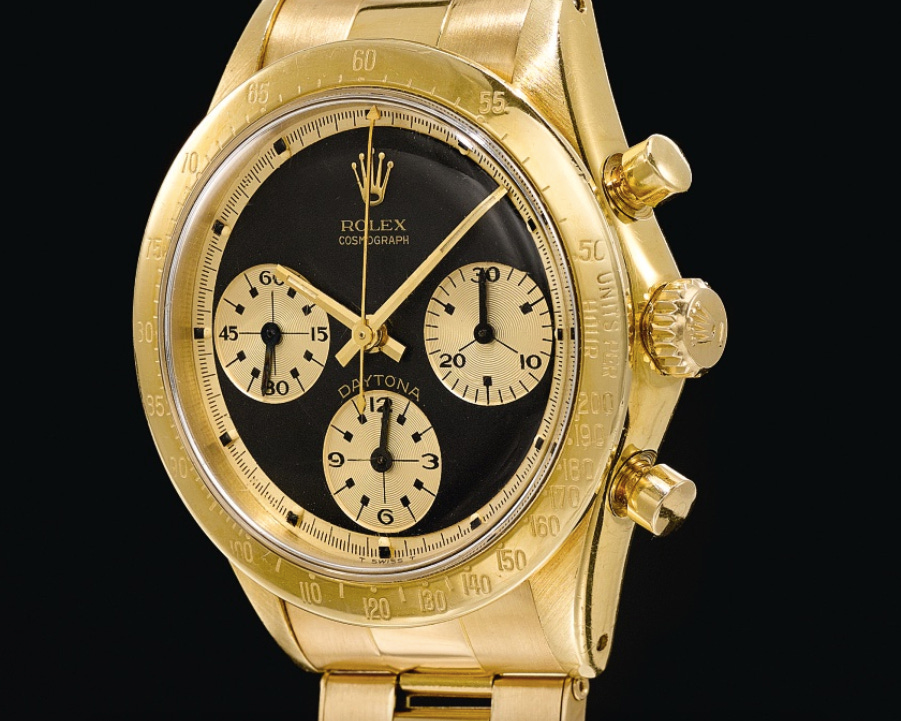 Worn & Wound got some of the biggest names in vintage watches together to talk about the state of the vintage watch market and their views on restoration. James Lamdin of Analog Shift makes perhaps the most important point:
James sees a huge opportunity for vintage dealers to do the work of educators when selling watches. In a hobby, and a market, that's growing year by year, he deeply understands the importance of communicating a watch's honest condition and history. "Wrist watches are just beginning to become incredibly collectible," he says, "it all comes down to education." It's how a good dealer builds a client base: you teach, you provide something of value, and they keep coming back.
The entire article is worth a read to get each dealer's thoughts on vintage, restoration, and the state of collecting.
GQ on the sale of the $31 million Patek Grandmaster Chime.
To Lamdin's point above, watches are increasingly being recognized as collectible, and at certain levels, an asset class alongside art, cars, and other stuff sold by auction houses. The sale of the $31 million Patek Phillipe Grandmaster Chime at Only Watch only solidifies this point. From GQ:
Watch collecting largely will benefit from this [The Grandmaster Chime] ceiling-raising piece, too. The watch community has long wondered why watches weren't considered as valuable as cars or pieces of art. While this result alone won't put watches in the same tier as those collectibles, it's certainly a step in the right direction. "It's good to see the goalposts getting expanded for the field of watch collecting," [Eric] Wind says.
As Lamdin said above, watches are just becoming collectible (or, more accurately, it's become mainstream to acknowledge them as such). This goes for both the high- and the low-end of the market. It starts with educating those new to collecting about what to look for when making their first purchases, and leads up to highly-skilled artisans making unique pieces of artwork that can stand up at auction to even the masterpieces of painters sculptors, and other artists.
Next Up, Hong Kong. Meanwhile, Hong Kong is gearing up for big auctions from Phillips and Christie's next week. With the Patek Grandmaster Chime breaking records, all eyes will be on the unique Patek world time from Christie's to see what it sells for. Estimates have it at $7 million to $14 million (USD).
Hodinkee is an Omega AD now, and they've got the pop-up to show it. I love the comments in this post. First this week, Hodinkee announced they'd become an official Omega authorized dealer; then, they announced they've got a Hodinkee x Omega pop-up in Soho. Cue Hodinkee kingpin Ben Clymer engaging with internet commenters (while taking a shot at the other "watch publications" out there) to defend his company's shift from publication to ecommerce company. To be clear, I don't begrudge the shift at all, though I do miss the old Kanye. For some reason, this move seems to have caught the ire of 'dinksters more than other moves, even though Hodinkee has been an AD for a number of brands for years now. Soho is a hot bed for hypebeasts, so the Hodinkee pop-up will fight right in down there.
---
Drops
🇺🇸 Polo drops a denim flag bear watch. ✨ Timex releases the Celestial Automatic Opulence collection, its first women's automatic collection since 2011. 🇮🇹 Timex also drops the S1 Giorgio Galli Automatic in collaboration with the Italian designer. 👍Longines' heritage line continues to kill it. 🌃 The Nomos Tangente in midnight blue is gorgeous. 🤩 F.P. Journe introduces the Astronomic Souveraine Grand Complication. 👩‍🚀 Richard Mille x Pharrell, I guess.
Meanwhile, the Phillips Game Changers catalog is up. More to come on this.
---
Ticks & Tocks
🤔 Would you pay a retailer 100k a year to choose 12 watches for you? That's what one retailer in Australia is offering. 🎩 Permanent Style visits the Optimo hat factory in Chicago. 🎸 Ed Sheeran wants to be the new John Mayer? 🎧 The Goldman Sachs CEO moonlights as a DJ. 💎 New Book: The Cartiers: The Untold Story of the Family Behind the Jewelry Empire.
In Illinois (kind of): One man's 1,648-page quest to preserve an American watch company's history.
Thanks for reading!
-Tony
Questions/comments/tips? Just respond to this email (and please tap the heart above to like it!).