Discover more from Rescapement
Updates on my Hodinkee writing; b-sides and behind-the-scenes; unpolished personal musings; recs and other unsolicited advice.
Chronographs Old and New, and Are Watches Art?
Heuer grails, Rolexes and racing, new chronographs and Audemars Piguet, and asking "are watches art?"
Heuer grails, Rolexes and racing, new chronographs and Audemars Piguet, and asking "are watches art?"
No new original content from Rescapement this week. We're working on a few 'For Your Reference' articles on iconic vintage watches for the upcoming weeks — think Wei Koh-level dissertations, without the odd bit that compares an iconic actress to a wristwatch. Lucky for us, there's more than enough in-depth content to dive into this weekend.
---
Another week, another magnum opus from a legendary collector. This week, Jeff Stein from On the Dash lays out his list of the "16 Grails of the Vintage Heuer World". For each of his choices, Stein lays out why it's a grail, exactly how rare it is, and a few tips for grail hunters. Meanwhile, For budget hunters, he offers the "next best thing", where he directs collectors to similar watches that can be had at a fraction of the grail's price. As a fellow corporate attorney, I've always enjoyed the methodical logic of Stein's collecting and writing, and the 6,000+ words here don't disappoint.
Here is On the Dash's top 10 grails (head to the article to see all 16):
Three Register, Black Chronograph, Waterproof — Ref 2447 N (1940s / 50s)

Triple Calendar Chronograph, Waterproof – Ref 2547 (1940s / 50s)

The "Big Subs" Autavias (1962)

Abercrombie & Fitch Seafarer, in Carrera Case, Ref 2447 (1965)

"Yachting" Carrera, Ref 2447 (1964)

Black Tachymeter Carrera – Ref 2447 NT (1965)

The Chronographs with Racing Logos

The "Skipperrera" (1968)

Autavia GMT – Screw-back Model (1968)

Camaro 18 Karat Gold – Ref 7228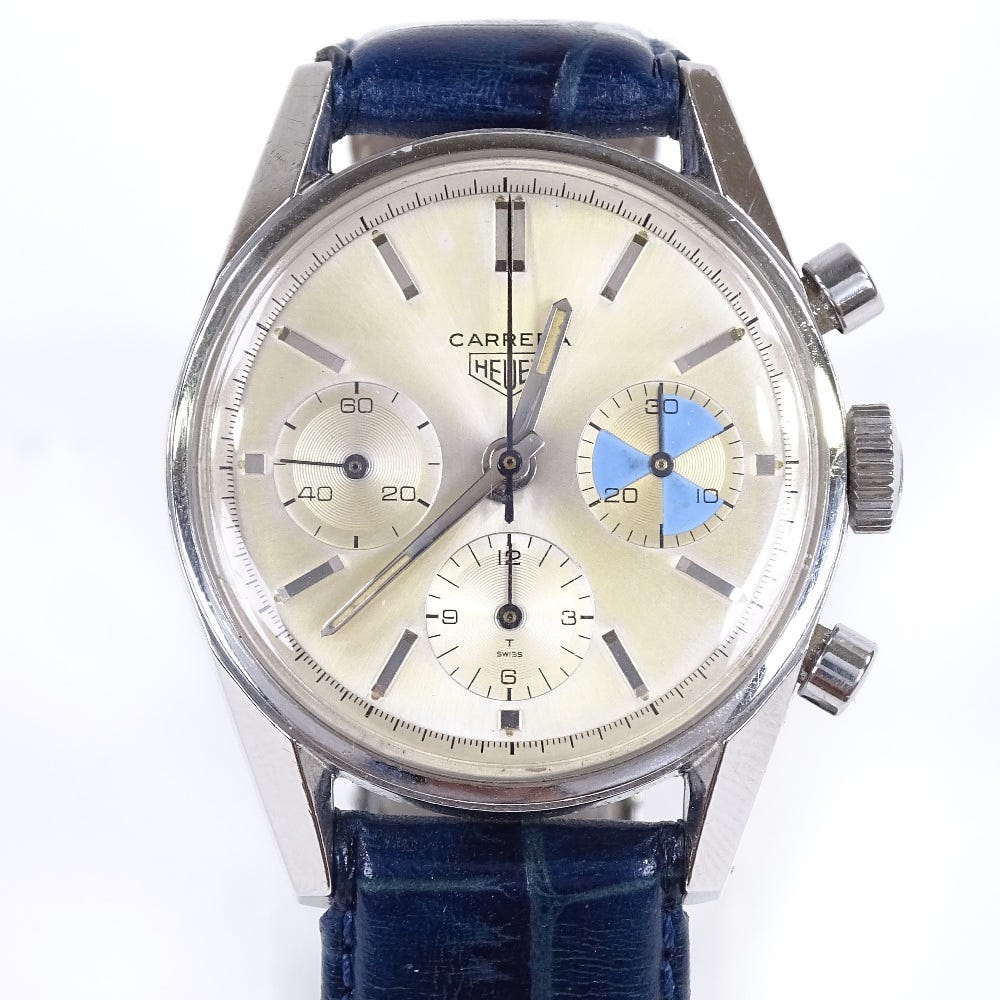 ---
Sure, Heuer has done well to associate itself with racing over the years, but Rolex hasn't done half bad either. Historian and expert watch-spotter Nick Gould (@niccoloy) went deep on the relationship between Rolex and racing (with some help from @adpatina). Among other racing legends wearing Rolexes, he spots:
A.J. Foyt wearing a panda Rolex Daytona ref. 6239 in his early years

Dale Earnhardt Sr. wearing an evergreen Rolex Submariner and a stainless steel Oysterquartz

Mario Andretti wearing a Dayton ref. 6239, which Gould says may have been the first Daytona gifted to a winner of the Daytona 500 after Andretti's 1967 victory.
The full article is worth a read, with dozens of additional images of Paul Newman, Steve McQueen, Richard Petty, Michael Schumacher and other racing legends.
There's also discussion of the mysterious 1967 ad that shows a Daytona with no tachymeter scale on the bezel or dial. With some help from dealer Eric Ku, the article debunks the common thinking that this was an ad printed by mistake:
"It's NOT a mistake. There is a batch of late Rolex Reference 6238 models with that same configuration. Late production 6238 cases that were well into production range of 6239 (1.2 million or later Reference 6238 sometimes come like this).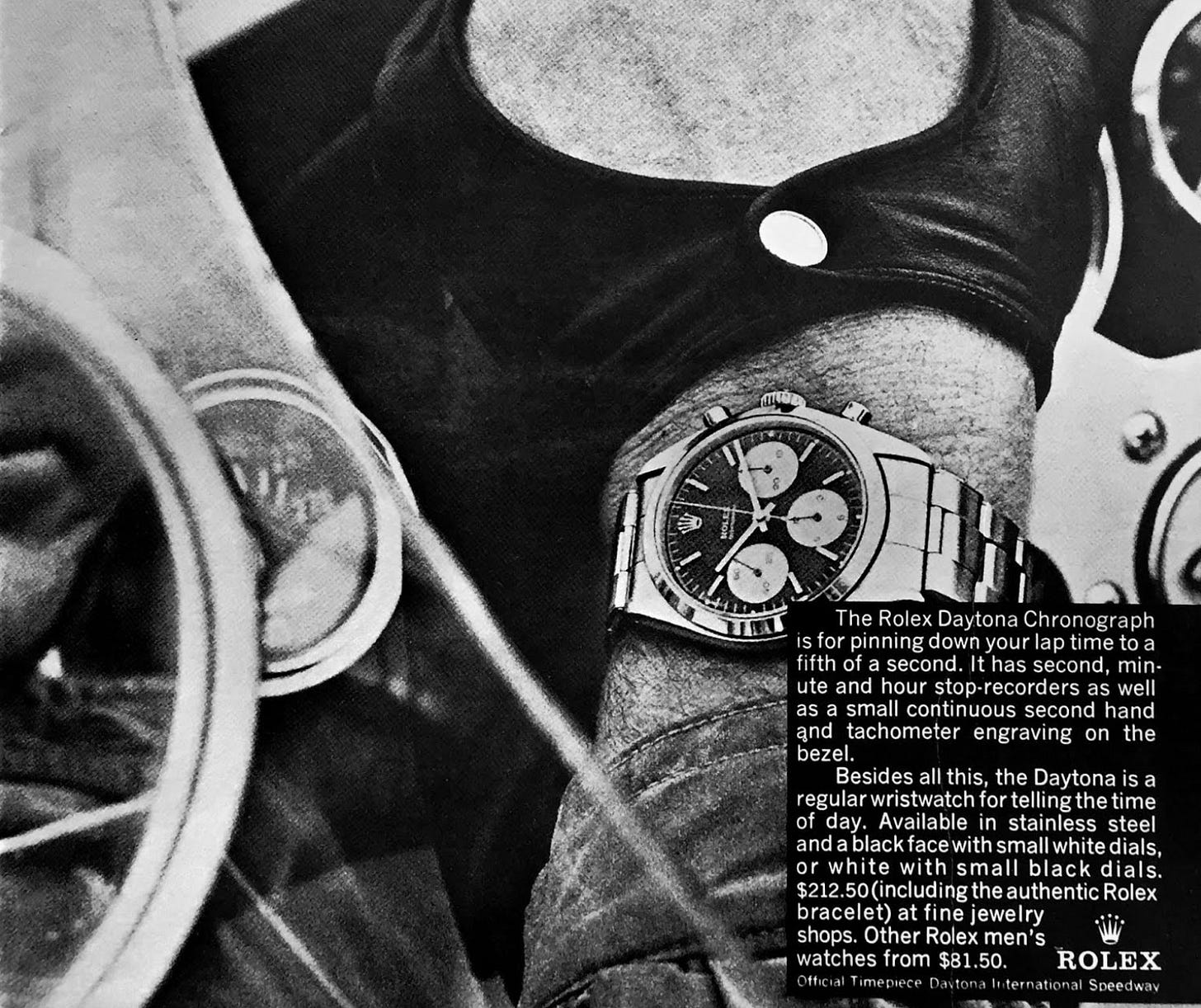 ---
Iconic vintage chronographs aside, 2020 has seen some exciting new chronograph releases in its own right. Some have brought back or improved their classics, while others have gone ahead and released completely new models. In addition to a new 321 Speedmaster from Omega, a re-edition Carrera and a titanium Porsche Design, a few of the best new chronographs include:
H. Moser & Cie. Streamliner Flyback Chronograph
H. Moser's new Streamliner stands out with an integrated case and bracelet that's pure 70s, but an uncluttered dial that's pure modern Moser. Even with all that happening, the movement might be the star: the unusual central chronograph display is technically impressive and aesthetically superb. The HMC 902 movement is the third generation of the Agengraph, the reimagined chronograph caliber from Agenhor.
IWC Protugieser Chronograph
IWC's signature chronograph now comes with an in-house movement, the caliber 69335. It's an automatic column wheel chronograph that can be viewed through an exhibition case back. It's important for the watch industry that IWC was able to bring an in-house movement to its uber-popular Portugieser without bumping the retail price substantially: the model is an entry point for so many into watches, so to be able to introduce this category of individuals to a mechanically sound in-house movement is significant.
Audemars Piguet [Re]Master Selfwinding Chronograph
Not a re-edition, but a "re-mastering" of a vintage Audemars Piguet Chronograph reference 1533. Hodinkee went in-depth, telling the story of the particular two-tone 1533 that inspired the AP [Re]Master released earlier this year:
The 1533 [that inspired the [Re]Master] was made in the early 1940s, with the movement completed in 1941, and it was sold to Casanova Bologna, an Italian retailer, in 1943. From there, the trail goes cold for about half a century. Eventually, though, the watch found its way into the collector community and into the hands of Alfredo Paramico, unquestionably one of the world's great watch collectors.

Alfredo eventually sold the watch via Phillips in November 2015. It carried an estimate of CHF 100,000 to 150,000, but ended up selling for more than double that, coming in at CHF 305,000 all-in. The lucky winner? Audemars Piguet. The company purchased the watch for its museum, adding to its extensive archive. But it turns out that AP had something else in mind for the watch too...
Of course, that "something else" was the modern [Re]Master, and while it clearly draws on the vintage 1533, it's a decidedly modern watch: 40mm in diameter and 14.6mm thick, it's also powered by the new chronograph caliber 4409, which debuted last year in AP's Code 11.59 collection.
Some might argue with the choice of a thick, automatic movement for the new [Re]Master. But, with AP having introduced a new automatic in-house, integrated chronograph caliber just last year in its new Code 11.59 series, the decision was largely obvious.
As a reminder, until the introduction of the new caliber 44xx chronograph movement last year, AP relied mostly on automatic outsourced chronograph movements: either integrated with the Piguet-based FP1185, or modular with Dubois-Depraz modules on top of its in-house time-only caliber. For that reason alone, the Code 11.59's in-house integrated chronograph caliber was already an innovative step forward for the brand.
The new caliber 44xx series of chronographs features a column wheel and vertical clutch, the types of high-end touches you'd expect from a manufacturer like Audemars Piguet. For example, a vertical clutch enables absolute precision of the chronograph's starts and stops. The chronograph mechanism with the gear train is executed vertically and by friction. Theoretically, this means that there are no teeth to engage or disengage, a principle that may cause the jump of the chronograph seconds hand when the teeth mesh.
Another element of the Code 11.59 that's worth highlighting is the crystal (after last week's TrueDome feature, we all know how important a watch's crystal is):
We usually don't spend much time exploring this element of a watch in our reviews, as it remains rather simple in most cases. However, here, there's a lot to discover. From a top view, nothing really special happens, with the exception of its large diameter and its expansive view of the large dial. But rotate the watch and something happens.

Code 11.59 is equipped with a double-curved crystal; it has a classic convex circular shape on the internal side but it is also curved from 12 to 6 on the external surface. A very complex element that has two-fold manifestations. First, the convex shape reduces deformations and offers an undistorted view of the dial, even in very angled positions. Secondly, as both the outer and inner surfaces are curved, there's a magical optical effect, a so-called diffraction grating (when an optical component splits and diffracts light into several beams travelling in different directions) that animates the watch in a truly unusual but fascinating way.
The Open Caseback has a hot take as to why so many in the industry seem to insist that "watches are art":
I think "watches are art" finds its footing in a deep-seated insecurity – both on the selling and buying side of the watch world. A lot of this, I believe, is because watches have lost their functional value. It's a gentleman's agreement between the brands, dealers, auction houses and collectors (and even average consumers) to conclude watches are art, because buying this stuff otherwise doesn't make any sense. Only art can beckon wild premiums, waitlists, record-breaking hammer prices. "It's gotta be art!"
If consumption of art can be broken down into two categories: (1) studying the cultural/social significance and appreciating the artistic skill, and (2) buying it as a financial investment and a great social signal amongst friends, in watches, there is too much of the latter and too little of the former.
---
Ticks & Tocks
🤩 As a follow up to last week's feature on TrueDome, Jacek Kozubek, the third member of the TrueDome team, told the story from his perspective. ☢️ If you didn't catch our special Monday email, check out The History of the Radioactive Rolex with One Complication. ⁉️ Are we living through a crisis in watch design? 🤯 Revolution chats with John Goldberger about his new book (and Goldberger is wearing … an Octo Finissimo?!). 🖤 I've said it once, I've said it a million times: Onyx dial Day-Dates are so good. 🙀 A grey dial Universal Geneve Uni-Compax. 🏔 Up close with the Grand Seiko x Watches of Switzerland SBGM241.
In Chicago: Capone, king of crime (from 1931, but as relevant now as ever)
Thanks for reading!
-Tony
Tap the heart above to like this email, comment, and if you liked it, share it:
Meme of the Week: