Christie's Online Auction, DJ Khaled and Mickey Mouse
Why is China stockpiling alarm clocks, and how deep does Ben Clymer go?
Feature
What to Buy (and Avoid) from Christie's Summer Online Auction
Now through June 25 (still time to bid!), Christie's is hosting an online auction of 232 lots. With estimates topping out at $45,000, most lots are pretty accessible for the average collector. Let's take a look at a few of the highlights:
Wittnauer Professional Chronograph Ref. 6002/5
I tell pretty much anyone who listens that the Rolex pre-Daytona chronographs, Ref. 6234 or Ref. 6238, are my favorite chronographs from the Crown — Daytonas be damned. These Wittnauer chronographs have a real Ref. 6234 feel on the outside, and on the inside they're powered by the exact same column wheel chronograph Valjoux 72 movement.
What's more, Wittnauer is an American watch company (technically it still exists, but they don't make them like this anymore) so if you're stateside, it's a nice ode to the golden age of American watchmaking. Just last week (featuring a Gallet MultiChron Chronograph), I mentioned I'm a sucker for tri-color dials like this one. There's something about 50s and early 60s chronographs — the smaller dimensions, polished bezels, column wheel movements, clean utility-driven dials — that's just so right.
According to Christie's, both watches have original dial, hands, and lume. The second one (pictured with bracelet, below) has slight cracking and a more weathered dial, which is probably to blame for its lower estimate.
Estimate: $4,000-$6,000; $3,000-$5,000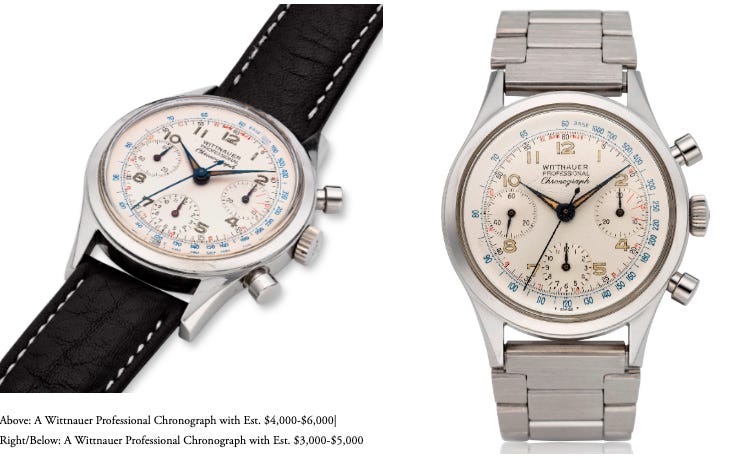 Patek Phillipe Anti-Magnetic, Ref. 3417
Rolex introduced its anti-magnetic Milgauss (Ref. 6541) in 1956. A year later, Omega introduced the similarly anti-magnetic Railmaster (Ref. CK2914) as part of its historic trio of tool watches. These were meant as tool watches for those working in power plants, medical facilities, or research labs where electro-magnetic fields could mess with a watch's timing.
In 1958, Patek Phillipe got in on the action, releasing the Ref. 3417 in steel (Ref. 2570 is the gold Amagnetic), the watchmaker's first foray into the anti-magnetic craze. According to some collectors, up to 60-70% of the Ref. 3417 had the word "Amagnetic" stamped at 12 o'clock beneath the Patek Phillipe name — this one does not. And of course, this watch also has the desirable manual wind calibre 27 AM 400, which is protected by a faraday cage construction to make it anti-magnetic. For a brand that doesn't really do tool watches, this is a pretty nice effort. Apparently there's a great treaty on the Ref. 3417 somewhere on the web, but every link I can find to it is now dead. Let us know if you can find it! Estimate: $20,000-$40,000
Mickey Mouse Watch (Commissioned by Walt Disney)
This is the first Mickey Mouse watch ever made for adults and also the first limited edition Mickey Mouse watch ever produced, being 1 of only 25 made. It was commissioned by Walt Disney himself and given to the designer of this watch, "The Keeper Of the Mouse" Ralph Kent, who received the watch from the hands of Disney himself in 1965. In fact, Disney gave the 25 watches made to his top executives at his company.
Hamilton made this first set of 25 Mickey Mouse watches. Later, Disney went to Helbros, which made the $19.95 watches that Disney would sell at Disneyland. Disney had first gone to Timex, but Timex didn't want to gear up production for a theme park-only product. But three years later, Timex came out with the Mod Mickey watch, bringing the Mickey Mouse watch to the masses and creating an icon. Estimate: $3,000-$5,000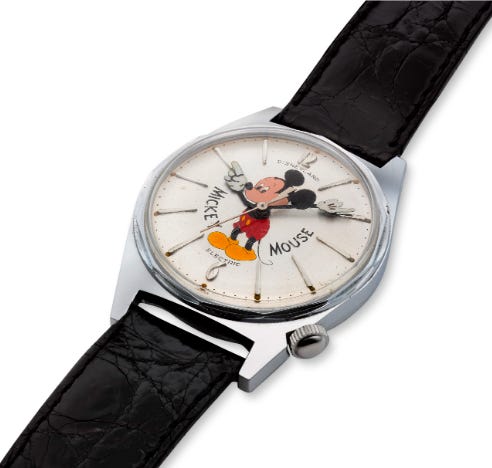 Click below to see the rest of our preview…
---
Other News
Swiss Watch Exports Are Up … Because People Bought Alarm Clocks?
📆 2019 Remaining Auctions Calendar. While the spring auction season is behind us, that doesn't mean we're lacking for auction action by any means. I've created a page tracking the auctions from some of the major houses for the rest of 2019 — we'll update the list as the fall auction calendar is solidified.
⏰ Watch Exports Rise … Because of Alarm Clocks. Exports in the Swiss watchmaking rose 11.4% in May to just over 2 billion Swiss francs (CHF). Much of the increase was driven by the "other products" category, which is so often ignored — it was up 62% year-over-year — apparently people bought a lot of alarm clocks and small clocks last month. Growth in wristwatches was up 8.6% in terms of Swiss francs, but down 9% in terms of units sold. Apparently, most of these alarm clocks and small clocks went to China and I don't know why they're stockpiling alarm clocks.
🔝 The Top 10 Vintage Watches. Well, according to Fratello readers at least. Alternative title: The Most Popular Vintage Seikos and Rolexes.
🏹 A Week on the Wrist with the Most Accurate Watch in the World. Hodinkee's Jack Forster goes a week on the wrist with the Citizen Caliber 0100, the most accurate watch in the world.
🐳 Say Hello to the Omega Planet Ocean Ultra Deep. Omega introduces the deepest diving watch in the world.
✍️ Patents are Confusing. The how and why of watches and patents, including Breguet's famous patent for the tourbillon.
📼 Wei Koh goes "fuckin' deep" with Ben Clymer (YouTube video).
---
Sales Corner
Universal Geneve, Breitling, and Gallet from around the Web
Universal Geneve Bumper Wind. Sure, Universal Geneve Polerouters get all the attention, but this simple, clean time-only UG caught my eye this week. The piece comes with UG's calibre 138SS bumper-wind automatic movement, the same found in early examples of the Polerouter. The watch takes its "bumper" name from the two springs that sit on either side of the self-winding weight that act as shock abosrbers. The watch would only be wound when the weight swung in one direction, making for a pretty inefficient automatic movement that ended up needing to be hand wound.
Price: $2,490 from Those Watch Guys
Breitling Chronograph Ref. 765 with Wakmann Dial. American company Wakmann made a name for itself beginning in the 1940s as an importer of Breitling watches. This led to some fun double-stamped dials (featuring Breitling at 12 o'clock and Wakmann above the 6 o'clock subdial). This Ref. 765 has the Venus 178 column-wheel chronograph movement and measures 38mm, slightly larger than some of its contemporary chronographs of the 1960s.
Price: $5,000 from eBay.
Gallet MultiChron 12. From one of my favorite Instagram follows, Chicagoan @bazamu, comes this Gallet MultiChron with an Excelsior Park 40 movement (I mentioned this movement last week when I featured another Gallet chronograph). It's got beautiful blue-steel hands, lume that's aged to a lovely green hue, and a super sharp case. Price: $4,200
---
Ticks & Tocks
DJ Khaled has a Restaurant in Chicago
🤾‍♀️ WSJ on the new Yacht-Master, asking if it's the sportiest Rolex yet. Iff the Yacht-Master is out of your budget: 5 Accessible Sports Watches for Summer (Monochrome). 👨‍✈️ Jimmy Fallon surprises his father-in-law with a Bremont (from 2015, but worth watching for the story alone). ☕️ Vietnamese coffee is hot (WSJ). 🏔 Mt. Everest isn't what it used to be (New Republic). Are some of rock's greatest riffs up for grabs (Bloomberg)?
In Chicago: DJ Khaled's new restaurant is killing it.
Thanks for reading!
-Tony
Questions/comments/tips? Just respond to this email (and please tap the heart above to like it!).
Meme of the Week:
If you watched the Wei Koh-Ben Clymer mash-up above, you know Clymer goes fuckin' deep (from @hodonkee):