Discover more from Rescapement
Updates on my Hodinkee writing; b-sides and behind-the-scenes; unpolished personal musings; recs and other unsolicited advice.
Chicago April 13 Meetup Details
And some thoughts on the watch industry ecosystem
Chicago
Chicago April 13 Meetup @ Gibson's Italia
Our April 13 meetup will be at Gibson's Italia (Yelp link). Here's the plan: We have a reservation for 5pm. Early, I know — hoping the vibe can be more of a casual drinks/apps situation than a sit down steak-and-potatoes dinner. Our table will be in the main dining area on the third floor. I'll be hanging out at the rooftop/upstairs bar starting at 4:30pm, so come early for what I hear are some good cocktails and a killer wine menu.
Also, to set the expectation: I'm not bringing any of my collection (just whatever's on my wrist). Coming straight from a prior commitment where I can't bring precious mechanicals, otherwise I would. So feel free to bring your collection to show off, or just bring yourself. You won't be turned back either way.
---
Feature
Thoughts on the watch industry ecosystem
A lot of talk on the future of Baselworld the last couple weeks. It seems like mostly inside baseball that I don't think ordinary people care about, so let's zoom out and look at the state of the watch industry more holistically.
The internet and digital age are defined by giving anyone the ability to reach anyone else, anywhere in the world. This dynamic has enabled two types of winners: massive, winner-take-all businesses (to take publishing as an example: Facebook, Google, you know the names), and small, niche players (again, to take publishing: think of your favorite watch industry, or other trade publication). These niche players are able to carve out a nice business by being hyper-focused on their specialties, but also use the big businesses (e.g. developing an organic Instagram following or paying for ads) as low-cost ways to drive awareness. Before the internet, there wasn't really an easy, low-cost way to advertise: you either had the money to pay an agency for a full-blown marketing campaign, or you didn't. By the way, this has also meant the death of the "middle class" — those decent, general interest publications that have become little more than tombstones the past few years (Time, Newsweek, etc.).
This dynamic is at play with watch brands too. There are a couple big tent-pole brands that drive awareness of the industry as a whole: Rolex, and to a lesser extent, Patek Phillipe. Around them are any number of independents — from haute horology down to microbrands packing ETA movements under cool case and dial designs — that are able to reach consumers like never before through the internet. While Instagram has driven an obsession with the biggest brands (for example, #Rolex has more posts than #watchfam, and in our monthly reports on Swiss watch exports we continually report that the only growth in the industry is in the >$3,000 price point), it also allows real enthusiasts to dive deep, finding independents and microbrands they really identify with. Meanwhile, brands in the middle have often struggled.
I've read more than a few reporters say that the absence of Swatch Group at this year's Baselworld allowed independents to shine more than ever. I continue to believe there's room for a platform that allows this. But, it'll have to be more consumer focused: the internet is so powerful because it allows consumers to find exactly what they want on their own. We don't need to rely on ADs, journalists, or other gatekeepers to tell us what we like. Watches and Wonders Miami, Worn & Wound's Wind-Up Watch Fair in NYC, and things like ComplexCon outside the watch industry are great test cases for this consumer tradeshow model, and they seem to be having success. Any successful business going forward must have consumers as the core focus, and this isn't the case at Baselworld right now.
For more on Baselworld's numbers, read Watchonista's report.
---
In Other News
Swatch can continue to "Tick Different"
Jay-Z with $2.5m on his wrist. Last week, Jay-Z pulled up to an awards show with a unique, custom-built RM056 made of blue sapphire (they call it the Blueprint). And it looked amazing.
The Best Watches for Young Professionals. If you're a young professional like me, you worry about making the right impression with your wrist wear. Here's a few picks that won't do you wrong. i-bankers, financiers, lawyers and consultants click here.
Hodinkee's Photo Report from Baselworld. Always a lot of modern pieces in these. But some great ones.
GQ on the Air-King. GQ says not to sleep on the Air-King, the brand's entry-level stainless steel sports watch. I'm starting to come around on it. Read here.
Gear patrol on the joys of the dirt cheap watch. Can't argue with some Seiko 5 praise.
Finally, Swiss courts side with Swatch (not Apple) over its "Tick Different" watch.
---
Sales Corner
Previewing eBay's luxury watches auction
This week I posted an article about an organized luxury watches auction from eBay. The offerings are a bit mixed, but there are a few pieces worth looking at. See the picks here.

I've written before about how Montblanc is using its Minerva acquisition to become a more serious watchmaker. Well, Minerva made some pretty awesome chronographs back in the day. Here's one, featuring a Valjoux 72 movement.

A Heuer 2447D. I probably post a 2447 of some sort in here every week, but I love them, and this seller has a great one. Check out his Instagram (@vintage_kevin) to see photos of this Heuer and a bunch of other good stuff.
---
Ticks and Tocks
Ever buy a watch drunk? You're not alone
Tyler Cowen on internet v. culture (must read/ thought provoking). The head of LVMH digital on luxury and ecommerce. Business of Fashion talks to Supreme's head about combating counterfeiters. Coincidentally, the Verge did a video on the price of knock-offs. The future of luxury is freedom. An excerpt from Lebron: The Making of a Billion Dollar Athlete. The best budget wines. Maybe cotton bags aren't that great for the environment (sorry New Yorker)? Drunk shopping is big business.
---
Thanks for reading; and remember you can refer people to our newsletter to earn a free Nato strap!
-Tony
Questions/comments/tips? Just respond to this email.
Meme of the Week:
(still drooling over JM's Talking Watches 2)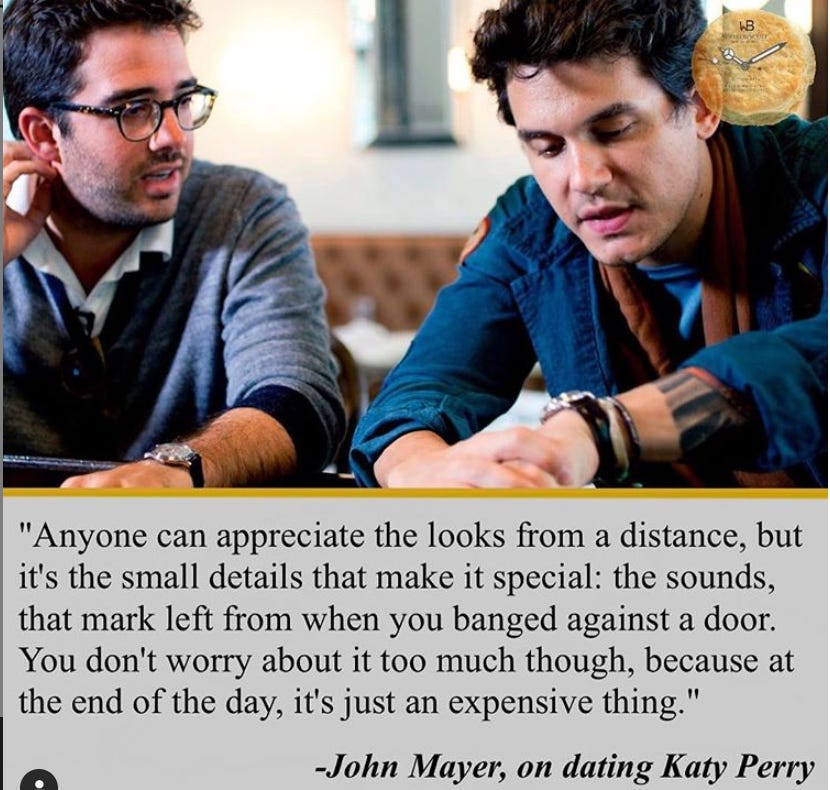 from: @wristbiscuit