Discover more from Rescapement
Updates on my Hodinkee writing; b-sides and behind-the-scenes; unpolished personal musings; recs and other unsolicited advice.
Cartier, Kanye, and a Louis Vuitton Pop UP in Chicago
And the Best Everyday Watches of 2019
Feature
The Best Everyday Watches in 2019
It's that time of year. Far and away, our most popular article of 2018 was The Best Everyday Watches of 2018. Turns out a lot of people are searching for the best everyday watch, the best go-anywhere-do-anything (GADA) watch, or the watch to make the perfect one-watch collection.
With the 2019 trade shows (meh as they were) in the rearview mirror, it's time to update the list for 2019. In 2018, I looked at the best watches that you could buy new. For 2019, we're changing the rules. I'm going to look at the best vintage, pre-owned, and new everyday watches out there.
A reminder: there are no real requirements for an everyday watch besides general durability and comfort. We're talking about watches that can be dressed up or dressed down. Watches that look as good with a suit as they do alongside a t-shirt and jeans. Lume and water resistance are nice, but not necessary. An everyday wearer can come on a bracelet or strap, as long as it sits comfortably on the wrist. And while we're willing to pay good money for a watch we're going to be wearing every day, we can't spend so much that we feel we have to baby it through every door jamb.
First, up, the best everyday watches you can buy new. I've broken them down into three categories: (1) the Under $2,000 Club, (2) the Microbrands, and (3) the Classics.
I'm a big proponent of buying from forums, the grey market or pre-owned when possible, and many of the watches on this list can be found for a fraction of the full retail price tag. See the Sales Corner below for some examples. Look, if you're reading this, you're probably buying and selling your fair share of watches. No reason for you to lose 25% of what you paid as soon as you drive one off the lot.
---
More News
Kanye's Cartier and the Future of Watches
Kanye Flashes His Cartier Crash. Yesterday was Kanye West's 42nd birthday, and luckily the producer/rapper/designer/provocateur, he gave me something watch-related to right about. David Letterman interviews Kanye in the first episode of season 2 of "My Next Guest Needs No Introduction." Kanye shows Dave around the West-Kardashian estate and Kanye flaunts designs by Axel Vervoordt, name drops Takashi Murakami, and shows off his own Yeezy clothing line. But amidst all the design and high culture, the thing that caught my eye most was a little more subtle: Kanye's watch, a design icon in its own right.
Watchonista Takes Cameras into Akrivia's Workshop. Watchonista has put together a few short videos going inside Rexhep Rexhepi's Akrivia workshop, and it's a captivating look at one of the best independent watchmakers in the business. The latest video, in which Rexhepi talks about the process and skill involved in beveling and polishing, gave me a whole new appreciation for that aspect of watchmaking. Check out all the videos on Watchonista's YouTube.
Hodinkee Goes a Week on the Wrist with the Bulgari Octo Finissimo. The introduction of the Bulgari Octo Finissimo has done more to put Bulgari on the horology map than perhaps any other product. The watch is modern, super technical, record-braking, and damn I wish I could have it on my wrist for a week.
Grand Seiko Debuts Its 'Four Seasons' Collection. Grand Seiko's collections have long looked to nature for inspiration, often resulting in beautifully ornate dials meant to pay homage to elements of Japan's geography, weather, and even flora or fauna. But this fall, Grand Seiko is releasing a special collection of watches meant to represent the four seasons in the U.S. Watchonista went hands on, and they all look gorgeous.
Business of Fashion on the Future of Watches (paywall). No one does business analysis of the fashion industry like BoF, so it's interesting to see them break down the watch industry. Unfortunately this is behind BoF's (hefty) paywall, so you might not be able to read it. But, the TL;DR is something you'd expect: the watch industry got fat and happy on outsized wholesale margins, and ecommerce has now led to a polarized market. Brands with a tight control of distribution (Rolex, Patek) can capitalize on real or perceived rarity, while many others are left with damaged brand equity as ecommerce and the grey market have led to rampant discounting, leaving most consumers wondering why they should ever pay full price for a watch.
Along the lines of our best everyday watches: Fratello looks at 5 cool new watches under $4,000.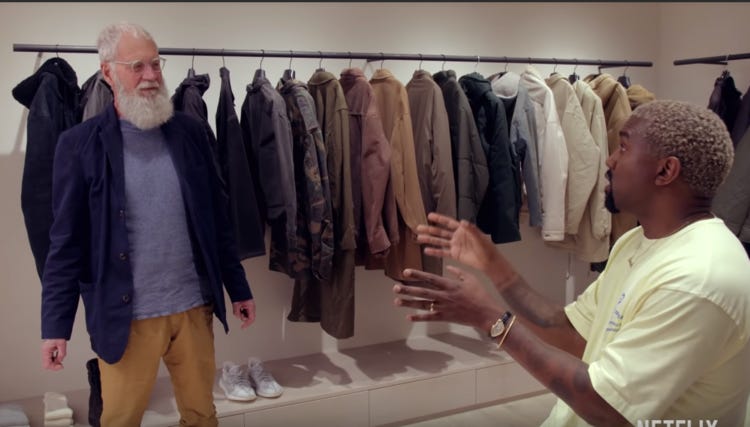 ---
Sales Corner
Where to Buy the Best Everyday Watches of 2019
Some of the watches in our Best Everyday Watches list can't be found discounted on the pre-owned or grey markets: the Rolex Explorer, Patek Calatrava Weekly Calendar, and Tudor Black Bay 58 all fall into this category right now. But some can be found from various reputable ecommerce platforms discounted from MSRP. Take advantage of these discounted distribution channels when you can.
Nomos Orion from Chronext. Chronext is a German startup that raised $34m back in 2018. I'm working on a more extensive write up on my experience buying a watch from Chronext, but suffice to say: it's legit. Its website offers a bunch of solid modern watches at prices that are often a fraction of the watches MSRP. They do this by building a network of authorized dealers willing to sell to customers around the world. It's a win-win: dealers get access to the global customer, which these customers get cheaper prices when these dealers are forced to compete. Price: $1,210 (40% discount to MSRP).
Omega Aqua Terra from Crown & Caliber. If you can't find the Aqua Terra you want on the forums and don't want to splurge on a new one straight from Omega, Crown & Caliber always has a nice selection of Omega Aqua Terras. Right now they've got the silvery-white dial with orange second hand on offer, a fan favorite. It's heavily discounted from Omega's brand-new price of $5,400. Price: $4,000 (26% discount to MSRP).
Seiko SARB from Amazon. It's getting more difficult to find a new SARB 033 or SARB 035 at a decent price, but Amazon is still probably the best bet. You can still typically find them on forums for less than the Amazon price, but the combination of Amazon's "A-to-Z" guarantee (no dealing with or stressing about a potentially shady forum seller) and 2-day Prime shipping make Amazon a fine option. Price: $480.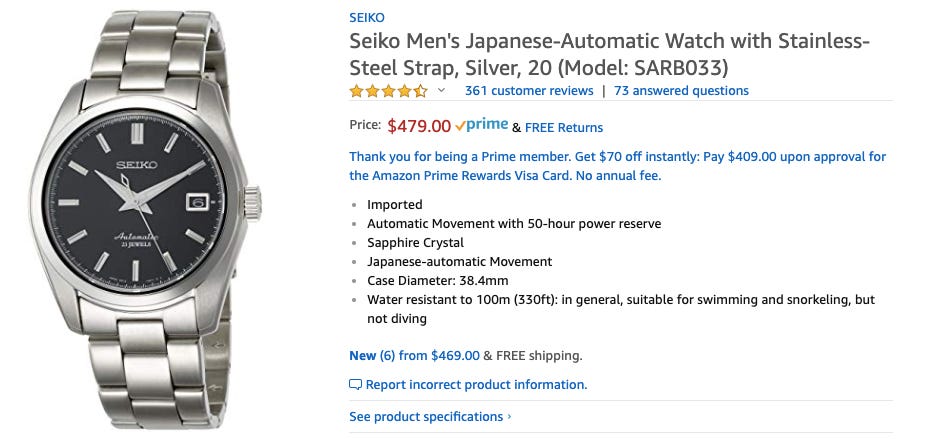 Nothing wrong with buying a watch on Amazon
---
Ticks & Tocks
Louis Vuitton's Chicago Pop Up
🛀 The next big thing in fashion? Not washing your clothes. 😆 Watchonista with a funny take on how Wall Street is spending its bonuses this year. 🤷‍♀️ 8 stupid-high prices people paid for celebrity watches (except Trump's). 🤵 5 Father's Day watch gift recommendations. 👜 Can technology solve the fake handbag problem? 📧 The art of the out of office email. 🤳 Are influencers frauds or the future of ecommerce? 🛋 Why rare furniture is the next #menwsear obsession.
In Chicago: Last week it was Virgil's Nike pop up, this week he's got a Louis Vuitton pop up in West Loop. That, and his exhibit at the Museum of Contemporary Art opens to the public on June 10.
Thanks for reading!
-Tony
Questions/comments/tips? Just respond to this email (and please tap the heart above to like it!).
Meme of the Week
In honor of this week's theme that new watches are good, but buying them on the grey market is great (credit to @brodinkee):