Discover more from Rescapement
Updates on my Hodinkee writing; b-sides and behind-the-scenes; unpolished personal musings; recs and other unsolicited advice.
Burnin' Out His Fuse Up Here Alone
10 vintage watches for sale from around the web
Do you have a favorite "everyday" or go-anywhere-do-anything watch? It's time for us to update our "best everyday watches" list, so if you have any recommendations you think should be included, just respond to this email.
Feature
Burnin' Out His Fuse Up Here Alone
Everywhere, there are reports, signs, and prognostications that we're headed towards another recession, or at least a wide spread economic slow down. So this week, I'm doubling down on looking at some great watches for sale across the web (more below); enjoy it while the vibes are good.
In the watch industry, there were a couple signs just this week that the industry's growth may be cresting. First, the UK's largest retailer, Watches of Switzerland, had what by all accounts was a successful IPO on the London Stock Exchange. In addition, Swiss watch exports were down 0.4% in April, the worst month year-over-year in 2019 so far.
At first blush, Watches of Switzerland's IPO sounds positive. In reality, it was a cash-out by private equity firm Apollo Management, which acquired a controlling stake in the retailer in 2013. Apollo is shedding some 90% of its shares to the public markets; Watches of Switzerland says it will use much of the cash raised to pay down debts on the company's books.
So, if a private equity firm is cashing out (sure, Apollo is getting out after 5 years, a heathy amount of time for any PE firm, but still), and Swiss exports are again slowing, perhaps the music is about to stop for the watch industry. And while total value of exports were down just 0.4%, unit sales were down some 17%, showing that much fewer people are buying watches. Nowadays, the ones that are being sold are ultra-luxury, precious metal watches being purchased by the uber wealthy.
Listen, I'm not here to rain on anyone's parade, but just to point out that the signs are pointing towards a global slowdown in the watch industry and beyond. I'd hate for someone to buy a watch they can't afford, betting it will "only go up in value." Because that's never gotten anyone in trouble before…
---
News
Watches of Switzerland Goes Public While Swiss Watch Exports Stall
Rocket Man. Watches of Switzerland debuted on the London Stock Exchange on Thursday, and shares rose as much as 15% on the first day. The solid debut valued the company at nearly 650 million pounds, bolstering the company as it looks to continue its expansion into the U.S. Watches of Switzerland IPO Gives Hope to the Watch Industry.
Tiny Dancer. Swiss watch exports dropped 0.4% in April, but dropped 17% when measuring units sold. It looks like less people are buying watches, and the the watches that are being bought are super expensive precious metal (or two-tone) watches. Swiss Watch Exports Drop in April.
I Guess That's Why They Call It the Blues. This little drive-through experiment seems to indicate that Swatch still sees brick-and-mortar shops as a key part of its future, an assessment I agree with. In fact, Richemont reported in its earnings that it saw solid bricks-and-mortar retail growth, with a net positive number of stores opening. Interestingly, Richemont seemed to emphasize the growth of its directly-owned stores (as opposed to franchise stores). No matter if it's selling online or in bricks-and-mortar shops, cutting out the middleman is the name of the game today (which is why Watches of Switzerland invests so much in creating a customer-friendly experience). Swatch Opens a Drive Thru, Because Why Not.
---
Sales Corner
Fortuna, Sotheby's New York Auctions with watches from $1k to $500k
Fortuna Auction is hosting an online and live auction on June 5, and there are a number of lots worth paying attention to.
First up are a pair of Omega Seamaster 300s, Ref. 2913-8, from the legendary 1957 trilogy that also included the Ref. 2914 Railmaster and Ref. 2915 Speedmaster. The cases of both the first and the second example look to be in sharp condition, and the second even has the "lollipop" second hand with beautiful, creamy lume to match the other hands and dial. Both have estimates of $15,000-$25,000.
Sure, you see a lot of Polerouters around nowadays, but not nearly as many Polerouter Subs. First produced in 1962, its a sporty take on the classic Gerald Genta design. This one has an internal rotating bezel, and in excellent overall condition. Estimate $8,000-$12,000.
And if you prefer that classic Polerouter look, Fortuna's also got you covered there with this sharp-looking example.
There's also this fine looking Ed White Speedmaster, made famous when Ed White wore it on his space walk during the historic 1965 Gemini mission. This example has a nicely ghosted bezel, with the legendary calibre 321 movement inside. Estimate $8,000-$12,000
Also in New York, Sotheby's is hosting an auction of its own on June 4. It's a Patek-heavy auction: of the 245 lots on offer, 70 are from the big Cross.
A Patek Phillipe Ref. 2499 perpetual calendar chronograph in yellow gold signed by Tiffany & Co. is an obvious headliner, with this particular example being a "fourth series" produced between 1978 and 1984. Estimate $300,000-$500,000. And if you're not into the Tiffany stamp, there's another "plain" Ref. 2499 also on offer, this one from 1984. It's estimate is slightly lower, $250,000-$350,000.
Personally, I prefer the Patek Ref. 3970, which replaced the Ref. 2499 in 1986. According to Sotheby's, about 650 Ref. 3970s were made from 1986 until 2004, but only about 60 of these were in pink gold (the rarest, and my favorite. Patek's pink gold is just gorgeous). That's why this beautiful pink gold example is so special. Estimate $80,000-$120,000.
Also on offer is an IWC Mark XI, the watch developed closely with the Royal Air Force to meet water resistance, magnetism, and other specs for the military. But this one is special because it was manufactured not for the RAF, but for the Royal Australian Air Force (RAAF). RAAF made three orders of this watch in 1950, 1953 and 1957. But, only the last order was filled by IWC (the others were filled by Jaeger-LeCoultre), so there are thought to be just 600 examples of this watch. That fact just adds to the desirability of this watch: simple, military-inspired, and that clipped hour-hand are all perfect.
Finally, this is just a cool 1950s Longines chronograph in stainless steel, and at 38mm, it's nice and large for the time period.
Check out the rest of Sotheby's lots here.
Not into auctions?
Here's a Universal Geneve Medico Compax in 14k gold, with an outer ring designed to help doctors measure a patient's pulse. It's a cool little watch, featuring UG's 285 calibre inside. The seller also says that it's stamped with the old Henri Stern Watch Agency insignia on the inside, the distributor that, along with distributing Universal Geneve in the middle of the 20th Century, also distributed Patek Phillipe. The seller on Omega Forums is asking $5,700.
I mentioned the famous 1957 Omega "Trilogy" earlier, but perhaps the most interesting effort from Omega during that time period was its release a year later, the "Ranchero", Ref. 2990. Intended for North America, Omega didn't quite get the marketing right on this one, and the Ranchero flopped big time. Omega only made the watch for two years, which means today it's rare and highly sought after by collectors. That's why I was excited to see this one on offer on Watchuseek. The seller is asking $6,800.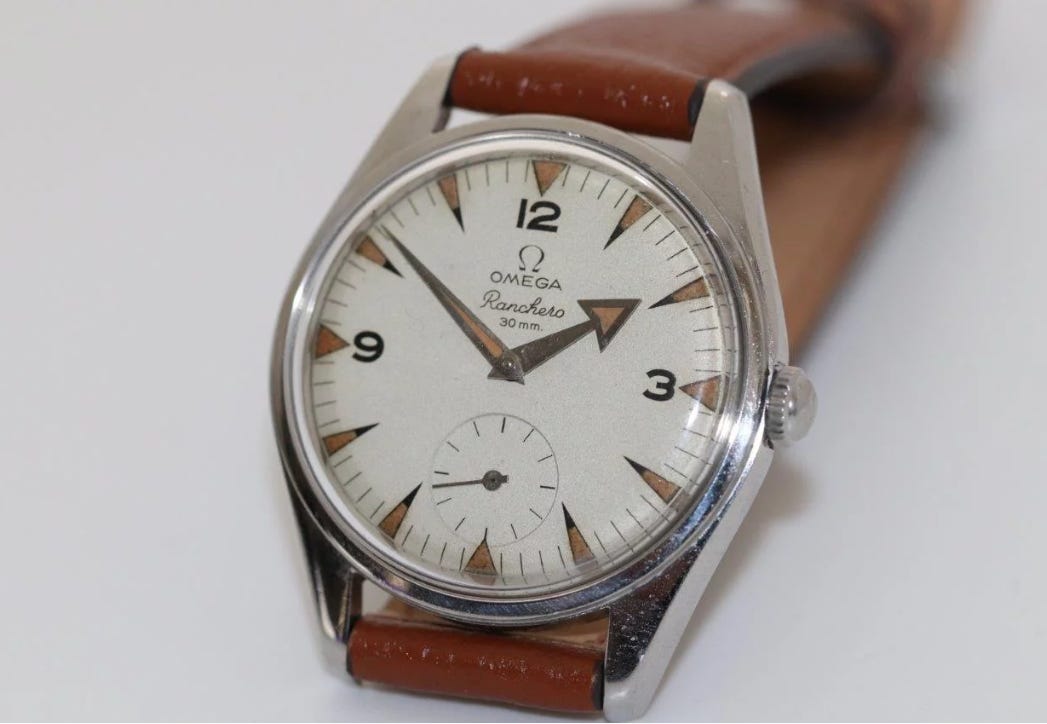 ---
Ticks and Tocks
Goodbye Yellow Brick Road
🙌 The best vintage-inspired watches of 2019 (Monochrome; speaking of, ablogtowatch goes hands on with the Oris Diver Sixty-Five, one of the best vintage-inspired divers). 📱 The case for caseless iPhones (Vox). 💦 Time + Tide thinks it's time for more Tudor Pelagos. 🏰 Social clubs died, but now startups are bringing them back. 🧠 The curse of genius (The Economist). 🤳 The difference between creators and influencers.
👟 If you're in Chicago, Nike and Virgil Abloh just opened their Re-Creation Center pop up.
Thanks for reading!
-Tony
Questions/comments/tips? Just respond to this email (and please tap the heart above to like it!).
Meme of the Week:
Still waiting for someone to compliment my SKX…