Discover more from Rescapement
Updates on my Hodinkee writing; b-sides and behind-the-scenes; unpolished personal musings; recs and other unsolicited advice.
Best New Watches of 2020 (so far)
Plus Anheuser-Busch and Ed Sheeran dials
So this week, Rolex is going to release some new Submariners or something. People will go crazy, it'll be impossible to get, etc. Likely unbearable, in other words. With that, I wanted to highlight a few of the best (or, more accurately, my favorite) releases of 2020 to date. This list is focused on what I think of as "everyday watches" — those you can wear whenever, wherever.
IWC Portugeiser Chronograph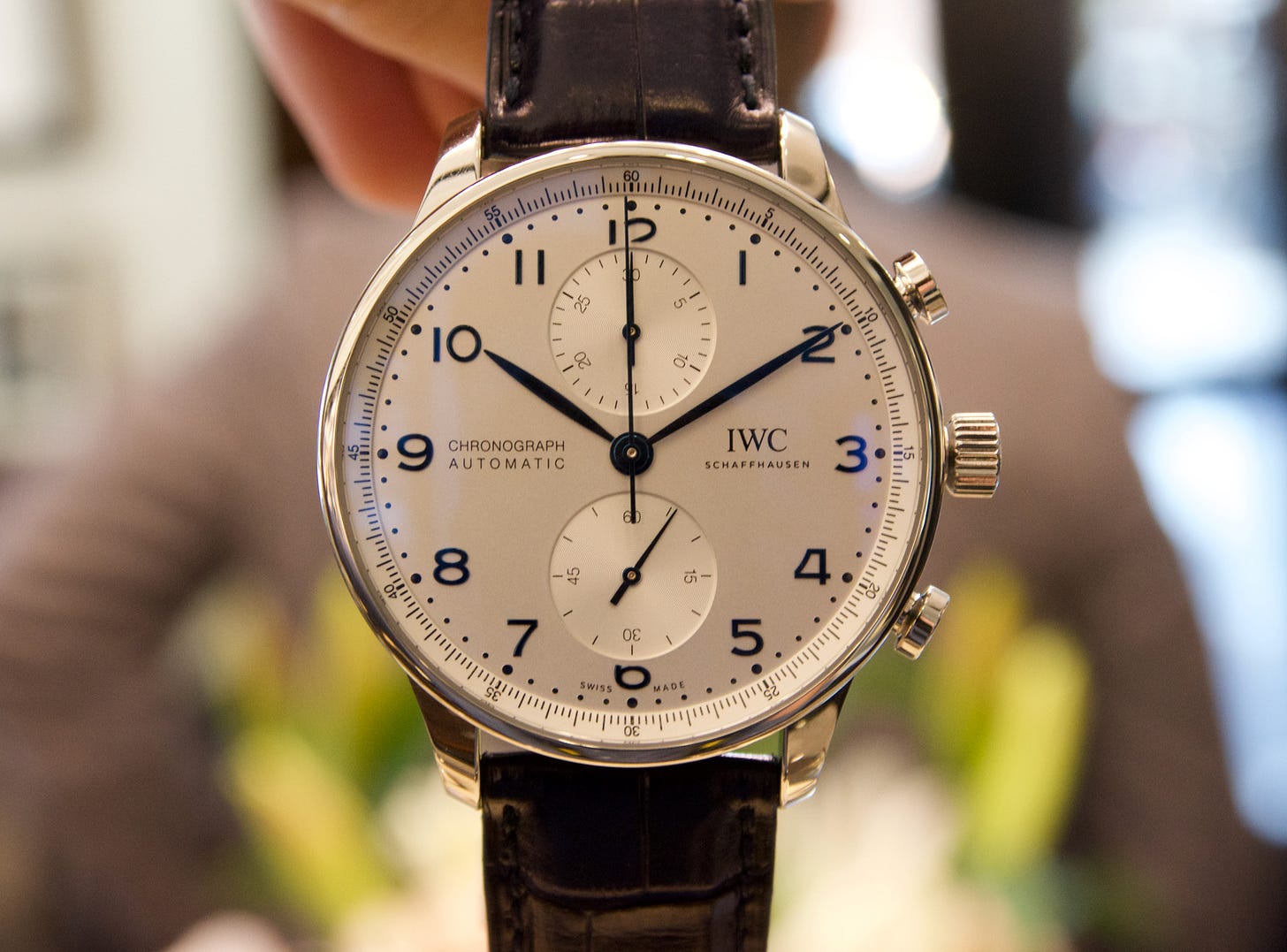 The IWC Portugeiser is, far and away, the brand's most popular model. It's something of a "luxury watch" entry point for a few thousand bucks, perfect for baby bankers looking to blow their first bonus on something besides cocaine and Coachella tickets.
In 2020, IWC came through with perhaps the most important update in the recent history of the line: an in-house chronograph caliber. IWC announced the line will now use the brand's 69000 series of chronograph movements, and at a price that's just as good as the line has always been ($7,950 in steel).
Listen, we make a bit too big of a deal about "in-house" calibers — just give me a quality, reliable movement and I don't necessarily care who made it — but it's certainly important to make consumers feel like they're getting something special. The introduction of the IWC caliber 69355 to the Portugieser chronograph line feels like that. The steel model is offered in either blue or silver dial variations; both are timeless. The model's design is just one of the most classic around, so it's nice to see IWC re-committing to making sure it's a real value at under $10,000. Every detail of the design is just right: the typography is modern yet classic, the hands sleek but a bit voluptuous, the movement engineered yet elegant. For more, visit IWC.
Seiko 5 Sports (fixed bezel)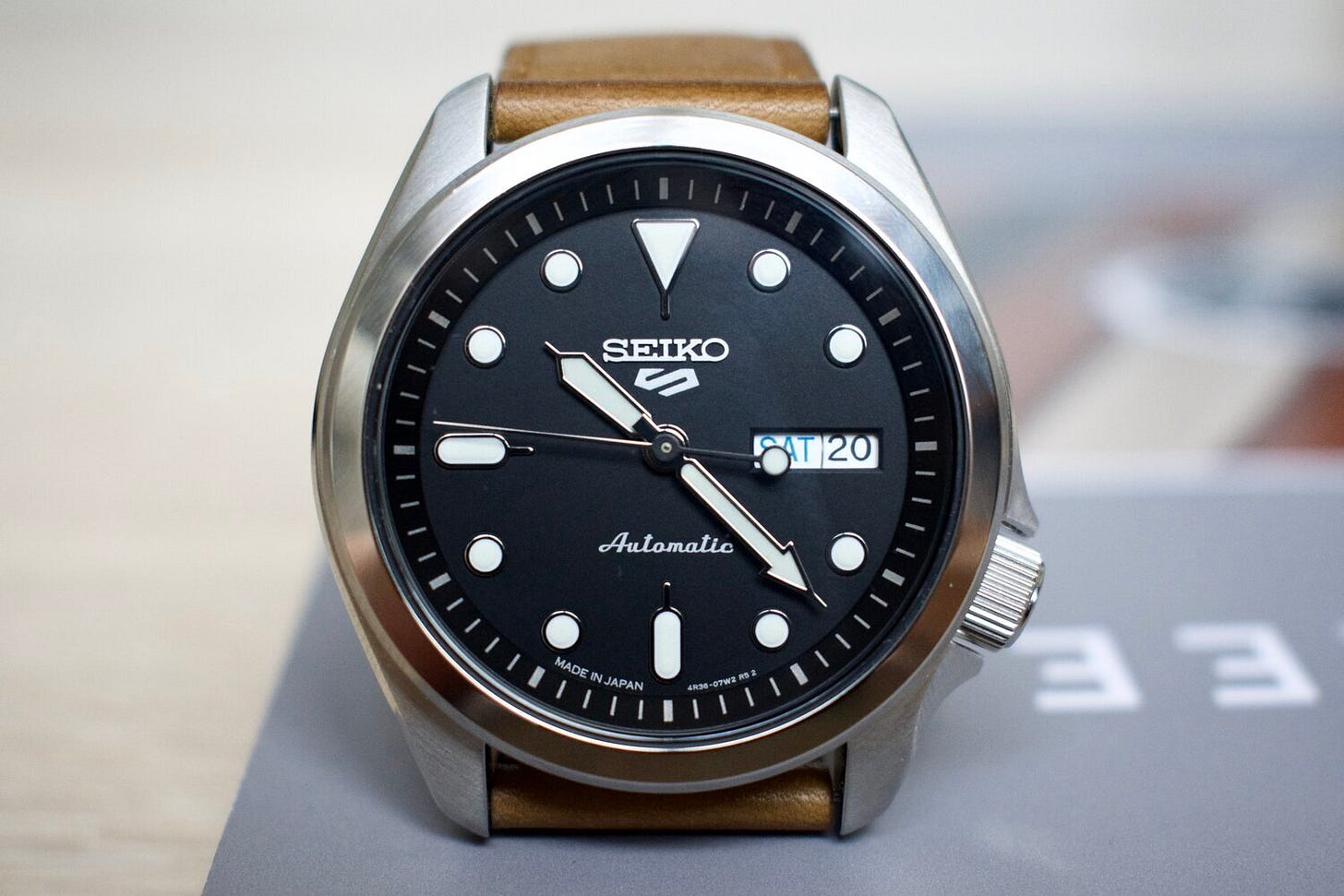 I wrote about this watch when it was released, calling it the "most important watch of 2020." Alright, that might have been headline-grabbing hyperbole, but the sentiment remains. The Seiko 5 ushers so many into the hobby, so it's important that a solid, value-driven Seiko 5 exists. As I wrote:
At first glance, the new Seiko 5 Sports is perfect: the dimensions are right in a goldilocks range; the dial is austere but exquisitely executed; the smooth bezel is attractive without being garish. Especially important: It pops on Instagram, with the look of a watch multiple times its $275 price tag. Sure, there are some details to quibble with: The oyster-style bracelet, with just two micro-adjustments, seems like an afterthought. But, these complaints largely miss the point: This is a watch for the masses, with features newcomers need and details enthusiasts will love.
The Seiko 5 always has been — and always will be — the entry point into watches. With a new model that hits all the "everyday watch" specs so admirably, I'm excited to see what Seiko has in store next for the Seiko 5 Sports line.
Tudor Black Bay 58 - Navy Blue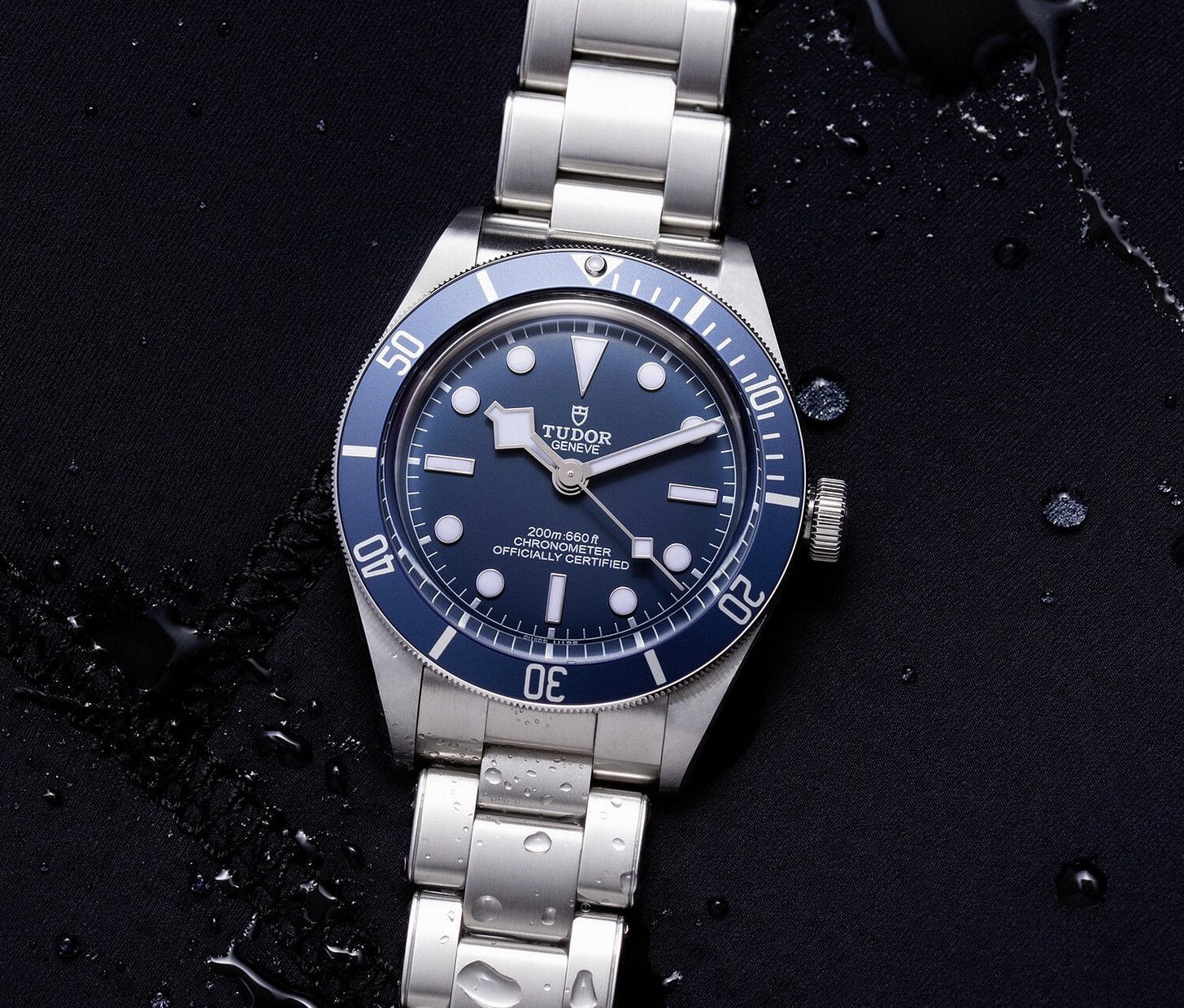 The big one. It felt like Instagram broke for a couple days in early July when it became clear Tudor was going to release a new Black Bay 58 in "Navy Blue", and then everyone raced to post their wristies all over the Gram. My feed was a wall of Navy Blue for 48-72 hours. And honestly, I didn't mind. Hype aside, it's just a great watch. At $3,700 retail, this watch offers more value than a Happy Meal. The specs read more like a wish list: 39mm diameter, manufacture caliber MT5402 (COSC, 70-hour power reserve), 200m water resistance, domed sapphire crystal, aluminum bezel, and the most beautiful blue outside of the Caribbean Sea.
And sure, you should probably go with the steel bracelet (mock rivets be damned), but the Tudor cloth strap and new "soft touch" strap are also great OEM options that don't seem to get the respect they deserve (with the shorter waitlists to match). In short, this isn't just the best everyday watch of 2020, it's one of the best of the last decade-plus. The Black Bay 58 "Navy Blue" has a bit more of a modern feel as compared to the original Black Bay 58, providing the perfect counterpoint in Tudor's dive watch line up. The truth is, you can't go wrong with either. For more, visit Tudor.
Dan Henry 1937
Speaking of heritage and vintage inspiration. For a few years now, Dan Henry has been killing it, making watches that are inspired by some of the most iconic timepieces of the last century. The 1937 Dress Chronograph might be the best yet, drawing inspiration from early chronographs from the likes of Patek Philippe, Audemars Piguet and Vacheron Constantin. Let's be honest, many collectors can only aspire to these vintage chronographs, and if we are lucky enough to purchase one, they're often fragile pieces, perhaps more worthy of a museum than a wrist.
The Dan Henry 1937 is not that. Powered by a Seiko Mecaquartz movement, sporting 100m of water resistance, and measuring 38mm by 12.7mm in thickness, it's a watch that looks just as fashionable today as it did in the middle of the last century. The black "gilt" dial version is perhaps the most attractive of the various dial offerings, with dial textures that are endlessly interesting. It was in fashion 100 years ago, and it'll be in fashion in another 100 years. And with the modern specs you'd expect for an everyday watch, you can actually wear this one. Oh, and did I mention it's just $270? Just buy one already. For more, visit Dan Henry.
Cartier Santos Dumont XL
On my wrist, the Cartier 'Santos-Dumont XL Mechanical. Here in steel with pink gold bezel. Shirt by
@ign.joseph
I was thrilled when Cartier re-introduced the iconic Santos model back in 2019. Widely recognized as the "first men's wristwatch," it's one of the most important and historic models around (by the way, it's led to huge interest in the vintage Cartier Santos). For some hardcore "purists" though, the new Santos-Dumont lacked one thing: a mechanical movement. No longer.
In 2020, Cartier introduced the Santos-Dumont XL, a larger version for the model line. The new model measures 46.6mm x 34mm, with a thickness of 7.5mm. Importantly, it features a new hand-wound mechanical movement, the Cartier 430MC. It's a modified Piaget 430P, a movement from the ultra-thin pioneers that's been around for 20-plus years. While dubbed the "XL", the Santos-Dumont's size can still be handled by most wrists. Cartier is offering the XL in three metals: an all-steel version, an 18k pink gold version, and a two-tone version with an 18k pink gold bezel.
It's a more classically-styled option compared to some of the other options on this list. But, let's not forget that the Santos-Dumont is the "original" pilot's watch, designed by Louis Cartier for his airborne friend Alberto Santos-Dumont. It's a sports watch at heart, and in a watch landscape often defined by big, bold designs, sometimes it takes a classic option like a Cartier to really stand out. For more, visit Cartier.
Oak & Oscar Olmsted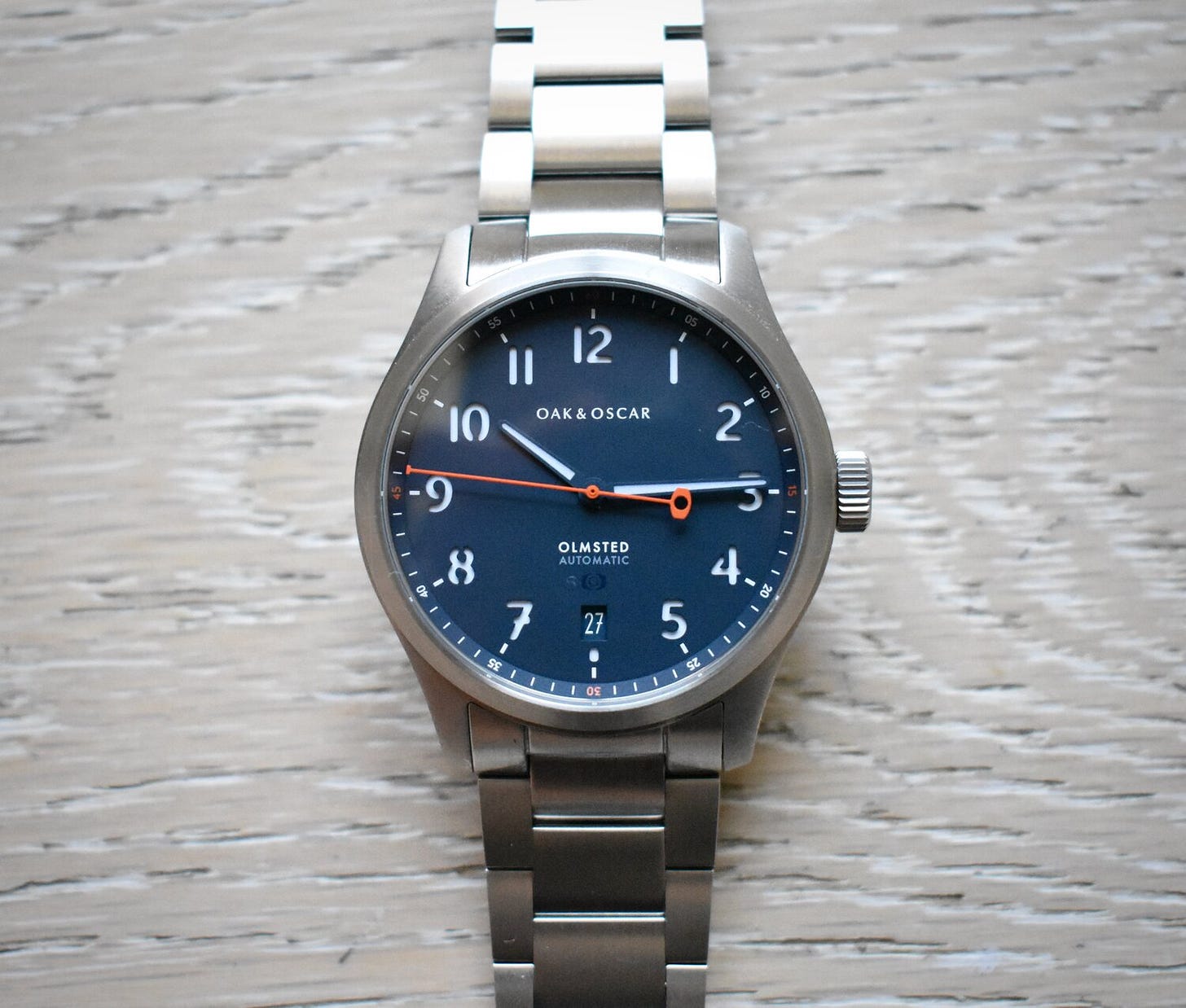 I always leave one spot in these "everyday watch" roundups for a microbrand. And, it's always one of the most difficult spots to fill: microbrands really specialize in making solid, everyday timepieces for people who want a watch they can actually wear.
This time, my Chicago bias got the best of me. I love Oak & Oscar's design aesthetic, and when they released a 38mm "field watch" in late 2019, I fell over myself to grab one. The Olmsted is 38mm, features 100m of water resistance (and a screw-down crown!), and has a unique sandwich dial with the brand's own typeface that is just [chef's kiss]. What's more, for this release, Oak & Oscar introduced their first bracelet, and they killed it: you can tell they took inspiration from some of the best bracelets around — old Speedmaster bracelets, the Rolex Oyster bracelet, and those from expensive sports watches like the Royal Oak — but made it something all their own. Inside ticks ole reliable, the ETA 2892, a movement that runs forever and is easy to service. To me, this is just an all-American, all day, everyday watch: if Chip & Joanna Gaines made a timepiece, it might look like this. Price is $1,575 on bracelet. For more visit Oak & Oscar.
Vacheron Constantin Overseas Perpetual Calendar Ultra-Thin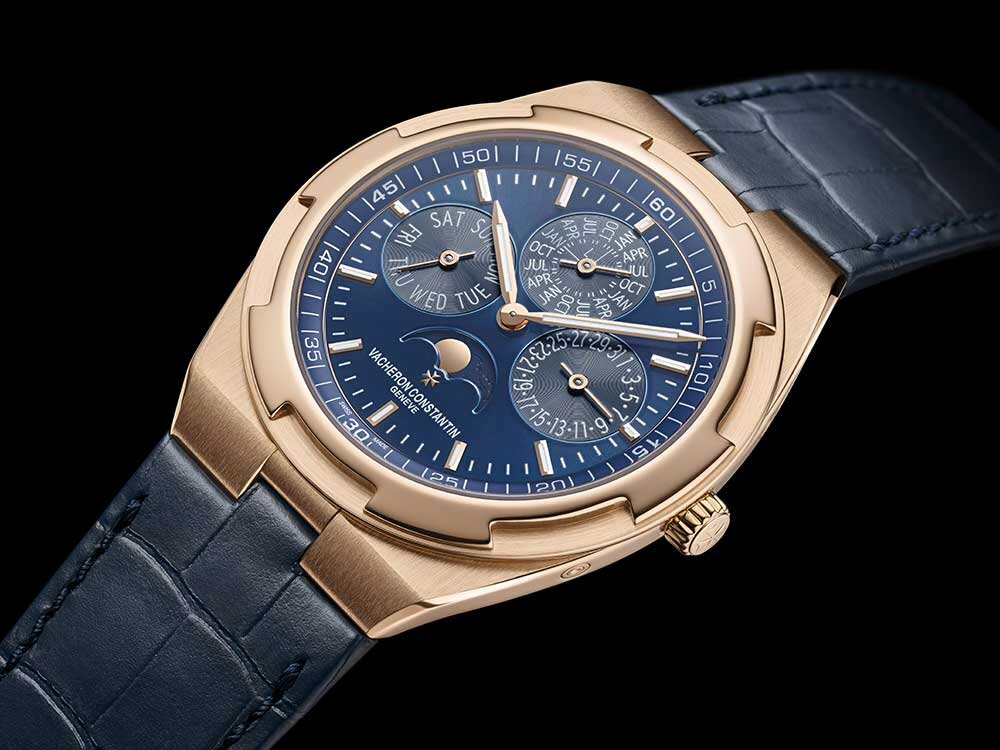 I mean, why not? This is a watch that, upon seeing, isn't hard to just "get." For 2020's addition to Vacheron Constantin's QP line, they've introduced a beautiful blue dial Perpetual Calendar Ultra-Thin. The blue gives the model a bit of a sportier look (as compared to the previous silver iteration), and feels true to the Overseas's lineage as a sports watch. Vacheron offers a blue alligator or a blue rubber strap, allowing you to dress the watch up or down. To interpret a classic sports watch into something that's this unique and elegant, while still feeling sporty at its core, is enough to give you hope in the future of mechanical watchmaking and design.
For a perpetual calendar, the specs are wild: 41mm diameter and a striking 8.1mm in thickness. There's also lume and water resistance to 50m, making this the perfect "everyday" perpetual calendar, as much as using those two words together isn't a contradiction in terms. It's powered by Vacheron's superlative caliber 1120 QP/1, which features a 40-hour power reserve and measures a whopping 4.05mm thick. For more, visit Vacheron Constantin.
For the full list, including Patek, a Nivada Grenchen revival, and more, check out the
full post
.
If you enjoyed reading this post, please share it with friends! 👇
---
Sales Corner
Rolex Ref. 6694 "Busch Dial"
Rolex dials —especially Air-Kings — with logos from the likes of Domino's, Winn Dixie, Pool Intaidril, have always been extremely interesting to me. Typically, the watches were awarded to high-performing managers or employees. I've got some St. Louis ties, so when I saw this 1970 Oysterdate Ref. 6694 with an Anheuser-Busch logo, I had to feature it. To me, the more "low-brow" the logo on the Rolex, the better. While nowadays Rolex is mostly champagne and caviar, it's fun to think that back in the day, an employee at any of these companies who had a solid quarter selling pizzas, beer or whatever else might end up with a Rolex on his/her desk. The case on this example looks sharp, the tritium lume creamy and intact. There's something wonderfully subversive about wearing a Rolex with a logo for the beer you drank at your first college frat party. Thillier Time is asking $2,750 for this Oysterdate.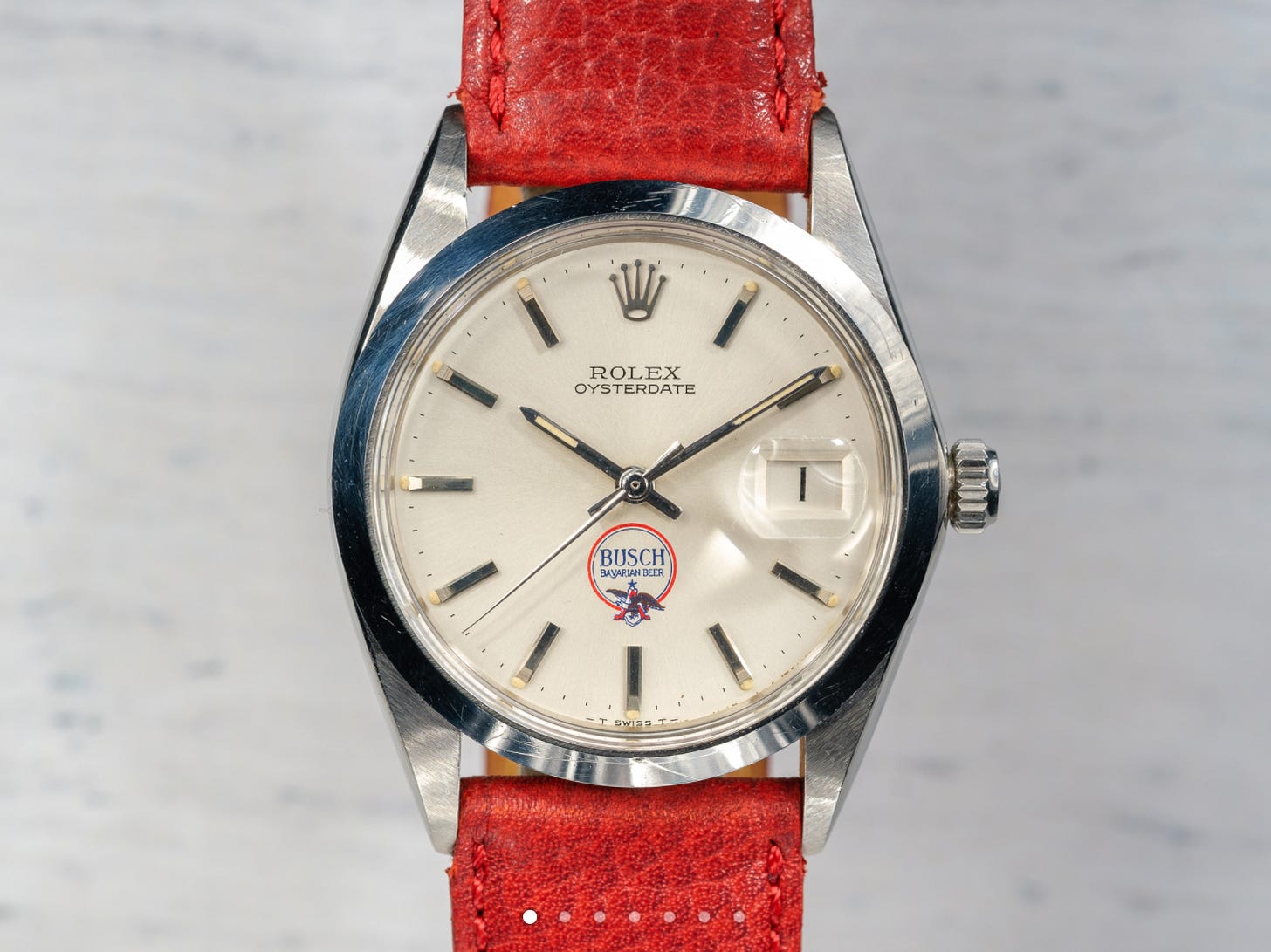 Tudor Black Bay "Ed Sheeran"
Staying with the "interesting logos" theme, this Tudor Black Bay already sold, but it's too cool not to feature. Apparently, at the end of Ed Sheeran's huge Divide World Tour (literally, it was the highest-grossing tour of all-time), he gave out Tudor Black Bays to some of the production crew and staff, with the Divide logo at 6 o'clock. We know this because he posted a teaser on his Instagram story thanking Tudor for the customization.
Well, one (briefly) popped up for sale recently. According to Delray Watch, 80 of these custom Black Bays are known to exist. It's got an engraving on the back, "Thank you for all your hard work on the tour, Love Ed X". I guess if Rolex isn't going to customize a watch for you nowadays, they'll send the request down the hall to Tudor. Sold by Delray Watch (h/t Eric).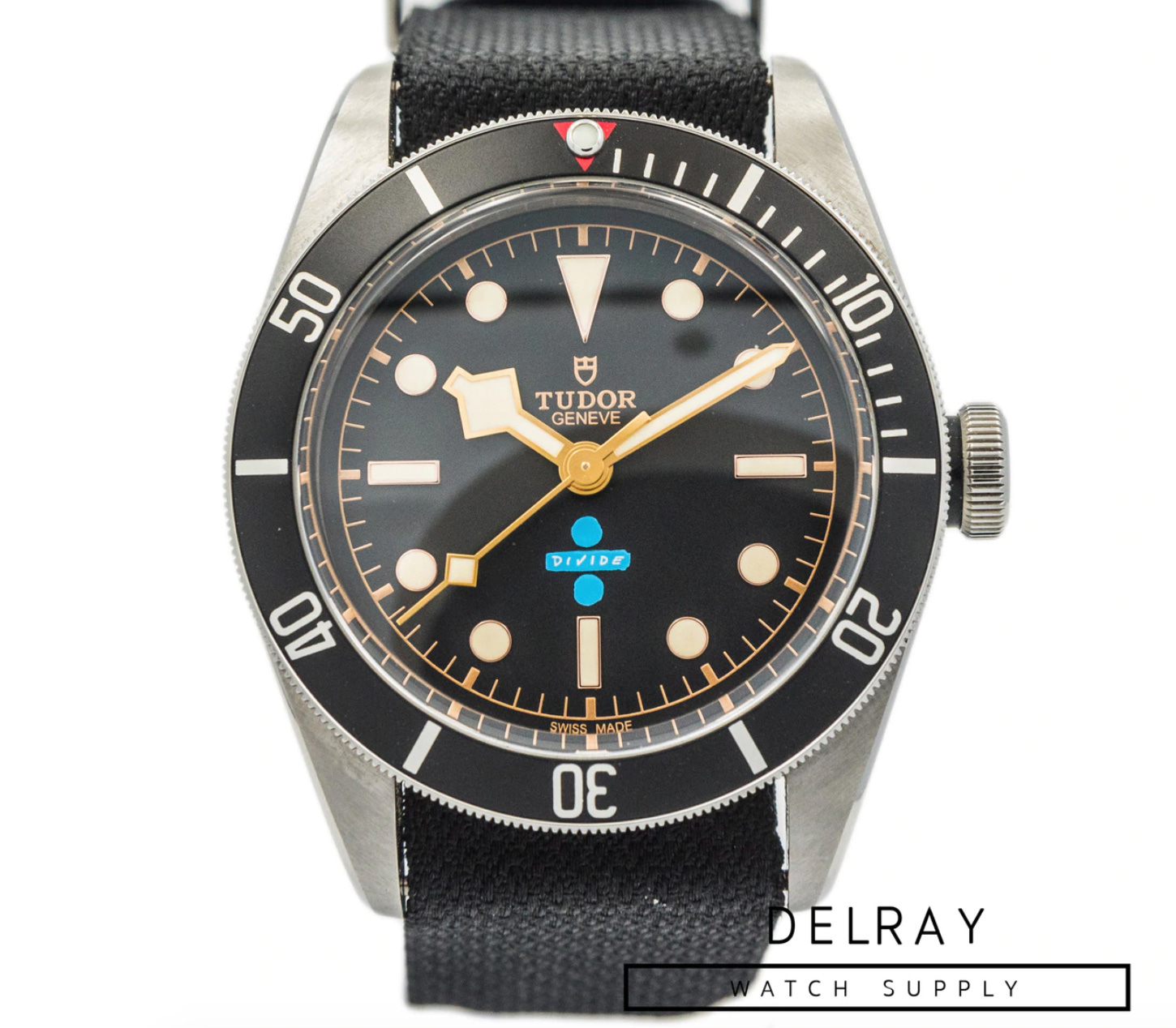 Enicar Sherpa Date
In our recent post highlighting three interesting Enicar models, we first mentioned the Enicar Sherpa Date, the simple 34mm model that lacks much of the bright colors and general funk that Enicar is known for. If you've just been dying to pick one up since Michael recommended it, now's your chance. This example's got all the features we mentioned as reasons to love the Sherpa Date, plus a dial with a gorgeous patina and a straight end links Enicar bracelet. Mann about Time is offering this Enicar, with more details to come.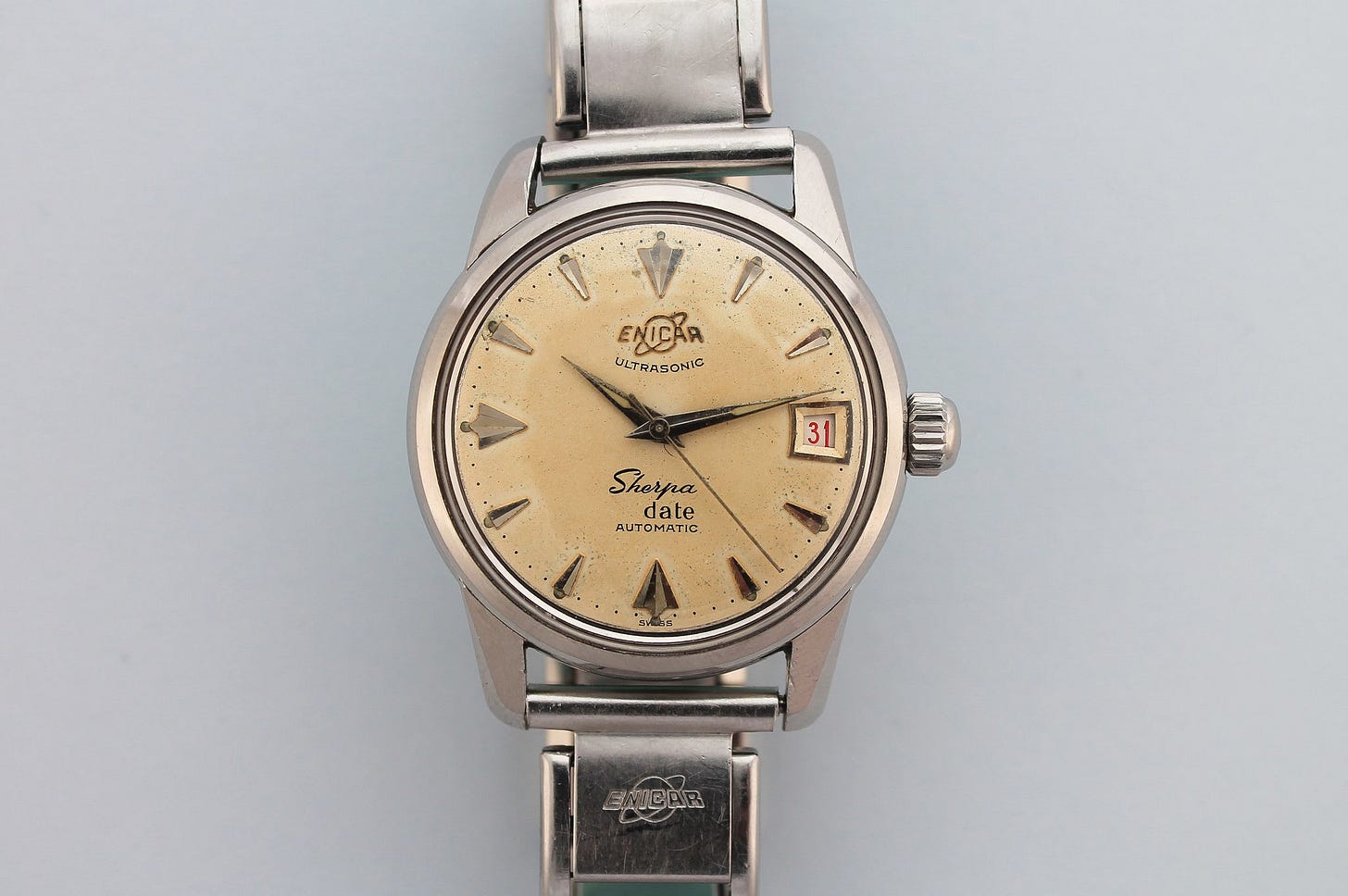 ---
Through the Wire
🕵️‍♀️ Alpha Hands' stolen watch registry database is one of the most important resources on the watch internet. 📓 My Watch Memoir: a journal for your watches. 🙀 This 1940s yellow gold Santos-Dumont.
Thanks for reading and supporting! -Tony
Meme of the Week:
(in honor of Phil's Champions' Tour win)