Discover more from Rescapement
Updates on my Hodinkee writing; b-sides and behind-the-scenes; unpolished personal musings; recs and other unsolicited advice.
Antiquorum & A. Lange Preview
And the Apple Watch Hasn't Crushed the Swiss, Yet
Antiquorum July 2019 Auction Preview: A. Lange Double Split
Antiquorum is hosting a live auction in Monaco on July 16, with online bidding taking place beforehand. There are 342 lots, mostly wristwatches. I'll highlight a few more in the Sales Corner below, but because one of the best modern chronograph movements is on offer, I thought it'd be worth taking some time to highlight that watch's superlatives.
Glashutte watchmaker A. Lange & Söhne introduced the Double Split in 2004 as the world's first mechanical chronograph with a double-rattrapante function. Keep in mind, this was 2004: Vacheron, Patek, and those other Swiss brands had been resting on their laurels and raclette for the past 100 years didn't even have an in-house chronograph movement (Lange introduced its own a few years prior to this), let alone a double split.
The Reference 404.032 Double Split has two sweeping seconds hands that allow for the timing of events simultaneously. But unlike other rattrapantes, the Double Split has minute counters for each of these hands, which allows for comparative time measurements of events lasting up to 30 minutes. What's more, all four hands are actually fly-back hands. AND! AND! The minute counters for the chronograph function make instantaneous jumps — no gradual creeping here. It's just glorious to watch that minute hand jump forward when the seconds chronograph hand comes around to 12.
The thing is big, measuring 43mm and 15.3mm high, with that striking white metal and black dial look the Datograph has perfected so well. It's often compared to the Patek 5370P, and while the two share similar aesthetics, the Double Split is on another level technically. Flip the watch over and you'll see A Lange's signature hand-engraved balance cock, vertically built chronograph movement and best-in-class finishing.
The Double Split is only available new in gold from A. Lange now, so if you want it in platinum you'll have to pick it up at auction or elsewhere.
GaryG wrote a great review of his Double Split awhile back and it's worth reading about his personal experience with one for a real first-hand account. While A. Lange has moved on, introducing the Triple Split in 2018, the Double Split was, and remains, a marvel of modern watchmaking. Quiet simply, no one is making modern chronographs like A. Lange.
Imagine if Patek Phillipe came out with the Double Split instead: it'd cost half a million dollars, John Mayer would be talking about how its movement is a wonderland, and Beyonce would've bought one for Jay-Z.
Lot 89 estimate: $55,000 to $90,000
If the Datograph is more your cup of chronograph, there's also a platinum one of those up for auction.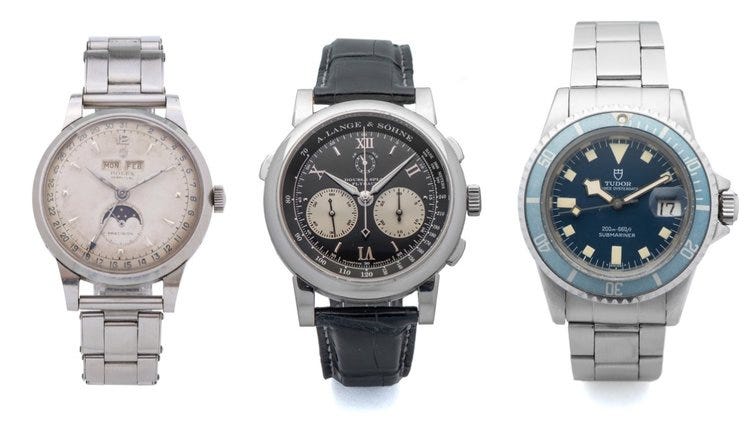 ---
More News
⌚️ Apple Watch Hasn't Killed the Swiss. Not Yet.
"When Apple's CEO, Tim Cook, announced the Apple Watch in September 2014, the Swiss watch industry shuddered," writes the New York Times in this article surveying the past, present, and future impact of the Apple Watch.
It's already the self-proclaimed "#1 watch in the world", just four years after the Watch's arrival. In 2017, Cook explicitly mentioned that Apple was actually the largest watch brand in terms of revenue – not just units sold – surely sending chills down the spines of Rolex and other Swiss watch execs in the old boys club.
But if Apple really is the number one watch manufacturer in the world, it may not feel like it. Sales of Swiss watches were up 3% in Q1 of 2019 (off an already strong 2018), the vintage market is booming, and interest seems as strong as ever.
Perhaps the smartwatch and mechanical watches categories are more complementary than previous contemplated. After all, one will never replace the other, for any number of reasons. And while the Apple Watch may have more functionality than a traditional mechanical watch, we still wear wristwatches primarily to express something about who we are. Whether the watch is mechanical, electronic, or something else is just a means to that end.
🇺🇸 July 4 Rewind: Our Best American Stories of 2019.
In honor of July 4, I thought it appropriate to take a look back at our most American posts of the year thus far. Overall, it's been another solid year in the slow but steady "renaissance" of American watchmaking, and we've been here to cover it. Included here: The Best American Watches of 2019; Shinola and What It Means to Be Made in America; Timex Goes 'Made in America' with Its American Documents Series.
🔬 Getting Scientific: How We Make Sense of Time.
Long, short, forward and back: Our concepts of time—and how we process it in the brain—are based on our understanding of physical space, with some surprising cultural variations. Something a little different, from Scientific American.
---
Sales Corner
More from the Antiquorum Auction
In addition to the A. Lange Double Split above, there are plenty of watches up for auction at Antiquorum on July 16.
Patek Phillipe Reference 130 in Steel.
While Antiquorum has been using a gold Patek Reference 130 as the "cover watch" for this auction's catalog, the Patek Phillipe Reference 130 Chronograph in steel is the real star.
Patek Phillipe began making limited run and unique chronographs in the 1920s, as demand for the complication started to grow, mostly powered by a Victorin Piguet ébauche. By the 1930s it was clear that a serially produced model was necessary to satisfy demand.
So, in 1934, Patek released its first serially produced Patek Philippe chronograph, the Reference 130. It is powered by a heavily modified Valjoux caliber. 13-130. The model was extremely successful and remained in production at least until 1964, and albeit it was manufactured for close to 30 years, the output is very limited, totaling about 1500 pieces. It was serially produced in yellow gold, pink gold and stainless steel. Steel is the rarest, with speculation that about 146 examples in steel exist.
This example, with the steel case and gold hands and markers, strikes a nice balance between sporty and elegance. The case on this example is polished but sharp, the hands original, and this example dates to 1941. It was sent into Patek for service in 2010, at which time the dial was "refreshed".

Beyond the stainless steel case, the present watch also features an appealing and desirable dial. While the Reference 130 comes in a number of dial variations: Arabic numerals, to Roman numerals, to Breguet numerals, passing by baton indexes (short or long), black dials, sector dials, this example features Roman numerals at 12 and 6. and oversized applied baton indexes for the remaining hours. This is thought to be the most difficult layout to come by, with just 9 other known examples in steel. Just last year, Phllips auctioned off a somewhat similar example for CHF 112,500.
Lot 340 estimate: $170,000 to $280,000
Tudor Submariner Reference 9411.
I always take a look at the Tudor Submariners at any auction, so check out my full preview to see the others at Antiquorum. I particularly like this Reference 9411 from 1978, the oldest of the bunch in this auction.
Tudor first introduced its distinctive Snowflake hands in the 9160s with the release of the Reference 7016 and 7021 Submariners. A decade later, it release the next generation of Submariners, Reference 9401/0, powered by a new ETA calibre 2776, and Reference 9411/0 (with its ETA calibre 2784), the date version of this watch.
Tudor offered the Ref. 9411/0 in four dial/bezel combinations: blue or black with "snowflakes" hands and hour markers, as well as blue or black with characteristic Submariner (Mercedes) hands and triangular and round hour markers. The example pictured here features snowflake hands, and a blue dial, and the case looks very sharp. The most desirable part of the blue dial is the fading or "ghosting" they've begun to take on over the years, as this example has. This particular example dates to 1978, near the end of the Reference 9411/0's run. It would be replaced by the Reference 94110 by the end of the decade, of which Lot 291 is a nice example. Finally, Tudor introduced the 79000 series of the Submariner in 1989, making the the Reference 79090 from Lot 290 one of the most modern Tudor Submariners you'll find.
Lot 325 estimate: $6,800 to $9,000
---
Ticks & Tocks
When Kickstarter Watches Fail
📈 Quantifying which Kickstarter watches will succeed. 💙 Hands-on with the Debuthune Bleu. 😋 Dan Henry is releasing its next watch on July 8 (IG). ⏱ Chronograph scales: What they mean and how they work. 💻 A throwback: How Aristotle invented the computer (from VC Chris Dixon). 📺 Netflix's Dressing Funny and the challenges of casual wear (Put This On). 🎧 Business of Fashion Podcast with Veja's CEO (the hottest ethical shoes around). 👩‍🚀 It's a joke we all make: Omega releases a lot of LE Speedmasters. But between all the shitty ones that are clearly (attempted) money grabs, there are still some good modern Speedmasters you can buy new.
In Chicago: Chicago's New Demographics: 'A Third San Francisco, Two-Thirds Detroit' (Curbed)
Thanks for reading!
-Tony
Questions/comments/tips? Just respond to this email (and please tap the heart above to like it!).
Meme of the Week: