Discover more from Rescapement
Updates on my Hodinkee writing; b-sides and behind-the-scenes; unpolished personal musings; recs and other unsolicited advice.
An Introduction to Vintage Grand Seiko + Baselworld Recap
Refer subscribers to earn a NATO strap!
Make sure to read below to learn how you can earn swag or a NATO strap just by referring new subscribers to RESCAPEMENT
A Brief Introduction to Vintage Grand Seiko
Why should you care about Grand Seiko? I'll give you two pretty good reasons: first, its modern watches remain some of the most affordable options out there while still being beloved by watch enthusiasts; second, vintage Grand Seiko remains one of the last undervalued brands in vintage watches (in the West at least), as the vintage watch boom has meant skyrocketing prices for almost all Swiss brands.
Grand Seiko wasn't even launched internationally until 2010; before that, it was a little cult brand that had slowly leaked its way out of Japan. Up until 2017, Grand Seiko had always been a sub-brand of Seiko, the Japanese conglomerate. Design-wise, this meant the Seiko name and logo at 12 o'clock and the Grand Seiko moniker at 6 o'clock. Reputation-wise, this meant even the most intricately finished of Grand Seikos could still be dismissed as "just a Seiko."
Read the rest of our brief introduction to vintage Grand Seiko: the Grand Seiko First, the King Seiko, the Grand Seiko 57S, and Seiko's "Grammar of Design." Part 2 coming soon.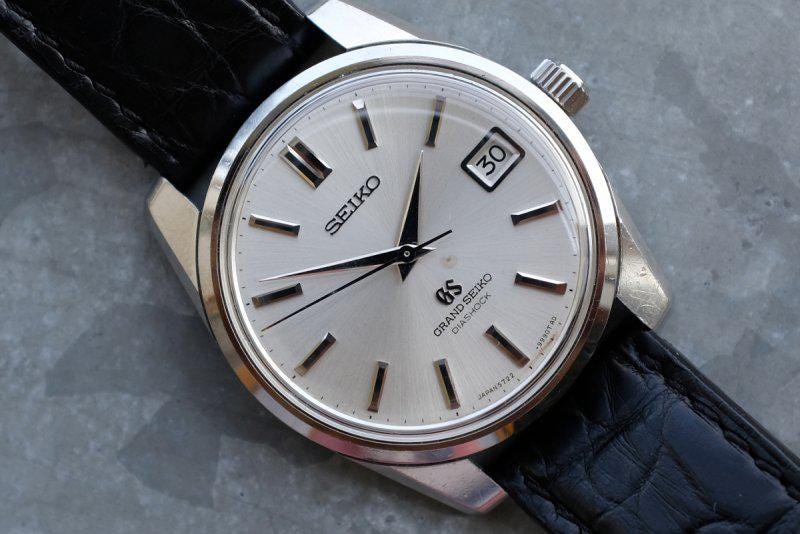 ---
Chicago April 13 Meetup RSVP
Last chance to RSVP for our upcoming meetup!
If you can make it, 

RSVP here

 (and feel free to share this link or forward).
---
The Best of Baselworld 2019
First, a reminder not to get caught up in the Baselworld hype. Most of these watches don't matter and will be quickly forgotten. That said: Tudor sucked, Rolex was meh, Patek killed it like always, and Seiko and Grand Seiko came strong:
---
Business News
The state of the watch is strong. At Baselworld, Swiss watchmakers said they continue to expect growth, and aren't concerned about slowing Chinese demand. Meanwhile, Swiss watch exports grew 3.4% in February.
Swatch is suing Samsung over its smartwatch faces. Swatch Group has filed a complaint against Samsung Electronics, saying the company infringed on Swatch's trademarks for various watch designs. A number of Swatch Group subsidiaries, including Blancpain, Breguet, Jaquet Droz, Omega, Tissot are named as plaintiffs in the suit. More here (and the damning pictures).
Universal Geneve is making a comeback. A few recent developments continue to point towards a rebirth of the Universal Geneve brand: (1) Universal Geneve's website, universal.ch, is now fully functional. It only features a history of the brand and a "contact us" form, but it's definitely something. Universal Geneve has also filed for a handful of trademarks in the U.S. More here.
Watches are the new Bitcoin. Or at least according to the New York Times.
Would you buy a luxury watch online? WSJ ask a question they think provocative, but for many enthusiasts, the answer is a simple shrug and an "of course."
Are you following our March Madness, watches style? Some great Elite 8 matchups coming up (e.g. Datograph or Patek Ref. 5270?).
---
Watches for Sale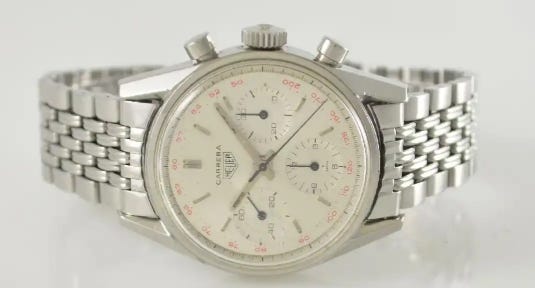 ---
Introducing: RESCAPEMENT Subscriber Referral Program
Refer 10 people, earn a NATO strap
We just finished our Seiko 5 giveaway, and if you didn't win, this is your chance at a consolation prize. All you have to do is refer your friends to this newsletter. When a new person subscribes, the first email they receive will now direct them to fill out a subscriber referral form identifying who referred them, so make sure they fill the form out so you can earn. It's simple:
Refer 5 people, earn RESCAPEMENT swag (stickers, magnets, a mug — we'll let you decide, subject to our inventory)

Refer 10 people, earn a NATO strap (color of your choice!)

Refer 1000 people, earn a Daytona or something — we'll figure it out
So what are you waiting for? Start referring now. Just tell them to go to rescapement.substack.com.
---
Ticks & Tocks
Luxury product authentication is one of the most in-demand skills right now (the article focuses on handbag, shoe, and streetwear authenticators, but this applies even more so in the watch industry, where fakes and franken watches are everywhere).
How legal fakes around the world are challenging Supreme. Is it possible to make a genderless voice assistance? Human contact is the new luxury good. Your AirPods are dying (or: why mechanical things are better). Esquire goes deep with Samuel L. Jackson. The history of the Nike Air. I wish black dress shirts weren't wack. Jupiter is stormy. Warner Music signed an algorithm to a record deal. GQ on the new rules of biz casual.
Thanks for reading; and now, referring!
-Tony
Questions/comments/tips? Just respond to this email.
Meme of the Week (in honor of Baselworld):