Discover more from Rescapement
Updates on my Hodinkee writing; b-sides and behind-the-scenes; unpolished personal musings; recs and other unsolicited advice.
A Primer on 'Transitional' Rolex and More John Mayer
Hello, Australia
Feature
John Mayer's Original Talking Watches: Where Are They Now?
We have a certain amount of new (mainly Australian) subscribers this week after Time + Tide featured one of our articles from earlier this year about John Mayer's watch collection. As a thank you for subscribing, I've got a new John Mayer-focused article: analyzing John's watches from his original Talking Watches episode, way back in 2013.
Like many others, this simple eight-minute video has had a profound impact on my life (some may consider this statement depressing). I was a senior in college when it was released, still thought John Mayer dropped bangers, and had always had a passing interest in watches. But this video made me feel like it was okay to go deep. And so I did.
Like we did for this year's Talking Watches 2, we're going to take a look at the watches Mayer put on display for his original Talking Watches and see what they're worth. We're talking present-day values here — many of these have skyrocketed in prices since Mayer first showed them off 6 years ago.
Patek 5164A (Travel Time Aquanaut)
In Talking Watches 2, Mayer had this Patek on his wrist. It was also his go-to back in 2013, as he led off with this piece and said this was the watch that typically accompanied him on stage. The MSRP is $34,020 for a standard 5164A From Patek. John's is a Tiffany Dial, so is likely worth at least 15-20% more. Let's just round up to an even $40,000. John describes this as his go-to when he "just wants to wear a watch."
"Look closer; look closer still." — one of the classic lines from this video.
Estimate: $40,000
IWC Big Pilot Reference 5002
From the family of watches that made Kanye speechless. This is a big watch — about 46mm — but it's supposed to be that way. Mayer says he loved wearing it on stage because of how easy it was to quickly glance down and pick up the time. A modern tool watch indeed. While now discontinued, this is still a contemporary watch that is readily available on the secondary market, for prices in the range of $8,000 to$9,000.
"You take it off to go to bed — and it's a clock!"
Estimate: $9,000
Rolex GMT-Master II Reference 116710 BLNR (Batman)
Sure, the introduction of the Batman on a Jubilee bracelet has gotten a ton of attention in 2019. But let's not forget the original Batman on an Oyster bracelet, released back in 2013. Mayer had an immediate appreciation for the watch, saying it was competing for wrist time with the Aquanaut above. As a modern, but now discontinued model, there are plenty of examples available around the internet. For example, noted pre-owned Rolex dealer Bob's Watches has a number of examples priced at $15,000.
"The best contemporary modern watch that Rolex makes."
Estimate: $15,000
Rolex Daytona Reference 6263
Mayer goes on to show off a reverse panda, non-Paul Newman. He says there's nothing special or unique about this piece, it's just a great, serially produced watch. Listen, I get where he's coming from, but this is a cool ass watch. It's perhaps the epitome of what conjures when someone says "Rolex Daytona". Screw-down pushers, Valjoux 72 movement, black tachy bezel, Oyster bracelet — it's just classic. You can probably walk into any auction this fall and come home with this watch, but it'll cost you for a good, clean example. But, if the Paul Newman Daytonas steal the show that day, you might come home with a relative deal. See some auctioned examples here and here. This watch was clearly the start of a fascination for him, as he shows off a superlative Daytona collection in Talking Watches 2.
"It's not unique, it's not special, it's just great."
Estimate: $150,000
To see the rest of John's collection from his original Talking Watches,

read the full article

.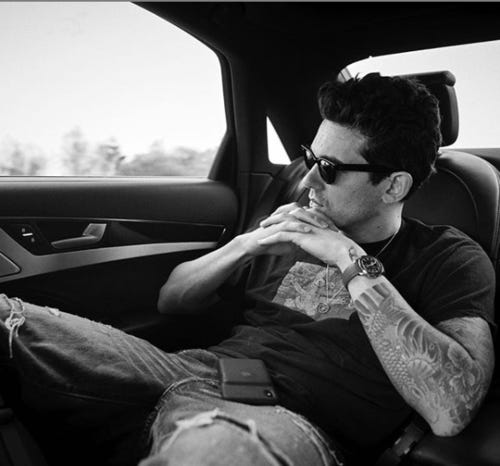 ---
Guides
'Transitional' Rolex: A Primer
With vintage Rolex prices continuing to skyrocket and showing no signs of slowing down, collectors have been looking for other places to invest their money. Most notably, this has meant an increased recognition of the importance of historic brands like Movado or Universal Geneve as collectors have come to appreciate the impact these companies had on the entire watch industry. But, it has also meant collectors are increasingly looking toward more modern Rolex references for the "next big thing." Words like "transitional" and "neo-vintage" have become almost as common in collector parlance as "exotic" and "tropical" dial descriptions. But what do these terms actually mean, and what does a collector need to know if he or she is venturing into "transitional" Rolex?
I recently looked back at John Mayer's 2014 article "5 Best Vintage Rolex Picks for under $8,000". Consider this article something of a 2019 update of those recommendations, as most of John's picks from 2014 will today set you back well over $8,000 .
From the 1950s through the 1970s, Rolex developed a number of now iconic models that established a certain design language that the brand continues to draw on to this day. During this era, Rolex released the first Daytona, Explorer, Explorer II, GMT-Master, and Submariner.
Transitional references bridge the gap between this vintage era and modern Rolex, allowing Rolex to use remaining parts from previous references while also introducing new technologies. For example, Rolex might have introduced a new movement into a model that otherwise remained the same as a previous model.
As we'll detail with specific references below, this occurred with Rolex's iconic models throughout the 1980s as it transitioned from building tool watches to becoming a full-fledged luxury brand. This can also be seen as a response to the quartz crisis set in motion after the introduction of the first quartz watch in 1969. With uber-cheap, electronic watches eating up the low-end and middle of the watch market, Rolex moved up market, confidently asserting itself as a luxury brand.
Throughout this time, Rolex also mechanized and automated more of its processes, meaning more watches were being pumped out, and those watches had less variation between examples (no more Bart Simpson crowns). The small dial details and other variations that vintage Rolex collectors obsess over are not as present in transitional references.
During this transitional time, Rolex also began moving from four-digit to five-digit reference numbers. Modern Rolex models have six-digit references (though they often hearken back to earlier references).
So while not a specific date range, the "transitional" period for Rolex roughly encompasses the 1980s, with models during this period blending the hallmarks of vintage and modern Rolex.
Let's dive into the specifics by looking at perhaps the quintessential transitional Rolex.
Rolex Submariner Reference 16800
The Submariner Reference 16800 began to replace the iconic Ref. 1680 in the late 1970s and remained in production for a full decade. It was replaced by the Ref. 168000 ("triple zero"), a model that Rolex produced for just one year.
The Ref. 16800 underwent a series of modern upgrades: it was fitted with a sapphire crystal, the caliber 3035 (featuring a quickset date and increasing beats per hour), and upped the water resistance to 300m.
But, for the first few years of its production, the Ref. 16800 continued to use the same case and dial from the Ref. 1680. This means that earlier examples of the model feature a matte dial with luminous paint applied. By the early 1980s, Rolex had transitioned to glossy black dials with lume plots and white gold surroundings.
By 1981, the Submariner also became equipped with a uni-directional rotating bezel. Blancpain had held a patent on the mechanism, but Blancpain hadn't weathered the quartz crisis as well as Rolex so was no longer a competitive concern.
Production: 1978 — 1987
Check out the full article for more on transitional Rolex models.
---
Ticks & Tocks
Blueberry GMTs and OBJ (Again)
💙 Did you catch the latest Talking Watches with Daniel Dae Kim? If you did, you might remember the mention of the so-called "Blueberry GMT" (and Ben Clymer's subsequent nervous laughter when asked to comment on it). Well Jake's Rolex World decided to take on the controversial GMT to see what they could find.
🏈 OBJ is the newest Daniel Wellington 'Icon'. Watch nerds hate DW for a lot of reasons, but I think the main reason we hate them is this: they win.
🤬 Socializing at work has become … work. 🤩 G-Shock releases a new watch in titanium. 🕴️ The best dressed guys at the Emmys. 🗾 A couple of good-looking limited edition Seikos. 🎸 Ken Burns has a new documentary. The Tudor Black Bay Chrono Dark is slick. Who Would I Be Without Instagram? An Investigation (The Cut).
John Mayer finishes his first Talking Watches with a memorable quote that we'll borrow here: "Yes, it's excessive, but there's an excessiveness to ambition as well."
In Chicago: Performing the Double Triple
Thanks for reading!
-Tony
Questions/comments/tips? Just respond to this email (and please tap the heart above to like it!).
Meme of the Week:
from: @watchumor