Discover more from Rescapement
Updates on my Hodinkee writing; b-sides and behind-the-scenes; unpolished personal musings; recs and other unsolicited advice.
A Drug Dealer's Daytona and Other Watches for Sale
And a particular 1016 to avoid
A Rare Patek Chronograph and a Rolex Ref. 1016 to Avoid
It's the doldrums of summer, which means there's not a ton of watch industry news. Sure, Seiko re-introduced its Seiko 5 Sports collection, but other than that, not much is happening. So, this is a special "Sales Corner"-only edition of our weekly newsletter, looking at what's selling at a few auctions and elsewhere around the web.
First up, a few lots from Fellows UK.
One to Watch
Fellows, a UK-based auction house, is hosting its Watch Sale on August 13, featuring some 400 lots. The "best" lot up for auction is a yellow gold Patek Phillipe Reference 1579 with a chronograph movement that doesn't really function.
The Reference 1579 was made from 1943 to 1964, and is notable for its larger 36mm case size and unusually shaped "spider" lugs. While in production for approximately 21 years, only about 470 pieces were made; an estimated 250 of these were in the yellow gold we see here. As you might imagine, the platinum version is extremely rare and collectible, achieving hammer prices in the millions on the rare occasion they actually come up for auction. Meanwhile, well-maintained gold examples can achieve healthy six figure hammer prices. But, as is the case with vintage Patek, stainless steel is even rarer: there are only 7 known examples of the Ref. 1579 case in steel, though Patek uncovered some new old stock cases in the 2000s.
Inside the Ref. 1579 is the manual wind caliber 13'' 130, a modified Valjoux 23 ebauche. Unfortunately, the movement of the example here will need a servicing, as the chronograph hands do not reset. However, the rest of the movement does function. Additionally, the lugs have lost some of their angular shape and the dial has some scratches and discoloration throughout.
All in all, it's a 70-year-old watch with the scars to show it; it's a bit of a project, but nothing a collector with a good watchmaker wouldn't relish to take on.
Estimate: £55,000 to £75,000
One to Avoid
Listen, sometimes these auction houses have trouble filling up a catalog. And when a Rolex with a sexy reference number comes in, it's hard to pass it up.
Unfortunately, with popular models like a Rolex Explorer Reference 1016, if it seems too good to be true, it probably is. And while this one has a low estimate, I'm not sure I'd spend more than my lunch money on it.
First, the serial number places this watch's birthdate in 1962; however, this watch has a caliber 1570 movement in it. Unfortunately, Rolex didn't starting making Explorers with a the 1570 movement until the late 1960s. The correct movement for this Explorer would be the caliber 1560.
Next, the dial has been badly repainted. Honestly, it's hard to tell exactly what happened without better photos, but it's clearly not good: like someone used white paint and then didn't really let it dry. The crystal is noticeably beat up, though that's the least of my worries with this watch.
Fellows makes all of this very clear in their description. And I don't totally begrudge them for putting it up for auction either; rather make a few bucks than throw it in the trash and tell some consignor their watch wasn't worth anything.
But, it's unfortunate that someone might drop £7,500 for this Explorer just because it's a splashy and desirable reference number. If there's something about this watch that draws you to it on a personal level, that's fine. But don't buy this (or any other mediocre Reference 1016) just because it's a hot vintage Rolex reference and you can't afford the going rate for a minty example. It's fine if you can't afford a perfect, honest Reference 1016 (I can't either); but don't buy the bargain version. Look at something like a "neo-vintage" Reference 14270 instead.
Lot 266 estimate: £5,500 to £7,500
Read the full previous for a look at a Tudor Monte Carlo and an early Heuer Autavia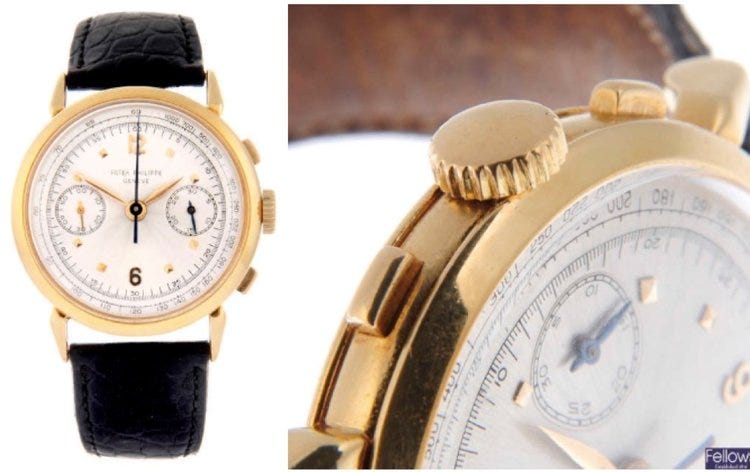 ---
Other News
The movements are all Seiko's automatic Caliber 4R36, with 24 jewels, a 41 hour power reserve and a hacking second hand. Better movement, no more ugly Seiko 5 badge — even the Seiko 5 is going up market.
UK-based Wilsons Auctions is holding an auction on August 14 to auction off over £2.3 million of goods seized from a London-based drug dealer. In addition to some red bottoms, a villa in Spain, and other things people rap about, there are a handful of watches up for auction. Among the lots are a Rolex Datejust II 'Wimbledon' Reference 116333, a large 41mm Datejust with a beautiful slate dial and green accents on its markers, and a big ass Breitling Emergency Reference A73321with a beacon for calling a search crew.
But the best watch of the bunch is an Everose (pink) gold Rolex Daytona Reference 116505. There's something badass about a black dial with a gold watch, even more so when it's a Daytona. Maybe it's the John Player Special vibe.
Inside this Daytona is Rolex's COSC-certified caliber 4130, featuring a 72-hour power reserve. The caliber 4130 is the successor to the caliber 4030, which was the modified Zenith chronograph movement Rolex used in the previous generation of the Daytona. The 4130 was thus the first true in-house caliber inside a Daytona. It's perhaps most impressive for its practicality: it contains just 201 separate parts, a 60 percent drop compared to its predecessor movement. As a point of comparison, Patek's base self-winding chronograph movement contains 308 parts.
With the popularity of the stainless steel, ceramic bezel Daytona, don't be surprised if these continue to see a rise in popularity — especially if the trend moves away from stainless steel watches and back to gold watches. The MSRP on this Daytona is $37,450.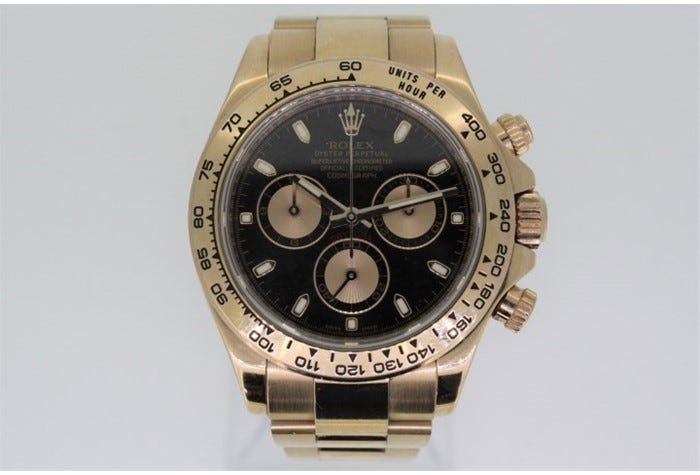 ---
Sales Corner
Omega Chronostop Ref. 145.009.
Triad Vintage has a vintage Omega Chronostop in its eBay shop. The Chronostop, first released in 1966, features Omega's caliber 865, a 21,600 bph manual wind movement used only in this model. Omega introduced the Chronostop as a cheaper option in its collection; as such, the only complication is the chronograph function with the sweeping orange seconds hand, which only counts up to a minute. It's not super practical, but it looks cool. Triad Vintage is asking $1,149 for this vintage Omega.
Oversize Tavannes Chronograph.
Barcelona-based vintage dealer Mim and Rocket has a 1940s Tavannes chronograph on its site right now. It's a classic, extremely clean chronograph typical of the era, except for its large, 38mm case size. With the extra room, the dial has both a tachymeter and a telemeter on the outer ring. Inside is a modified Venus 150 movement.
Tavannes Watch Company is more commonly known as Cyma. The Swiss-based companies decided to merge in the early 1900s. Cyma was primarily a watch assembly company, and Tavannes focused on making chronographs and some other complicated watches. The merger was born of synergy, as a Wall Street earnings call might put it today.
---
Ticks & Tocks
😂 14 of the best watches spotted in Comedians in Cars Getting Coffee. 🙃 Hodinkee's Bring a Loupe features a Birks RCAF Chronograph that I highlighted back in March (now $4,500, down from $4,900). 📺 WatchBox on the tourbillon. Looking for your next summer read? Here's 100s of free ebooks. 🤖 The New Yorker on the lonely world of moderating Hacker News. 📚The history of the Patek Phillipe Calatrava. 📉 Farfetch buys Off-White and friends, and shares plunged.
Thanks for reading!
-Tony
Questions/comments/tips? Just respond to this email (and please tap the heart above to like it!).
Meme of the Week:
You hate to see it. From @horological_dicktionary.