Discover more from Rescapement
Updates on my Hodinkee writing; b-sides and behind-the-scenes; unpolished personal musings; recs and other unsolicited advice.
6 Great Affordable Vintage Rolex Options
Confessions of a watch 'flipper'
6 Great, Affordable Vintage Rolex Options
It's a pretty common question: What's the best in affordable vintage Rolex? Sure, six-figure Daytonas and Submariners grab all the headlines, but most of us just want to get our hands on any Rolex, much less some of the most desirable references around. And with authorized dealers often having limited stock of some of the more in-demand models, that means turning towards pre-owned or vintage Rolex as an alternative.
Modern, entry-level Rolex starts at $5,4000 with the 36mm Oyster Perpetual (and $5,700 for the 39mm version), so we'll use that as our baseline to define what "affordable" means. Luckily, vintage Rolex can often be found at a fraction of that price. One of Rolex's strengths as a brand is its offerings at both the extremely high and low end of the market. From six- and seven-figure Paul Newman Daytonas to $2,000 Oyster Perpetuals, there's something for almost everyone.
I also gave a Primer on Transitional Rolex recently. Many of these models are affordable, and slightly more modern, thus making them easier to find around the internet. It's a great companion piece to this article as you search for your next (or first) great vintage Rolex.
Rolex Oysterdate Reference 6694
This simple Oysterdate (along with the Oyster Perpetual below), pretty much inspired this entire post. To me, this is the entry-level Rolex. Introduced in the 1960s and measuring just 34mm in diameter, it's simple, understated minimalism. Manufactured until the 1980s, a plethora of examples can be found on the secondary market with stainless steel or gold cases. Because they're so plentiful, you should take some time to find a nice, clean example. Most available with an elegant, silver sunburst dial, examples can also be found with black or deep blue dials.
Though marketed to men in the 1960s and 1970s, the Ref. 6694 today makes a great unisex or women's watch as well (think of it as an alternative, for example, to that Nomos you've been eyeing). Minimalist, elegant, and subtle, it's the perfect Rolex for someone who's not a "Rolex person".
What's really interesting about this reference is that it's manually wound. In an era of Oyster Perpetuals and sports watches, the simple, manual-wind caliber 1225 kept on ticking inside the Ref. 6694. It beats at 21,600 bph, and, befitting its "entry-level" status, doesn't have a quickset date. Additionally, the movement is not chronometer certified. But, it's still an "Oyster", and rated to 100m of water resistance, featuring a screw-down crown. It's fair to worry about the wear-and-tear of popping out a screw-down crown daily to wind this watch, but rest assured that the solid construction that gave Rolex its reputation are also present in this watch.
A standard, silver-dial Reference 6694 can be had for around $2,500 on the secondary market; expect to pay less on forums, more from dealers. Even if you're not traditionally a fan of bracelets, spring the extra couple hundred dollars to get an example with a Rolex bracelet. The Ref. 6694 features drilled lugs, making it easier to swap straps. You might even end up liking the vintage Oyster bracelets; they're rattly, comfortable, and beautiful.
Rolex Oyster Perpetual Reference 1002
Similar in appearance to the Reference Oysterdate Ref. 6694, the Rolex Oyster Perpetual Reference 1002 strips out the date window to arrive at the most simple three-hand watch a luxury brand like Rolex can imagine. Manufactured from the late 1950s through the 1960s, examples abound throughout the secondary market.
What the Ref. 6694's simple manual-wind caliber arguable lacks, the Reference 1002 does not. Inside ticks the caliber 1560 automatic movement (later examples feature the 1570 movement), running at 18,00 bph. It's a chronometer-certified movement, with the signature text at 6 o'clock indicating as much. This is the movement that powered more popular sports watches of the same era, making this a true value proposition at the "entry level" of vintage Rolex.
Like the Ref. 6694, the Ref. 1002 measures 34mm in diameter, features baton indices topped with small tritium lume plots, and has an Oyster case and screw-down crown. The most common example is a simple silver sunburst dial, though any number of variations can be found: linen, slate grey, "underline", Tiffany-stamped, blue, black, and more. Poke around the internet and you'
Again, expect to pay around $2,500 for an Oyster Perpetual Ref. 1002. The same notes as for the Ref. 6694 apply: spring for the bracelet, and you can probably find box and papers at only a slight premium, due to the numerous examples on the market.
Rolex Datejust Reference 1601, 1603
Are the smooth-bezel above vintage examples not doing it for you? Then look no further than a 16xx series Datejust to satisfy your fluted infatuation. While the Datejust Reference 1600 has a smooth bezel, the 1601 and 1603 have a fluted or engine-turned bezel, respectively, giving the watch a bit more of that characteristic Rolex flash.
The Reference 1601 features a stainless steel case and luxurious white gold fluted bezel, while the Reference 1603 features a stainless steel engine-turned bezel. Both add a bit of character as compared to the above examples, while the stainless steel case means they're still subtle enough to fit into any situation. Rolex produced the 16xx series of Datejusts throughout the 1960s and 1970s, and the models feature the hallmark characteristics of other Rolexes during the time: acrylic crystal, drilled lugs, Oyster or Jubilee bracelet, and the caliber 1560 or 1570 with a non-quickset date that's chronometer certified. In short, it's one of the most classic Rolex models you can find, and it doesn't cost a fortune. Rolex was selling these things en masse throughout the middle of the century, and these models are part of the foundation that made the brand what it is today.
Like the Reference 1002, the most common examples found feature silver dials, though interesting dial variants can be found. For example, sigma dial variants from certain periods indicate the use of gold for the dials indices. The 16xx series Datejusts were replaced with the 160xx series in the late 1970s, equipping the Datejust with a more modern caliber 3035 with a quickset date, but otherwise maintaining much of the classic Datejust aesthetic.
Like the other examples on this list, the Reference 1601 and 1603 are examples that are widely available on the secondary market, but aren't likely to lose much value any time soon. While slightly more expensive than the above examples, you're getting more watch here: 36mm diameter (as compared to the 34mm seen above), robust chronometer-certified caliber with date function, and a slightly more luxurious and classic Rolex aesthetic. Please, just don't buy from a "dealer" that's going to overcharge you for what in reality is an easily found vintage Rolex.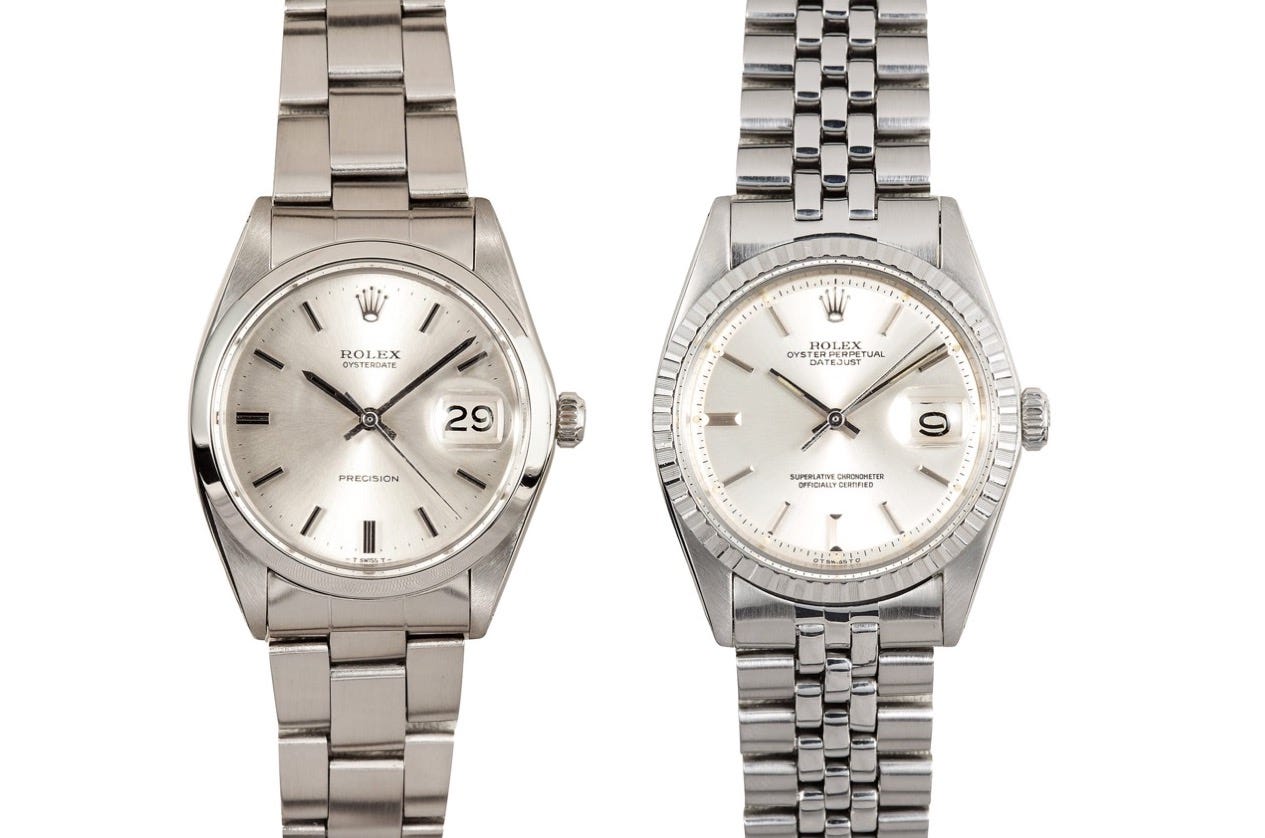 ---
Other News
Of course, everyone knows that the upcoming Phillips Game Changers auction on December 10 in New York features the Marlon Brando GMT. But there are a bunch of exciting lots on offer from Phillips that are playing undercard to the big Here, Phillips highlights six timepieces worth your attention, including a beautiful exotic Universal Geneve and the other 'celebrity' game changer from the auction.
According to WatchPro, Richemont will withdraw all its brands, which includes Cartier, A. Lange, IWC, and others, from Govberg Jewelers. Govberg is notable for going all-in on the preowned market with the launch of Watchbox a few years back. At the time, Govberg knew the risk it was taking in potentially alienating watch brands. From the outside at least, it seems Watchbox has been a successful venture, with a large presence across the internet, so this is the trade-off Govberg had to be comfortable making when it made its pre-owned bet.
And while Govberg made its pre-owned bet by co-founding Watchbox, Richemont also made a similar bet by buying Watchfinder in 2018, essentially making the two companies direct competitors. So while not entirely surprising, it's perhaps a harbinger of the competition to come.
The winner here? Consumers, hopefully. There continues to be a disparity between the MSRP and street price of watches throughout Richemont's stable of brands. As brands continue to recognize the value and opportunity in the pre-owned market, they'll have to come to terms with the fact that a watch isn't worth what its MSRP might indicate. In a world where the internet promotes transparency and makes it easier to resell anything, value retention is a key tenet of the luxury goods proposition. Sure, I want this IWC, but if I want to resell it to Watchfinder or Watchbox in 18 months, am I going to lose 75% of my investment? Increasingly, consumers are uncomfortable with the answer to that question being "yes", and looking for retailers offering prices that ensure that's not the answer.
This means cutting prices as well as culling lineups, production and distribution. Richemont's response to Watchbox is notably different than Rolex's, as we highlighted last week.
Confessions of a former watch 'flipper'.
Now, for a look at the other side of the modern watch market: impossible-to-get watches. British GQ published a dispatch from an anonymous and self confessed "watch flipper". His crime? Buying and flipping a highly desirable and hard-to-get stainless steel Patek Phillipe:
My own experience of "flipping" involved a Patel Philippe Aquanaut 5167 (above). I have – correction "had" – a very good relationship with a Patek Philippe AD in Central London. They managed to find me the watch – which I genuinely wanted – even though it had a very long waiting list. It was selling for more than double its list price on the grey market, so, once I had the 5167 in my possession, I found another buyer and accepted a very healthy profit. It was undeniably good business for me but now, on reflection, it is something I am not proud of.

You see, the fallout is this: Patek Philippe knows that it is not mine anymore. They found out and I am not sure how. It could have been another Coleen Rooney sting, who knows? But it does mean it is unlikely they will sell me another watch in the future. My name could be potentially circulated among other Patek ADs, I am told. The AD (who I had a great relationship with) will no longer offer me "hard to buy watches".
Over at Horolonomics, economics professor Brendan Cunningham has a few innovative solutions that are more "carrot" than "stick" to better align incentives between brands and consumers: (1) a waitlist ranked by requiring a down payment, (2) reducing or eliminating rationing (i.e., increasing production), (3) raising AD prices or (4) changing the pricing model, for example, by auctioning off new watches to the highest bidder. No matter the alternative solution, flippers are not the only problem.
---
Ticks and Tocks
🤔 Enthusiast GaryG's thoughts on the future of watch journalism. It's similar to what I wrote when I started Rescaepement 1+ year ago. Naturally, it's an article I generally agree with and I hope more enthusiasts begin to think critically about the future of the industry and who's covering it.
🤑 Forbes interviews Patek CEO Thierry Stern, who insists the brand is not for sale (although $16.3B is probably looking pretty good). 🏅 Jay-Z used gold Rolex Daytonas as VIP invitations to his inaugural Shawn Carter Foundation Gala. 👻 Meanwhile, the coolest celebrities are wearing a $20 Casio. 🚰 Brooklyn-based Martenero released a dive watch (are there too many microbrand divers?). 💧 Speaking of divers: Monochrome's top 5 divers of 2019. 🐪 4 new watches from Dubai Watch Week. 🎁 Fratello's 2019 Gift Guide: The Watches.
Thanks for reading!
-Tony
Questions/comments/tips? Just respond to this email (and please tap the heart above to like it!). And look for an exciting giveaway in next week's newsletter!