Discover more from Rescapement
Updates on my Hodinkee writing; b-sides and behind-the-scenes; unpolished personal musings; recs and other unsolicited advice.
5 Best Buys in Vintage Tudor for under $8,000
Auction season and disrupting collecting groups
5 best buys in vintage Tudor for $8,000 or less
Way back in 2012, a younger John Mayer wrote an article titled "The Five Best Buys in Vintage Rolex for $8,000 or Less". It was a fine article with a lovely premise: you don't need to be rich like John Mayer to own a desirable vintage watch from the Crown.
Well, I've covered the fact that since then, most of Mayer's recommendations have ballooned in value, most now trading in excess of five figures. So where's a modest collector to turn?
Enter Tudor. Referred to as anything from Rolex's sister brand to purveyors of the "poor man's Rolex", the brand's pieces have been recognized as worthy of collection in their own right, association to big brother be damned. Especially since its return to the U.S. market in 2013, Tudor has seen a surge in popularity, which has meant a rise in prices for its vintage watches. Still, they typically remain more affordable than an average vintage Rolex.
Some may scream "how can you pay prices like that for an ETA movement?!" And sure, they're right: while vintage Tudor relied on many of the same manufacturing processes as Rolex — you'll find Rolex-signed cases, bracelets, and crowns — one of the ways Tudor cut costs was by using cheaper ETA movements. On the positive side, this does mean easy and cheap servicing. But who cares? It's not like vintage Rolex movements are works of high horology. But they run forever and the watches just look awesome.
This article is also not an investment prospectus. In fact, if you're looking for watches that might rise in value, transitional Rolex might be a better bet. But who am I to conjecture on the vagaries of the vintage watch market. Oh, and please don't take the given price ranges as gospel — they're estimates, and the market changes almost daily.
1) Tudor Ranger
Ah yes, the enigmatic Ranger. Perhaps the most faked watch on the secondary market. If you can find one, it makes for a more affordable alternative to the Rolex Explorer 1016 that Mayer recommended in his original article. The Ranger keeps the iconic 3-6-9 black dial, but has narrower arrowed hands. Additionally, the Ranger measures just 34mm, more compact (and slimmer) than the Explorer's 36mm size.
Much of the caution with respect to Rangers comes from the torrent of "Red Rangers" you'll find, mainly on eBay, with a simple "Tudor Ranger" search. Despite a forum legend that someone, somewhere, one time may have seen a legitimate Red Ranger, it's pretty settled that all Red Rangers are actually fake.
Another tip off to Ranger fakes: the words on the dial. If an automatic movement ticks inside, you should see the words "Prince" on the dial, along with "Oyster". If a manual movement, you'll just see "Oyster". If there's a date complication it'll say "Oysterdate". We could go into more detail, but I'll spare you, dear reader, for now. Also take a look at the shape of the hands. As you'll see, the head of the hour hand has a distinctive, long, arrow shape. Many of the fakes you'll see will have a slightly squatter arrow. And, as with all vintage watches, make sure the hand lume matches the dial.
The Tudor Ranger didn't get its own reference numbers until the 1980s, making it extremely difficult to determine what's a legitimate Ranger that left the factory as such. If you're looking to venture into the world of Rangers, I might recommend starting with these examples from the 1980s. If you find a later Tudor Ranger Reference 90220 or Reference 90020, it's more likely to be legit than something with a four-digit reference.
But, one of the more common Rangers you'll see is a Reference 9050/0, a Ranger Oysterdate from slightly earlier. You'll still find plenty of fakes (side note, what the fuck, Crown and Caliber?), but there are also plenty of legitimate examples out there. Other references that might be legitimate Oysterdate Rangers include 7996 and 9052/0. The Oyster (no date) is known to have used references: 7964, 7991, 7995, and 9002/0. There are likely others, but that's for another article.
Price: $7,000 to $9,000
2) Tudor Advisor Reference 7926
Let's stop pushing that $8,000 limit to the edge for a moment. The best thing about vintage Tudor continues to be the plethora of affordable pieces on the market, even as certain desirable references have shot up in value. The Tudor Advisor was first introduced into the brand's collection in 1957, with this reference remaining in production until the late 1960s.
This Advisor uses an outsourced manual-wind Adolph Schild caliber 1475. An alarm movement has two mainsprings, one that powers the time function, another that powers the alarm. When the hour and minute hands come to the set alarm hand, the energy in the mainspring is released and activates a small hammer to create a buzzing sound. Most vintage Advisor examples you'll find will have simple baton indices or dagger indices at every hour market, though there is a rarer dial variation that features the 3-6-9 Arabic numeral layout. In fact, that's the layout Tudor chose as its inspiration for the modern Heritage Advisor. No matter the layout, you can rely on the red alarm hand to pop against the silvered dial.
Honestly, I think alarm complications are one of the few that remain practical in the modern world — I use a digital G-Shock as my daily alarm so that a phone is not the first thing I look at every morning, and often think about "upgrading" this daily flow to a mechanical option.
Price: $2,000 to $4,000
3) Tudor Date + Day Reference 7017 'Jumbo'
While Rolex reserved its classic dress watch, the Day-Date, for precious metals and a 36mm Oyster case, Tudor happily made its Date + Day in a "jumbo" size with a stainless steel case.
The Date + Day Reference 7017 measures more like 38mm, earning it the "Jumbo" moniker and making it perfect for modern collectors who might prefer a slightly larger watch. Tudor produced this particular reference throughout the 1970s, meaning you can find decent examples on the secondary market. You'll find the Ref. 7017 with a sunburst-style dial in silver, vibrant blue, or black. An automatic winding ETA movement serves inside, as modified and signed by Tudor. Of course, you'll find a Rolex-signed crown, and, if you can find an accompanying bracelet, that'll be signed by Rolex too.
The Tudor Date + Day is a vintage piece that admirably serves as a modern dress watch. It displays Tudor at its best; doing things just a bit differently from Rolex, daring in ways the world's largest watch manufacturer cannot, and creating timeless and iconic pieces in the process.
Price: $2,500 to $4,000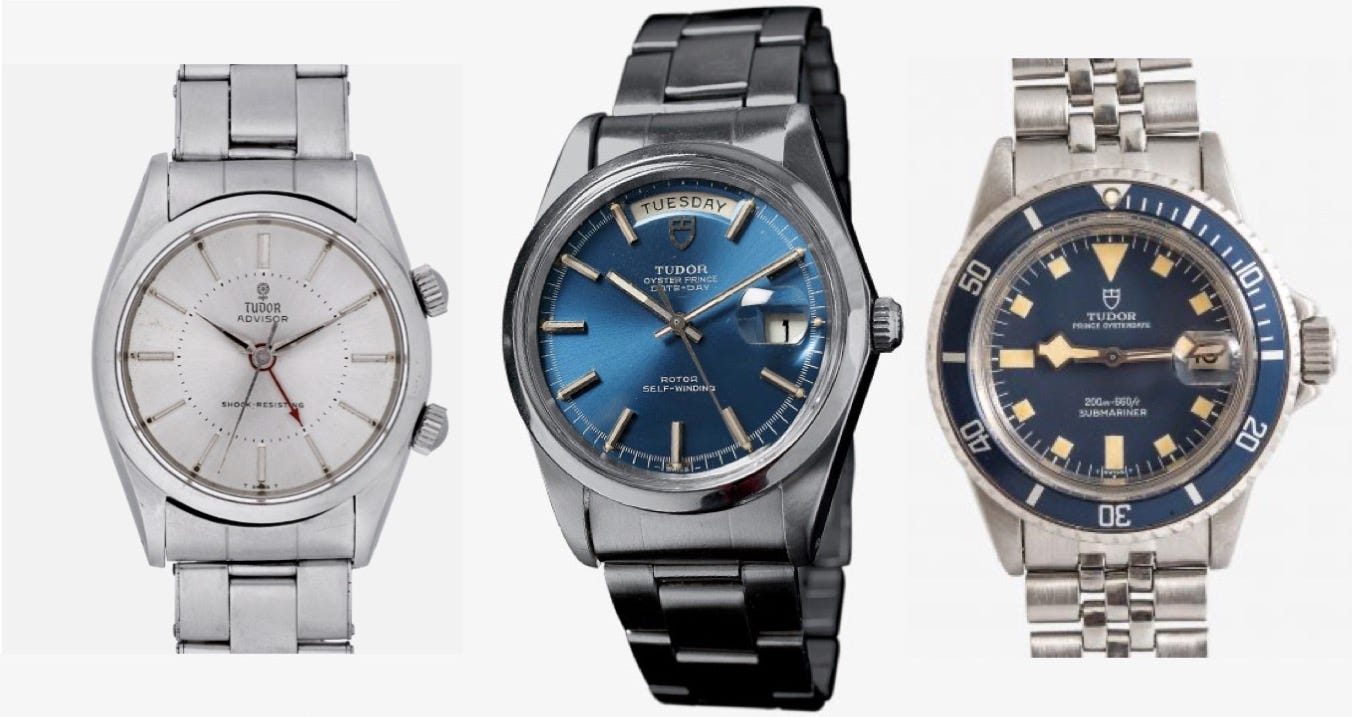 ---
Other News
Clymer offers some thoughts on the upcoming auction season, surveying the landscape by focusing on the top lots. There's a Henry Graves minute repeater, a stainless steel Patek that might top $10 million, and some thoughts on what it means that we've seen all the top lots come up for auction before (and recently, too).
Plus, the Geneva auction catalogs are live. Find them here, with more coverage from us in the coming days:
Phillips gets Renee Beyer, of legendary Swiss retailer Beyer Chronometrie, on video to talk about double-signed watches and some of Beyer's greatest hits. The video serves as an opportunity to highlight some of the Beyer double-signed pieces in Phillips' upcoming Double-Signed Auction: There's a Rolex Bubbleback, Ellipse Patek, and a couple more complicated Pateks, all signed by Beyer.
Watchonista sits down with the founders of Collective, a watch community in the San Francisco Bay Area. The founders discuss the origins of the community, its growth, and collaborating with Zenith to create the Zenith x Collective El Primero.
---
Ticks & Tocks
🙍‍♂️ Pharrell on evolving masculinity. 💸 Tissot made an … Oyster Perpetual … for under $1,000 (and an 80-hour power reserve)? 🧐 Is the case polished (thoughts from Alex Ciani)? ⛲️ The difference between seltzer, club soda, and sparkling mineral water. 🇯🇵 Worn & Wound reviews the Seiko TicTac. 𝟱 Monochrome goes hands-on with the new Seiko 5 collection. 🤓 5 Royal Oak models everyone should know. Outfitting Succession.
In Chicago: Oak & Oscar is about to drop a 38mm field watch.
Thanks for reading!
-Tony
Questions/comments/tips? Just respond to this email (and please tap the heart above to like it!).
Upcoming Project
I've been working on a "library" of great in-depth articles, videos, podcasts, etc. that provide resources for those looking to dig deep into watches. It could be anything from highly-produced videos to legendary forum posts with grainy photos. My goal is to have an initial draft of the page published next week. If there are any articles, videos, etc. that you think should be included, send them my way.